Halloween is almost here and that means it's time for my annual list of costumes based on the year's biggest movies. This is just part of my service to help you think of timely costumes for your upcoming Halloween parties. Feel free to check out the costumes for 2013 and 2012. Feel free to take any of the following ideas. I'm half taking credit for the following costume I recommended in 2013. Props to him for pulling off this amazing feat.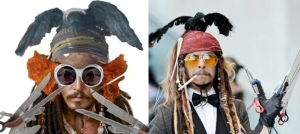 Enjoy the five best costumes from the movies of 2014.
5 – Thanos and his Chair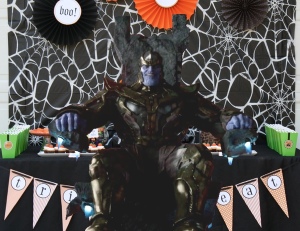 Poor, sad and lonely Thanos. This cosmic supervillain just can't catch a break. If you can't immediately place the name, he was that purple guy you didn't know that was shown during the Avengers closing credits. He followed that appearance up by showing up in Guardians of the Galaxy. He is never seen without his big floating chair. His character is meant to be feared throughout the universe, but he just can't seem to get any actual power. He has been chasing down Infinity Gems for what seems like 19 movies now and has yet to actually get one. Maybe sometime in the next 12 Marvel movies, he will finally have his all-powerful Infinity Gauntlet.
If you want to masquerade as Thanos, prepare to have a lonely evening. In order to stay true to the character, you will have to stay with your chair at all times. You may ask/order people to get you a beverage, but chances are, they'll just tell you they will and you'll never see them again. If you go with this costume, you'll probably have the most luck sitting on the front porch when trick or treaters come by. Thanos is basically a scarecrow with lavish gold armor.
4 – Aging Mercenaries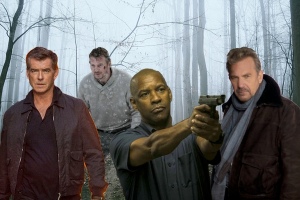 2014 is not the year of the sequel. It is the year of the elderly action star. Earlier in the year, Liam Neeson continued his butt-kicking mid-life crisis in the airplane thriller, Non-Stop. Soon after, Kevin Costner joined the game as he hunted terrorists and tried to reconnect with his teenage daughter in 3 Days to Kill. Pierce Brosnan played a cat-and-mouse game with his protege in November Man. Denzel Washington basically outclassed them all in the violent The Equalizer. And while he is not quite as old as the rest, Keanu Reeves plays a retired hitman in John Wick. All of these movies somehow coexist alongside the Expendables 3, which was also released this year. That is the elderly playground for forgotten action stars of old.
It doesn't matter if you dress as a hitman or an Expendable, the only critical part of the costume is who exactly will be the next one to play the rogue agent/soldier/nursing home patient. If you want to go the future Expendable route, simply put on your gear and do you best Christopher Walken, Nicholas Cage or Carl Weathers impression. Or you could be Robert Duvall, Clint Eastwood or Kevin Bacon as old hitmen.
3 – Bible Heroes
Who knows why, but there will have been two big-budget Bible movies by the end of 2014. Earlier this spring, Noah was released and managed to confuse and anger almost everyone. I didn't hate the rock monsters, personally, but I'm also a fan of The Neverending Story and the rock biters. Soon, Ridley Scott will show his remake of The Ten Commandments, Exodus: Gods and Kings. Christian Bale is playing Moses.
These movies provide a group theme. It couldn't hurt to borrow some biblical clothes from a local church and dress up as your favorite Bible character. Who knew that a David costume could be relevant again? (Don't forget your sling) The possibilities are plentiful. You could be Daniel in the Lion's Den and have several stuffed lions attached to your robes. Now, no Biblical group costume would be complete without some of your friends dressed as rock monsters. They're now part of canon.
2 – Fat Godzilla and Cameo Cranston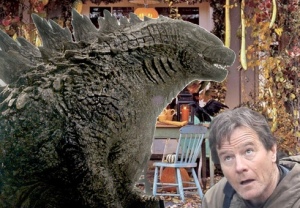 I'm not for cruelty or mocking, which is why I was shocked when Japanese audiences had the gall to call our revamped version of Godzilla a fat American lizard. Sure, Godzilla is originally their creation, but they have to realize how ridiculous the man-in-suit appearance was. Can't they just be happy that he no longer looks like a giant velociraptor like he did in the 1998 movie?
For your next Halloween party you can be the man-in-suit that is Godzilla. Make sure the costume is extra bulky. There are a few rules to this costume. First, start the evening in a Bryan Cranston/Heisenberg costume. Everyone at the party will be really excited to see you. But, just as things at the party start livening up, just disappear altogether. And don't come back as Bryan Cranston. That is the time when you put on the Godzilla costume. When you've donned the costume, just doorbell ditch houses and run away. Don't ever let anyone get a good look at you. Then, when you think the party is about to wrap up, show up for the last 15 minutes and throw drinks and tables around. Make a huge mess and then just walk away. Your party status will be legendary.
1 – The Unhappy Couple from Gone Girl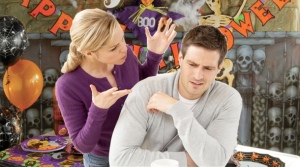 Gone Girl is one of more recent movies on this list and one of the better movies of 2014. It's already etched itself into pop culture as a terrifying marital horror film. After watching it, you may never trust your significant other again.
This will be the easiest costume to prepare. In fact, you don't need to dress up at all. Just make sure you have someone with you, as it is a couples theme. As soon as you show up to your chosen event, just act cold to your date. You can go as far as you want with this theme. You can flirt with others, tell secrets about your date while they're listening, etc. Don't offer the details on your costume unless someone asks you to leave. This theme requires dedication, so don't pursue this unless you are committed.