Good luck to you if you ever decided to Google "movies about magic." Half of the results are going to be from Magic Mike, and that's just going to make for an uncomfortable situation at work.
The Incredible Burt Wonderstone tried and failed to mock a collection of Vegas magicians. Instead of seeing Steve Carell act like a jerk for 90 minutes, wouldn't it be better to see actual dramatizations of legendary magicians and illusionists? Think Walk the Line with the Amazing Jonathan instead of Johnny Cash. So, here are the 5 biopics that need to happen.
5 – Teller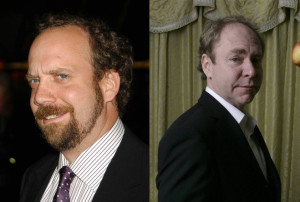 Few people are more famous for not speaking than the man born with the name, Raymond Joseph Teller. His story should show his beginnings in the world of comedy and illusion. He had to quickly learn, while performing magic acts at college parties, that the less he said, the less people would throw beer at him. In no time he would learn that silence is golden and incorporate that into his act with the over-talkative Penn Jillette.
He should be played by Paul Giamatti, who will just need to lose a little bit of weight and he'd be pretty spot on for Teller. Also, I'd love to see Giamatti's Teller swearing and flipping out at Penn backstage.
4 – Siegfried, Roy & Montecore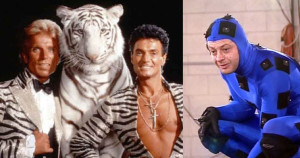 I would be remiss to not mention the classic duo, Siegfried and Roy. These German entertainers had Vegas in the palm of their hands and had been performing for over 5 decades together. In 2001, they signed a lifetime contract with Wynn Hotels, but that ended in 2003. As we all know, Roy Horn was attacked by their beloved white tiger, Montecore.
This duo will be played by Owen Wilson and Ben Stiller. We all know that it's ridiculous to work with an actual tiger, so Mantecore will be a digital-performance from the legendary Andy Serkis. This movie will show the duo raising Mantecore from a cub and end with the disastrous show where Mantecore injured Roy by dragging him off stage. Even with Wilson and Stiller as leads, this one will be a tearjerker.
3 – David Blaine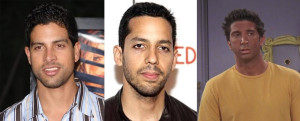 Less magician and more endurance artist, David Blaine is a mystery. He broke into the magic world with his TV Street Magic special and has creeped us out ever since. Now he is known for his sado-masochistic acts where he freezes himself, is buried underground or imprisons himself in a box above the Thames.
The actor who looks closest to Blaine is Adam Rodriguez (CSI Miami), but he isn't very well known. I think some great stunt casting would be David Schwimmer in the role. He is just as dull and droll as Blaine. It would be perfect. I think the movie should show him being bullied as a kid, and then he learns that people will like him if he does endurance tests based on dares. For example, he could stay at the top of a climbing rope for 8 hours or lock himself inside a vending machine for a day and a half. This movie should be called "David, Blaine and Tall."
2 – David Copperfield
David Copperfield, born David Seth Kotkin, is the most recognizable name in illusion today. He is the single-highest grossing solo act in history. The man even owns eleven islands in the Bahamas. That's power you can't buy…well I guess you can buy it…whatever, it's power!
He is basically the Doogie Howser of the magic world. He started magic acts at the age of 10 and was the youngest inductee at 12 to the Society of American Magicians (Yes, that's a real thing). At age 16, he taught a course on magic at NYU.
His movie will take place the night where he made the Statue of Liberty disappear. As he sits and prepares for the show, he will see flashbacks of his life (ala Walk the Line). Daniel Day Lewis should play Copperfield, because he absolutely could. If they can't afford him, I'd be okay with Bronson Pinchot from Perfect Strangers.
1 – Houdini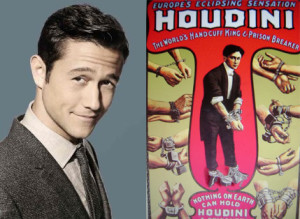 There is no greater legend in the magic world than Harry Houdini. His story was made for film. His birth name is Erik Weisz and took the name of Houdini to revere his childhood idol, whom he later debunked. He gained popularity as an escape-artist extraordinaire. He could escape from anything: Handcuffs, straight-jackets, water tanks, etc. He once held the title of President of the Society of American Magicians and sought to debunk magic and paranormal frauds. His pride was his downfall as he challenged that any man could punch him and he would not feel pain. He died from a ruptured appendix which may, or may not, have been caused by a punch he wasn't ready for.
Harry Houdini will be played by Joseph Gordon-Levitt because, why not? Just tell me that you don't think this would be a good thing.