The movie, Foxcatcher, may have little to do with the world of professional wrestling, but it's a grim look at a true story about an Olympic wrestler in training, his brother and a millionaire coach that has more than one screw loose. This movie got me wondering why we don't see many wrestling movies based on those wrestlers that are firmly established in pop culture. These movies wouldn't exactly follow the inspirational sports drama formula. In fact, they'd probably be dark and somewhat akin to Aronofsky's The Wrestler. Yet, with the right cast, the right pacing and build up, a movie about a professional wrestler could excel. The audience of millions is already established. Also, other casual movie-goers would see it out of curiosity just to see if someone can make an entertaining movie based on a career that is largely manufactured.
5 – The Ultimate Warrior
James Brian Hellwig was a controversial figure in the history of professional wrestling. The Ultimate Warrior, loved by millions of fans in the late '80s, was never seen as a talented wrestler. Instead, he was an absolute master when it came to personality and controlling a crowd.
At an early age, he was involved in a career as a body builder but had greater plans to be a full-time chiropractor. Yet, in 1985, a career in wrestling called and he started breaking backs instead of fixing them. (See what I did there?)
Before he adopted the moniker, The Ultimate Warrior, Hellwig called himself the Dingo Warrior. Thankfully, the name didn't stick. He quickly rose in the ranks and had rivalries with the great superstars at the time, like Hulk Hogan, Macho Man Randy Savage and The Undertaker.
He was fired the first time in 1991. It was actually the first of three times in the '90s. The Ultimate Warrior came back in 1992. However, he looked like a completely different man in the makeup. Fans speculate that it was an entirely new Warrior. WWE denies the rumor. His return was short-lived as there was a government crackdown on steroid use in the world of pro wrestling. Warrior clearly tested positive and felt that CEO, Vince McMahon was throwing him under the bus. Their relationship was permanently strained at that point.
Hellwig met his first wife at a strip club and the marriage lasted eight years. It was during his second marriage that he legally changed his last name to Warrior. His wife and kids still go by the surname Warrior.
To cap off this story, Warrior was invited by McMahon to be inducted into the Wrestling Hall of Fame in 2014. In his acceptance speech he cryptically said, "Every man's heart one day beats its final beat. His lungs breathe their final breath. And if what that man did in his life makes the blood pulse through the body of others and makes them believe deeper in something larger than life then his essence, his spirit, will be immortalized. By the story tellers, by the loyalty, by the memory of those who honor him and make the running the man did live forever." He died three days later of a cardiovascular disease, which took him instantly.
The Ultimate Warrior will be played by Ron Perlman in the movie titled, "Dingo: The Ultimate Warrior Story."
4 – The Hart Brothers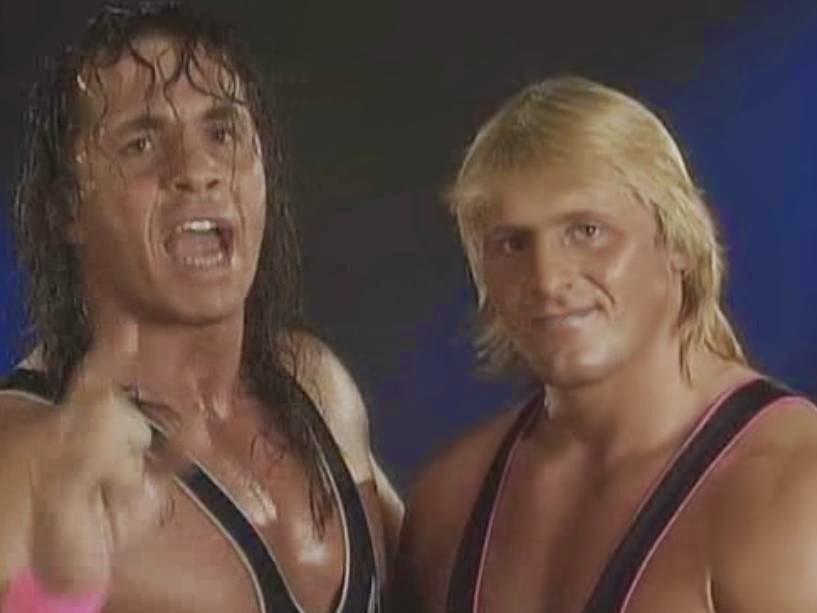 The story of Owen and Bret is filled with tragedy and betrayal. Preceding that, their father, Stu was a credible wrestler in his own right in the late '40s. He owned a regional wrestling company until he sold it to Vince McMahon in the '80s. Wrestling was in the family blood. Even Rowdy Roddy Piper was a cousin of the Hart family.
Owen and Bret gained popularity in the WWF as they followed the storyline that highlighted their sibling rivalry. Owen was known as a tremendous talent, but was an even greater prankster behind the scenes. He added levity to the WWF backstage that was synonymous for being laden with ego. I remember watching the pay-per-view where Owen Hart died. Thankfully, there was a time delay. As the show started, there was only darkness, followed by the crowd standing and staring at the ring in shock. Owen was making his entrance to the ring by repelling from the rafters directly above the ring. He fell 78 feet, landed on the top rope and bounced into the ring. The official cause of death was internal bleeding due to blunt force trauma. It was a immense tragedy that shocked fans (like myself) that are used to the fun world of fake wrestling.
In the years leading up to Owen's death, Bret "The Hitman" Hart stood out as one of the biggest names of the WWF. In a league comprised of gimmicks and flash, Bret was an actual wrestler with actual talents. He wasn't much fun to watch, but commonly put his opponents into actual submission moves. His lack of in-ring charisma was balanced out by his his pink and black unitard and his shades that are basically what old people wear when they get their pupils dilated.
His greatest rivalry lasted nearly a decade. He and long-time friend/enemy, Shawn Michaels, fought in some of the best matches in WWE history. Yet, Bret's entire career was soured by the infamous "Montreal Screwjob."
This match was meant to be Hart's last in the WWF. He and McMahon had their obvious differences and Hart decided to leave the company. They both agreed that Hart would beat Michaels in the PPV match, and give it to Shawn Michaels after he quit. During the match, Michaels put Hart into a sharpshooter, and the ref called the match because McMahon told him to while he stood outside the ring. Hart was pissed, to say the least. He spit on McMahon and later punched him in the face. It's safe to say they left on bad terms.
Bret soon went over to WCW and didn't return to the WWE till years later. Even then, his body had aged and he wasn't able to do much athletically. He sporadically shows up for WWE events to this day.
Their movie, "Broken Harts" would show Owen and Bret being brought up in the family business. While Bret gained immediate success, Owen played several gimmicky characters and had to watch his brother succeed. The brothers will be played by real-life brothers, Stephen and Robbie Amell (from Arrow and The Flash).
3 – Mick Foley
Mick Foley enjoys one of the most unlikely roads to super stardom in the WWE. Granted, there have always been heavier wrestlers. Just look to the '80s for proof of this. Yet, Mick Foley found an incredible amount of fame in the Attitude era where Stone Cold, The Rock and The Undertaker were mainstays. Foley found success for his constant humor and the tremendous damage his body could take.
Foley began wrestling for WCW in 1991. Previous to one of his biggest matches, a wrestler had the staff tighten the ropes because he felt they were too tight. Later, when Foley attempted a hangman, his head got stuck between two ropes. In an effort to free himself, he ripped off 2/3 of his ear. He had the choice to reattach it immediately or fight for the tag team title, which he and his partner were meant to win. He chose to fight.
After leaving WCW, he vetted himself in Extreme Championship Wrestling and then wrestled in Japan. Throughout this time, he went through constant abuse. He was constantly torn up by razor wire, beat with actual chairs and sort of blown up with C4.
In '96, he joined the WWF/WWE as Mankind. In one of the greatest matches of all time, Mankind fought The Undertaker in a Hell in a Cell match. Foley agreed to take every type of punishment. While atop the cage, Undertaker threw Mankind 16 feet where he landed on and smashed the Spanish announcers' table (it's always the Spanish announcers' table). Commentator Jim Ross then proclaimed, "That killed him! As God as my witness, he is broken in half!" The match didn't end there. Mankind was carried out on a stretcher, from which he jumped up from and climbed up on the cage again. Undertaker then body slammed him at the top, and the chain link broke and Mankind fell again.
Even though wrestling is considered fake, he was putting his life on the line. His friends later recounted that they honestly felt he may have died. Though, he still got up and got his face beat to a pulp and body littered with thumb tacks.
This match was just one example of his painful, yet brilliant career. He has written several best-selling novels. A few of them describe what his wife went through as he kept putting himself through punishing matches. In his movie, much of the story would be from her perspective as she has to watch her husband be a masochist time and time again.
His movie will be called "One Giant Leap." It should star Christian Bale in a role that requires him to gain 100 pounds. Few other actors would be willing to punish themselves for this kind of role.
2 – Andre the Giant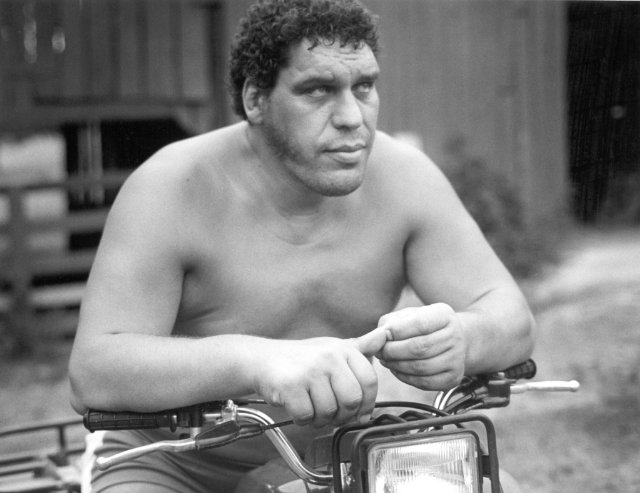 The Eighth Wonder of the World was born André René Roussimoff in France. Even as a preteen, he was 250 lbs and 6'3″. He quit school in the 8th grade to become a farm laborer, until he later quit to begin his wrestling training at 17. He fought in matches around the world until he was discovered by Vince McMahon Sr and was dubbed Andre the Giant in 1973.
Throughout the '70s and '80s, Andre never lost a match, yet continued to be the babyface. Typically, fans get tired of a fighter that never loses. In the later '80s, he knew his health was declining. He agreed to lose a match to Hulk Hogan. In a glorious moment, Hogan bodyslammed a 520 lb Andre. He wrestled intermittently between finding less hazardous work with his acting career.
There are several legends about Andre's behavior out of the ring, but some are actually true. His massive frame allowed him to drink 156 beers in one sitting. His Princess Bride costar, Cary Elwes, confirmed his crazy drinking habits. Essentially, he would mix 40 liquors into a pitcher and drink it down without flinching. He also confirmed that cops from the NYPD would have to follow Andre when he was on a bender, just in case he fell on a bar patron. He never did crush anyone. Alcohol didn't affect him much.
Andre died at the age of 43 of congestive heart failure. He was visiting Paris to attend his Father's funeral at the time.
The only actor who could possibly pull off being Andre the Giant is Andy Serkis. It would be the first motion-captured title character. It will be an art house favorite movie when "My Name is Roussimoff" debuts at the Cannes Film Festival.
1 – Vince McMahon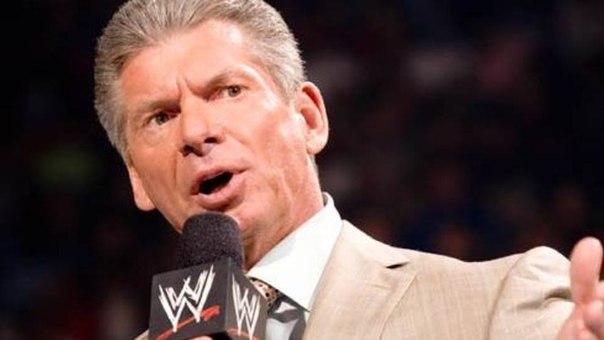 While he may not be a wrestler per se, the history of professional wrestling could not be told without telling the story of Vince McMahon Jr. While his father was very established, he did not have a silver spoon upbringing. His father left home soon after Vince Jr's birth. Vince then lived with his mother and several abusive stepfathers. He did not meet his real dad until he was 12. Vince wanted to be a wrestler in his dad's company, but his dad urged against it and any involvement in the industry. McMahon graduated college and became a traveling salesman. Only later did he get into the industry as an announcer. Yet, he continued to run a business on the side with his wife. They became arena managers and concert promoters.
McMahon basically had to prove himself to his father in order to be truly accepted in the WWWF (World Wide Wrestling Federation). Throughout the '70s, Vince created a strategy that help the newly-renamed WWF skyrocket. With his father suffering with ill health, Vince and his wife took over in 1980. Even at that time, wrestling companies were regionally based. Vince was the first one to make one company go national. He recruited Hulk Hogan to be the first superstar. Promoted by several celebrities, the WWF was accepted across the U.S. and he held the first Wrestlemania at Madison Square Garden in 1985. This type of event was unprecedented.
McMahon's strategy for the WWF was to cater to families that typically never cared for this type of sporting violence. It was an incredible success. However, in the early '90s, fans grew tired of the cheesiness and chose to watch Ted Turner's brand, WCW. All the previous success and growth of the WWF was nearly undone. Yet, McMahon rebranded the WWF with darker stories to cater to the rising age and cynicism of the fanbase. In 1997, the WWF once became the #1 wrestling league and stayed there.
It was at this time that McMahon inserted himself into the entertainment side of wrestling. He had always been a ring-side announcer, but now he positioned himself as the incredibly unlikable CEO that had it out for particular fan favorites. Week after week, he put himself in embarrassing situations just for the sake of the storyline.
Whether he's a likable guy or not, or if he makes all the right/wrong decisions now, his impact on the on professional wrestling cannot be disputed. As funny as it may sound, he is the Steve Jobs of the global wrestling world. He took a landscape where wrestlers would punish themselves with the hopes of becoming local celebrities all for just a few dollars, to a corporation that can mass produce household names.
His movie would be positioned much like the story of Steve Jobs. He's an unlikely entrepreneur that burns every bridge along the way to success. It will be called "King of the Ring." Vince McMahon should be played by Josh Brolin or method actor, Daniel Day Lewis. It would need to be directed by the real Vince McMahon and executive produced by Michael Bay.