The first Anchorman was released all the way back in 2004. Fans have been clamoring for a sequel ever since. The fanfare paid off with Anchorman 2 finally coming out 9 years later. With the excess of promotion, it feels like this movie has been advertised for 9 years.
Ron Burgundy is arguably Will Ferrell's greatest and most memorable character. Does revisiting the smarmy world of Ron Burgundy justify the long wait?
The Legend of Ron Burgundy continues in the 1980s. Burgundy has left his family because of Veronica's (Christina Applegate) success. He is sought out to anchor the world's first 24-hour news network. He assembles his team of Brian (Paul Rudd), Champ (David Koechner) and Brick (Steve Carell) and brings them along to the new channel. As he competes with hot-shot anchor, Jack Lime (James Marsden), he manages to change cable news forever.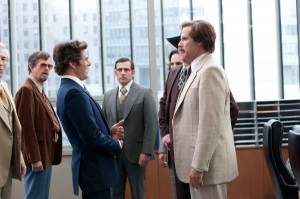 Fans of the first movie have plenty to be excited about. This movie is the fulfillment of all their random comedy dreams. To be honest, Anchorman 2 is basically critic-proof. Fans will devour it. On the other hand, it may not win any new fans.
That said, allow me to continue my review.
Comedies are difficult to judge. If they make you laugh, they have done their job. That says nothing for their playback value or even quality of acting. If I were to judge the Anchorman sequel based on its ability to make me gut-laugh, then yes it's a good comedy. I laughed quite a few times. However, if I were judging the movie based on what percentage of the movie was genuinely funny, then it's a near-disaster.
This movie comes on strong. It is refreshing to see these classic characters together again. Ron Burgundy in all of his salon-quality hair glory is fun to watch. Sadly, about a half hour into the movie the humor comes to a dead stop. The cast continues to give it their all, but it feels forced and ends up being a lot of dead air. Their over-the-top antics quickly get old. For some reason, director Adam McKay chose to keep this movie's running time at a weighty 2 hours. The Desolation of Smaug felt shorter than this movie.
Anchorman 2 does manage to surprise you right when you mentally check out. Near the tail end of the droll hour of boredom, it comes out of nowhere and hits you right in the funny bone with a ballad for a pet great white shark. I have no problem with saying it was the best song every dedicated to a shark. I hope it's nominated for best original song come awards season. Also, the climax of the movie revisits the fight scene of the first movie, but it ups the ante. The cameos and ridiculous effects nearly salvage the entire movie.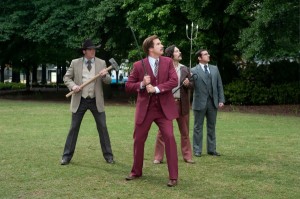 Once again, I understand that fans of the first movie will see this and wonder how anyone could not enjoy every second of this sequel. There were a few die-hard fans in my audience that cackled at EVERY. SINGLE. JOKE. Bless you if you can laugh at everything even if it's an uneven series of skits.
I think that Will Ferrell has found his Austin Powers. Anchorman 2 The Legend Continues is directly comparable to Austin Powers The Spy Who Shagged Me. These are funny movies at the time, but I don't think they stand the test of time. A movie full of cameos is fun the first time around, but not worth much the second time around.
Give this movie a rent. You are guaranteed to laugh a handful of times. It's best if you watch this one as late in the evening (when everything is funny) as possible. It probably won't hurt to be stoned either. If you loved the first one, you will not be disappointed by the random mix of dumb hilarity.