Tom Hanks is going to be a popular man this next Oscar season. First up, he stars in Captain Phillips, which highlights him as an everyman trying to make the best of a traumatic situation. Near the end of the year he will be playing Walt Disney in Saving Mr. Banks. It's very likely that he'll be competing with himself for the best actor Academy Award.
Captain Phillips (Hanks) gives us a glimpse at the monotonous life of a freighter captain who is tired of his job. That all changes when Somali pirates board his freighter in the dangerous waters off the coast of Somalia. We also get a fair glimpse of the pirates, who hold crews hostage for big ransom payouts, all in order to be essential to their local gang lords. With the attack on the Maersk Alabama in 2009, the pirates make the first successful hijacking on an American ship in 200 years. As Captain Phillips attempts to outsmart the pirates, he literally puts his life on the line.
I get wary every time a movie bills itself as being "Based on a true story." Look no further than Lee Daniels' The Butler for a movie that fictionalized 95% of the actual true story. However, Captain Phillips deserves far more credit. It follows the actual events rather closely, give or take a few dramatized moments. Also, this movie is incredibly intense. Any movie can build false tension, but the tension in Captain Phillips has far more weight because we, as the audience, know these events actually happened.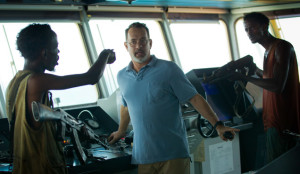 It took nearly a half hour, but Tom Hanks won me over as Cap. Phillips. While at first, this may seem like a lazily-titled film, it is very accurate. The film rarely leaves the viewpoint of Phillips. Honestly, there's nothing wrong with that. Hanks plays Phillips as a passive man who is always thinking of ways to be one step ahead of the pirates and Hanks' acting reflects that through mere facial gestures. He won't win the Oscar for this role, but he will be nominated.
As good as Hanks is, he is nearly overshadowed by the pirate who deems himself "Captain." Barkhad Abdi plays Muse, an aspiring crime lackey that feels the need to prove his superiority to his brothers-in-arms. Abdi is a first-time actor, but you would never know it. It actually helps that you've never seen him before. All of his reactions to the compounding situation feel genuine. I appreciated that the pirate crew weren't just one-dimensional. You saw where they came from and see their fear as they realize they may be in over their heads.
Director Paul Greengrass (Bourne 2 & 3, United 93) knows how to frame intense situations that assuredly make the audience feel the panic of the characters. In Captain Phillips, even though there are dramatic set shifts (on the spacious cargo ship to a cramped lifeboat), he never lets you take your eyes off the screen for fear of missing anything. If you're a fan of the Bourne series, have no fear, the shaky cam is back. At this point in Greengrass's career, this lazy film-making technique is to be expected, just like JJ Abrams is known for his lust for lens flares.
If I were to change anything about Captain Phillips, I would cut about 20 minutes. It is a thrilling 134 minutes altogether, but with some trimming, it could have been far stronger.
Captain Phillips is a See It. Whether you know much about the actual events or not, see this movie for the fantastic performances and constant intensity.