The following post is a guest feature. It was written by a great friend and unabashed, yet surprisingly geeky guy named Rob. He attended the San Diego Comic-Con last week and I will continue to be jealous until next year. Go check out his photography site here, it's seriously great stuff! (All included photos are property of Rob) So, without further ado, here's his dedication to Comic-Con.
Dear Comic Con,
Thank you.  Thank you.  Thank you.
As I write these words after 4 days of amazing panels, insane lines and even more insane(ly awesome) cosplayers — my heart is full and my mind is jelly.  But thank you for once again for reminding me (and so many others) that we are not alone in our Nerdery, Geektitude and Fandom.
Thank you for continuing to grow.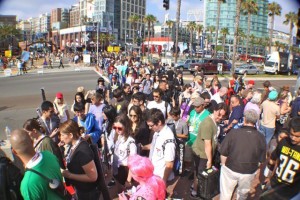 I recognize this is NOT my Parent's Comic-Con.  Yes, there was a time when avid and passionate comic book readers would gather every summer in sunny San Diego to swap and talk comic books.  You started off small.  Very small.  Around a hundred people small.  And while those same comic book readers can still be found today – there's also a whole lot more that's been added to the mix: TV shows, video games, Toys, Collectibles and Films.   Major Studios now use you as their launching pad for international releases!  Literary agents and publishing houses now come to you to organize author signings and free book give-aways!  There are entire conference rooms at the Marriott and Hilton close-by where attendees can escape to play an untold plethora of video games!  There were over 130-thousand of us there this past week and we are only going to keep growing.
Some may criticize the way you have grown and morphed and changed.  Some may long for the more simple times.  But I welcome what you are and what you are becoming — with all the new and sometimes messy challenges and opportunities that that brings.  Change and growth can be overwhelming – but it is also exciting.
Thank you for Tom Cruise.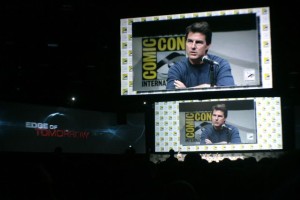 Even a decade ago, to think that the world's biggest movie stars would flock to your halls and sell US, the fans on their goods – it would have been unimaginable.  Now, it's a given.  Major Studios the world over recognize the power you wield.  And they recognize that power was given to you by us.  Thank you for representing the myriad multitudes that we are and for using that power wisely.  To be in the audience and watch Mr. Cruise have the crowd of 65-hundred eating out of his hand was unbelievable.  To hear him break into 80's cheesy love songs from "Rock of Ages" is something I will never forget.  To watch him answer questions from fans who will for the rest of their lives remember the time they got to talk one-on-one with the guy who played Maverick or Ethan Hunt or Jerry Maguire, was simply amazing.  Thank you for that.  You've had big stars in the past (Matt Damon, Quentin Tarantino, Angelina Jolie), but Tom Cruise?  My mind is still reeling.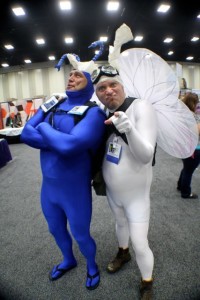 Thank you for rewarding your fans.
In this world of smart phones, the internet and instant interconnectedness – news travels fast and being "first" doesn't mean what it once did.  As you well know, on Saturday, "Man of Steel" Director, Zack Snyder took the stage in Hall H and over the course of a few brief minutes, proceeded to blow our collective minds.
Superman and Batman were finally going to be sharing the big screen.
For those in attendance this was a moment of supreme joy, awe and childlike wonder.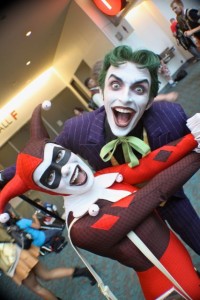 And yes, within 30 seconds of it having occurred, the world at large could read about it on Twitter and Facebook and a few more minutes after that they could watch the same thing playback on Youtube, (albeit a very low-quality camera phone version).  Suddenly the entire world knew the news which just a few minutes previously had only belonged to a special few.  But for those who were in the room when it went pitch dark and saw the two logos become one… for those who literally lept out of the chairs in joy and hugged the person next to them… for those who began to cry… for those who stood and waited and slept in line for 5, 6, 7 hours or more… for those who were THERE.  Thank you for rewarding your fans.
Thank you for the Community you have developed and fostered and strengthened and grown.
The minute attendees step on to your hallowed ground there is something special that happens.  A community and culture of acceptance and belonging is formed that is difficult to explain.  But it is an incredibly beautiful thing.  And when you recognize that it is impossible to wander the convention hall floor and not have a smile beaming from your face.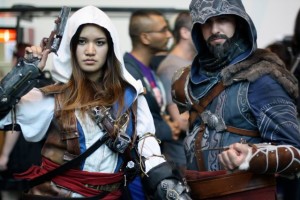 Thank you for reminding us that it's not just about the event.  And it's not just about the attendees.  Rather it's about what the event means and can provide: a way for people to connect.  With other like minded individuals who share their passions.  With their heroes and those who inspire them.  With people with whom they would never otherwise engage.  And with themselves.
There is no judgment in your safe halls.  There is no embarrassment.  It truly is one of the most amazing and accepting and inspiring things I've ever witnessed or been a part of – literally thousands upon thousands upon thousands of people just being true to themselves.  Having a great time.  And not giving a damn about what the rest of the world thinks or says.  And most importantly, all the while, they are being applauded, encouraged, high-fived and supported in their actions.  Thank you for cultivating that Culture of Acceptance.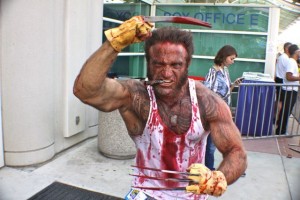 And as it's time to once again say farewell — that is what I'll be taking with me and holding closest in my heart.
On Sunday night, as attendees fought the crowds to get that one last book or exclusive or get that one final picture, print or gift, I heard time and time again people say how they didn't want "this" to end.  They didn't want to go back to the "real world".  They didn't want to leave this place of safety and comfort and fun.
To which I say – then don't.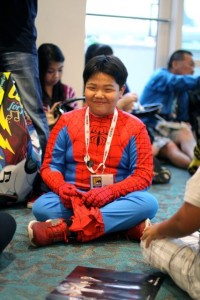 If you don't want to go back to how things were – don't.  If you can't stay forever protected in the halls of the San Diego Convention Center – then take the heart and soul of the Con out with you.  If everyone was as kind and supportive and understanding to each other OUTSIDE of the Con, as they are inside – the world would be a tremendously more kind hearted and enjoyable place.   Thank you for helping me realize this.
So until next year – May we all have the courage to high-five our neighbors, co-workers and yes, even random passer-bys on street.  May the spirit of The Con rest over us all as we embark on the next 364 days.  Until we meet again, thank you for everything.
Yours truly,
Rob