This weekend we see Kevin Costner return to the genre that loves him best in Draft Day. He is competing against the former Doctor Who companion, Amy Pond in a haunted mirror movie called Oculus. Both of these movies are fighting for second place as Captain America: The Winter Soldier will inevitably lead the box office again.
Draft Day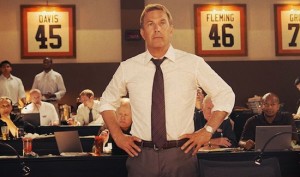 Kevin Costner has had a busy comeback year. He's starred as Clark Kent's dad, Jack Ryan's handler and even an aged Liam Neeson-esque spy. While it's nice to see him back on the big screen, the roles have been spotty, especially in 3 Days to Kill. Now, he makes a return to form in the sports genre. This is where Kevin Costner belongs.
Draft Day takes place during the 12 hours leading up to the NFL draft. Sonny Weaver Jr. (Costner) is the GM of the struggling Cleveland Browns. They currently stand to pick 7th during the 1st round of the draft. The team's owner (Frank Langella) has passively threatened Weaver to make a splash and save the team, or his job might be at stake. Several 11th hour deals go through and leave some difficult decisions about the future of the franchise in Weaver's lap. With a few impulsive choices, he angers former prospects, the coach (Dennis Leary), the fans and his family.
It should be known that there is no football, with the exception of game tapes, played in this movie. It could almost be seen as the backroom drama of Moneyball without the addition of games. Thankfully, you don't need to rely on watching an underdog football game to be drawn into the tension that Draft Day creates.
Anyone who knows me knows that I'm not a sports fan. I walk into every sports movie hoping that it can excite me even though I care little for the subject matter. Before seeing this, the thought of seeing a movie about executive deals about NFL recruits couldn't interest me any less. Yet somehow, I was captivated by the process and risks of redeeming a team or losing your job because of a poor decision.
This movie is not without flaws. There are a few subplots that take away from the haphazard drama and they end up feeling forced. Jennifer Garner plays Weaver's coworker and girlfriend. On the morning of the draft, she tells Weaver that she is pregnant. This revelation adds more stress to his situation, but feels tacked on just to give Garner more to do than just provide advice about trades. Also, Weaver's mother shows up to the office during this stressful day to spread his recently deceased father's (and former Browns coach) ashes across the team's practice field. The movie would have been just as good and far more tight without these two plots.
This is the type of character that Costner needs to stick with. Let Liam Neeson take the geriatric action hero roles. Costner is best when spewing stats and talking down to less-informed sports aficionados. Pay attention for small, but memorable performances by Chadwick Boseman (42) and Tom Welling (Smallville).
Where Moneyball basically came down to saying "Does he get on base?" Draft Day takes it further with the tension of 24, mixed with compelling split-screen phone conversations. At first, you will question the style of the conversations. They appear to be taking a literal page from comic book panels. Yet, it gives you the effect that these people are in the same room.
I feel that older crowds will get into Draft Day more than younger audiences, but this movie manages to pull you in whether you're a sports fan or not. This movie is more of a comedy than a drama, but manages to be tense overall. The biggest issue is that this isn't based on a true story. Much like the movie "Warrior," it can throw in the kitchen sink because it's complete fiction. I give it a B.
Oculus
A movie about a haunted mirror may seem as cliche as it comes, but there's something more to Oculus. It's the first movie since Cabin in the Woods where a character knows the rules of horror movie. These characters do everything they can to prevent stupid mistakes that will get them killed. However, haunted mirrors rarely play by the rules.
Oculus follows two central stories, both revolving around siblings Kaylie and Tim. The central plot follows this brother and sister pairing when they're in they're 20s. Kaylie picks up her brother from a mental institution and brings him to the house they lived in 10 years previous so they can destroy an antique mirror that is responsible for the deaths of nearly 50 people. While these siblings plan to destroy the mirror, the story jumps 10 years to their pasts as they see their parents (Rory Cochrane and Katee Sackhoff) delve into insanity all because of the mirror.
While Karen Gillan's Kaylie always seems to have the upper hand in her obsession with the mirror, she quickly finds out that she shouldn't have messed with the artifact again.
I was incredibly worried as the opening titles rolled and I saw that Oculus was a WWE production. It's difficult to accept that with a straight face. But seeing the first half unfold, it felt like an original take on what could have been a standard jump-scare flick.
As Kaylie explains every fail-safe and protection she's taken to assure the mirror will be destroyed, her brother (Brenton Thwaites) explains her paranormal paranoia away with psychology terms he learned when he was institutionalized. This point-counterpoint was fantastic and I wish it could have gone on for longer. But of course, a horror movie needs to make you jump in your seat, so it ditches the smarts and the characters start making bad decisions.
Nothing can be trusted in a house that holds the mirror. It distorts every perception of reality and puts the brother and sister, once again, in front of their homicidal father and insane mother.
This is a great introduction for Who-alumni Karen Gillan. She is a very likable lead. Thwaites does a good job in the role of unassuming male-damsel in mental distress.
Oculus starts off and a controlled-climate horror movie that could easily be a two-person stage production and steers into 1408 madness territory. It will have you questioning the validity of everything these characters go through. It's less scary than it is interesting. This will make a great rental for a movie night of psychological horror fans. B-