Hiya readers! It's been a few weeks and I've missed you. After a cinematic drought the past three weeks, we are finally getting a new wide release worth talking about.
The long-developed IT adaptation is finally here. If you're old enough, you may remember the 1990 2-part TV miniseries that horrified us all with its bad special effects, melodramatic acting and….. Okay, it was only great because of Tim Curry. Now, we have director Andy Muschetti (Mama) giving us an updated take on Stephen King's classic novel.
It revolves around a group of young, bullied kids called The Loser's Club. Each of these kids have their own reasons for being outsiders, but it's their differences that make their bond as a group stronger. It's the '80s and these kids are ready for Summer to begin. However, their fun adventures are commonly interrupted by a malevolent clown that haunts the town of Derry and literally feeds on fear.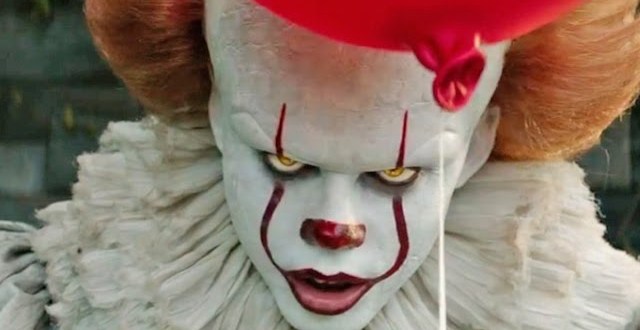 Stephen King adaptations are a mixed bag that generally tend to be forgotten. There are a few great standouts including: The Shining, The Mist (fight me), Pet Semetary, The Shawshank Redemption, The Green Mile and Stand by Me. However, for every great one, there's five awful direct-to-video/TV adaptations. After the slight misfire of The Dark Tower, King adaptations needed a win.
Andy Muschetti, working off a script by Cary Fukunaga, has delivered that win.
Toss nostalgia to the side, because this version of It is better than what most of us grew up with in our nightmares.
Now before you think I'd forget all about Tim Curry's legendary take on Pennywise, let's not get crazy. He will always have a special place in the dark recesses of my brain, just waiting right until I fall asleep to remind me of his smiling face. That said, Bill Skarsgård's Pennywise is a walking great white shark. He is a wildcard that knows he can only be viewed as sinister and thus, hides nothing about his true intent. The take on the infamous clown is different and it's all his own instead of being a decent impression of Curry. This Pennywise is more immature and rash, even matching the mentalities of the kids he haunts.
Whether or not you've read the book, you'll feel that justice has been done to The Loser's Club. Bill, Richie, Beverly, Ben, Mike, Eddie and Stanley all get moments to shine alone and together in the group; each fulfilling their role. Sophia Lillis excels as Beverly, the lone girl in the group. She is a dead ringer for a young Amy Adams in both appearance and talent.
This is the rare horror film where I was fully invested in the characters based on their writing and chemistry. I didn't want any of these kids to be terrorized. In fact, I could have watched more of their summertime adventures outside of the dread that terrorized them and the town of Derry.
While this wasn't an absolutely terrifying movie, it makes up for it in terms of characterization. That said, there is some imagery that I don't think I'll ever forget. Everything that the TV version alluded to, this update showed, and it is gruesome.
I am so happy that an adaptation to a great book and memorable TV movie has been created with so much effort. This will perpetuate the fear of clowns for another 30 years. See this movie with a big audience and see it in the theater if possible. B+