Jump back with me to a time when you were dating. For many of my readers, this may have been years ago. Others, it might have been last week. For less-experienced daters, I'll break down my process in an attempt to jump into the nerve-addled psychosis that dates often require.
I went on a date the other night where anything could go wrong, but my excitement level was high based on what I experienced before. Now, many people would tell me that my excitement was unfounded. Reactions to my date were mixed at best as she had a rotten reputation. I was told by everyone that I was biased in previous encounters, but I couldn't fight how I felt. Yet, the nerves and expectations are always a bit haywire for these dates, and this was especially true for my latest date.
This special lady I'm speaking of is Justice League.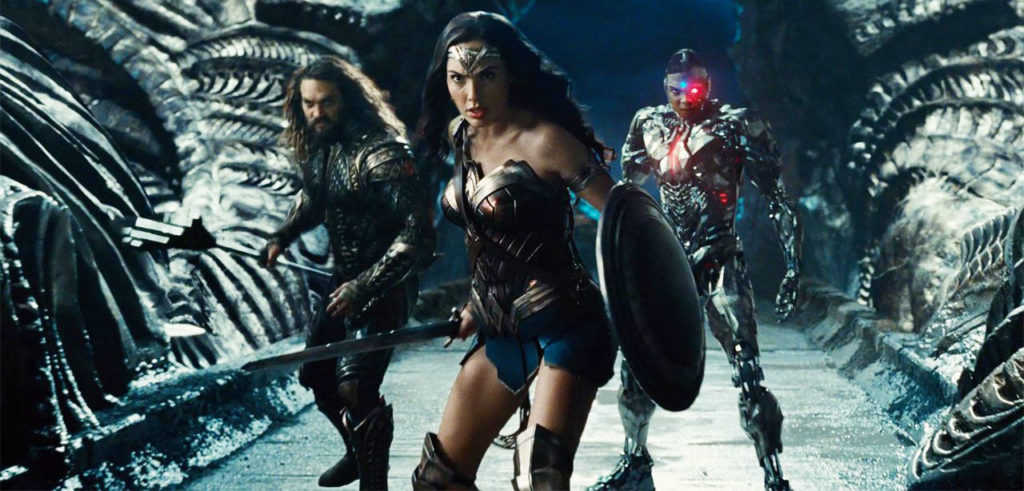 The Tinder profile for this date reads as follows… The world without a Superman deals with its lumps as Batman and Wonder Woman have been fighting crime on their own. However, an ancient threat reappears to claim the planet for his own. It's then up to Batman and Wonder Woman to seek additional allies in The Flash, Aquaman and Cyborg to bring this threat down.
As our date began, I already had a preconceived idea of how it would go and couldn't quite get out of my own head enough to let conversation begin naturally. I had an idea of the end result so ingrained that I couldn't focus on the here and now.
It's here when I spotted the red flags that shouldn't have allowed things to go further than the first 20 minutes. Now, there were a bevy of red flags I had to watch out for. The villain, Steppenwolf, falls into the forgettable slew of current comic book C-list villain category. The motive, other than "I will destroy everything," isn't clearly explained. He's a means to and end to get the League together, but I wanted more. However, I'm glad they didn't use someone more prominent like Darkseid or Brainiac in such a short movie.
Also, in an attempt to please critics, the tone is considerably lighter. The risks of Man of Steel and Dawn of Justice are gone in favor of streamlining a plot with injected humor. Joss Whedon's reshoots stick out like a sore thumb, sadly. Also, it was really stupid of WB to hire Danny Elfman for the score. He lazily reuses his classic Batman theme attempting to force a certain mood and feelings of yesteryear.
Yet, who doesn't have flaws? No one is perfect. So I pressed on…
Justice League spends the majority of the first act taking its time to introduce The Flash (Ezra Miller), Cyborg (Ray Fisher) and Aquaman (Jason Momoa) without indulging in origin stories. Rather the focus is on them exploring their powers and their eventual decisions in joining the team.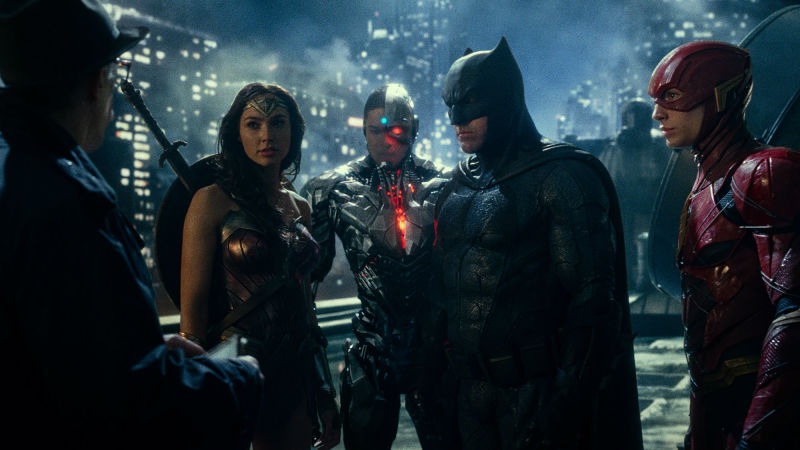 I felt it was a risky move to focus on the characters rather than the greater mythology that was clearly needed, but in retrospect, it was the right decision. The development of Ray Fisher's Cyborg was a stand-out. In very little time, he became a complex character in a movie that truly needed one. My interest in a Cyborg standalone movie jumped dramatically after seeing Fisher give a solid performance and his character being given this amount of dramatic weight.
There are so many major characters to focus on, and little time to do so. However, JL teases movies-to-come with an established great cast. Ezra Miller as Barry Allen (Flash) is a great comic foil to Ben Affleck's overly serious Bruce Wayne. Not every joke of his lands, but his awkwardness and timing allows him to steal almost every scene (unless Wonder Woman is in the scene, because no one commands the screen like Gal Gadot). Jason Momoa is probably the weakest of the League. He is a blast to watch, but his character is more of a tough reckless guy who's a force to be reckoned with. I'm hopeful we'll get to see some depth with his standalone movie out a year from now.
The movie built a layer of trust that was necessary, but I was still leery of how much time it took to get there, considering it was a shorter experience at two hours. I wasn't ready to hold its hand quite yet, but at least my hands weren't clammy anymore.
The date never lagged. If I were being honest, it was almost as if we were trying to pack a three hour experience into a tight two hours of dinner and conversation.
When I finally got to see the Justice League unite and band together in their first action scene, I started seeing the potential that I hoped for. The heroes all had different strategies in battle, and were a blast to watch. They seemed to be evenly matched, which gave the element of belief that the League could actually be beaten. These stakes, although simple, made the unity and growth of the team near the end of the movie into more than just another CG action climax.
There are moments that happen in the final half that made me giddy with excitement. The longer this date went on, the further I fell for JL. These are characters that have been part of pop culture for the best part of a century. Seeing them on screen, whether they were simple having conversations or fighting for their lives, was wish fulfillment that got better minute by minute.
Yet, through the all-too-fast runtime, simple plot and weak villain, Justice League is a solid entry into a franchise that I personally love. It's also different than BvS, in that it's a very family friendly movie that kids will love. These heroes are thrilling to see together. Classic fans will be happy to see the somber mood of previous DC movies replaced and even certain heroes become who everyone has always wanted to see.
By the end of the date, I asked for a polite hug, but got a over-armed lingering embrace and a kiss on the cheek that made me feel warm inside. I may one day ask it to be my girlfriend, but I think I'd need the date to be at least 40 minutes longer. Maybe every date should have a Director's Cut. B