Two weeks ago I put out a request on Facebook asking for Netflix horror recommendations. I wanted the good, bad and ugly. I expected ugly considering the E-list backlog of horror titles available for streaming. Surprisingly, most people gave me good recommendations, like Poltergeist, Tucker and Dale, and Re-Animator. I was looking for movie I hadn't seen, so I bypassed the good movies and went with the rest. This is Netflix we're talking about and there's a lot of bad out there.
Troll Hunter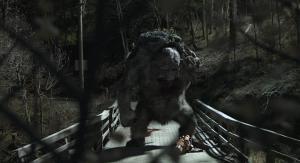 The found footage craze is basically dead and buried, but Norway managed to make it original in this 2010 movie. Troll Hunter follows a university film crew as they investigate mysterious camper deaths. They eventually run into a hunter and are taken along for the ride as he hunts down actual trolls.
Be warned, there are subtitles. Yet, who doesn't want to feel cultured and watch a scary flick all at the same time? To be honest, this one isn't really terrifying. There are scenes of tension as the crew repeatedly tries to outrun the giant trolls. The real reason to watch this movie is to see the beautiful landscape of Norway. Also, it goes deep into the mythology and species of trolls and put them squarely into our reality. There is even a special division of Norway's government meant specifically to hide the existence of trolls. Troll Hunter is absolutely worth watching. Stay tuned for what happens after the found footage ends as the prime minister of Norway gives a press conference.
Jug Face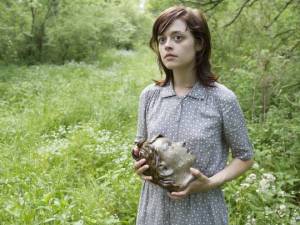 Jug Face tells the story of a pregnant teen trying to escape a backwoods community when she discovers that she may be sacrificed to a creature in a pit. This all happens when the backwoods prophet creates a moonshine jug with her likeness on it. Apparently that means you're next to die.
We follow this girl who is betrothed to a local hillbilly but is also pregnant with her brother's child. Happy times? She runs from the shadowy boy demon and sees visions of others dying in her place. The problem is, this movie is filmed on the cheap. The demon looks like photoshop effects were placed over the top of him. Also, the writing and acting is substandard. I was hoping for an original creepy tale, but it isn't worth watching.
Resolution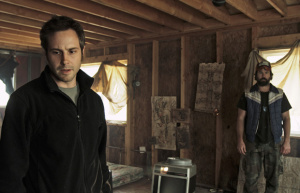 This 2012 movie is more than it seems. Michael travels to a remote cabin where his drug-addicted friend Chris is squatting. Michael intends to handcuff Chris to the wall and stay with him for a week until the cocaine works its way out of Chris's system. During the week, clues and video tapes are left in or near the cabin, which makes Michael investigate previous horrors that happened around the area. What starts out as a week of trying to get his friend clean, turns into a nightmare scenario.
This isn't a standard scary movie, but it becomes progressively more tense as it goes on. As Michael finds more clues, the hopelessness grows. Several red herrings are thrown your way. I wasn't sure how to process the end of Resolution. Researching what it all means helped solidify its place as a modern cult classic.
Night of the Creeps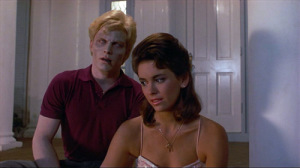 Night of the Creeps is the standard '80s nerd comedy. Neither Chris nor J.C. ever had a chance with girls, but that doesn't stop Chris from falling for the hot girl on campus. Meanwhile, they release a frozen zombie to the community as part of their frat pledge. These zombies have been infected by alien goo. They walk around until their heads explode and release alien slugs, infecting other people.
This movie is harmless if not a little fun. I can't believe I never saw this as a kid. It came out when I was five and seems like the kind of movie my sisters would have had me watch repeatedly. I feel like this movie will only get better with each viewing.
Transylvania 6-5000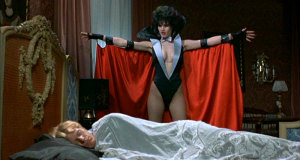 Jeff Goldblum and Ed Begley Jr lead this "comedy" from 1985. These two reporters are sent to Transylvania to search for Frankenstein, who has been recently spotted in the area. They end up discovering a minor conspiracy hiding the existence of a wolfman, vampire and mummy as well.
Wow, this movie is just plain terrible. The only genre this movie belongs in is "Mad-cap screwball comedy." These types of road trip/dining ensembles were a big thing in the '80s, and this was clearly trying to cash in. The humor wants so badly to be like Young Frankenstein, but is sadly just as funny as 'I, Frankenstein.' Whoever decided Jeff Goldblum was a romantic lead was most likely fired soon after this movie was made. As a friend once said, "There are only two reasons to see Transylvania 6-5000, and they're on Geena Davis' chest.
Cockneys vs Zombies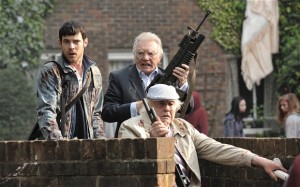 A nursing home is under threat of being shut down in this 2012 British zom-com. A couple of idiot thugs decide to rob a bank in order to save the home. But, as they leave the bank, they find that their town left desolate due to a zombie invasion. The nursing home residents barricade themselves in and the young cockney fools attempt to survive their way through the city and get to the home.
This movie really wants to be Shaun of the Dead. It is not Shaun of the Dead. There are some great moments, like when zombie hooligans still battle/shamble it out in the streets, but they are sparse. Subtitles are an absolute necessity here. The dialogue is rife with cockney rhyming slang that somehow makes sense. It takes a while to get funny, but Alan Ford (Snatch) salvages the movie. It's worth a smile for the shock and bloody zombie effects, but it never gets hilarious.