While the 4th of July weekend is typically celebrated with fireworks, barbeques and patriotic parades, fantasy fans were flying a flag of a different sort from July 3rd to the 5th. Thousands of fans took to the Salt Palace Convention Center to celebrate the art, literature and environments collected from every avenue of the fantasy genre. FantasyCon separated itself from being like any other large-scale convention because it was targeted towards lovers of all things fantastical.
This weekend was full of countless great moments. I was fortunate enough to take part in the festivities and it's an experience I'll not soon forget. Sure, the weekend went way beyond my perspective and there were great times shared elsewhere, but these were my specific favorite moments of the first FantasyCon.
I'd be remiss to not mention the preview night. The Night of Dreams was an incredibly special event. Showrunner Josh Patel opened up the convention for the Make-A-Wish foundation, Angel's Hands and March of Dimes, among several other charities. Hundreds of children and their parents got the chance to experience the setting and see the giant dragon, rock monster and dragon fountain. I didn't get the chance to attend this special night, but everyone who attended it stated that there was not a dry eye in the house as these ill children got the chance to experience adventure. I honestly don't think I could have made it through the night without bursting into tears, and I don't have any tear ducts.
5 – FilmQuest and Sylvester McCoy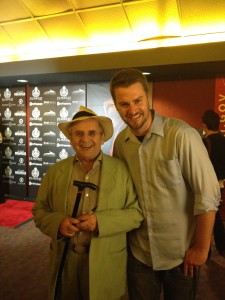 Preceding the official launch of FantasyCon was the festival run of FilmQuest. This first-time festival received hundreds of submissions, both shorts and feature length, from across the world. They also included local 5-minute submissions for its own competition. On the night I attended, I showed up to the Gateway Megaplex and picked up my press badge. I immediately saw a gaudy red carpet complete with camera guys, yuckity-yuck interviewers and women in evening gowns. I steered clear of the red carpet even when I was asked to take part. You can only imagine how those red carpet interviews would go…
Interviewer: Our next guest is a movie critic from little-known movie site, Showtune Showcase.
Me: ….Hi. I'm here to tell you how terrible these movies are.
Interviewer: Fantastic! And who are you wearing tonight?
Me: Target cargo shorts and Old Navy flip flops.
Thankfully, the block of movies were quite good. The two original shorts that stood out are Jack the Ripper and Dark Origins. Ripper is a 3 minute animated short created by Lexie and Nick Trivundza. Dark Origins tells a horrific story from the perspective of a patient talking to her counselor in a behavioral center. Both shorts quickly set the scene and sadly ended too soon. This block of movies was capped off with Echoes. This movie, by writer/director Nils Timm, is a feature-length film that tells the story of a woman who suffers from sleep paralysis, which becomes a problem as she is stalked by an entity while vacationing near the Joshua Tree national forest. This movie was made on a small budget, but feels surprisingly polished. It plays on the fear of being isolated in the middle of nowhere. Timm showed a great mix of balancing human drama and the terror of not being in control.
To cap of the night, Sylvester McCoy (Radagast the Brown, the 7th Doctor) showed up and spent time with fans and posed for pictures. I hated to be "that guy" but I had to get a picture. Unfortunately, he just had a picture taken with two attractive women before I approached him. His smile surely faded as this big tall weirdo cowered over him.
4 – Receiving a Doug Hug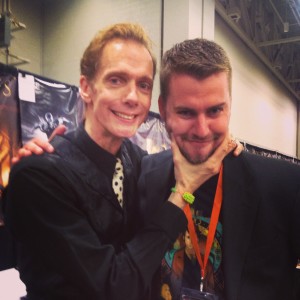 Doug Jones may be one of the nicest guys on the planet. He's so warm, it's almost a little unnerving. Even before the convention weekend started, I saw several visiting stars tweet that they couldn't wait to get their #DougHug. Apparently Doug's hugs are a thing and they get their own hashtag.
Mr. Jones has a vast resume. You have seen him in movies and TV, but you'd never know it. He is the world's best body actor. He played The Gentleman (from Buffy), Abe Sapien, Pan, Pale Man and Silver Surfer. Like I said, he is pretty much everyone.
I walked up to his line and told him that I heard a rumor that he gives the greatest hugs on the planet. He immediately approached me and wrapped his arms around me. Consider that he is taller than I am. He is also incredibly thin. While his face was nestled in my neck and his hands were rubbing my back, he asked "How's this working for you?" If I didn't ask for it, it would have been invasive. Wow, that sounds so wrong. I even tried to pull away from the hug and he didn't let me. When he finally let go, I told him that the rumors were true. The closeness continued as we got the picture. Beyond testing my personal bubble limits, he was the nicest guy on the planet.
3 – Simon Pegg's panel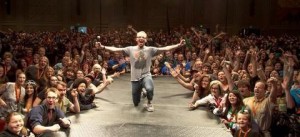 Simon Pegg is the FantasyCon guest that I was most excited for. I have respected his writing/acting work since 2004's Shaun of the Dead. Shaun was the first part of the Cornetto/Blood and Ice Cream Trilogy followed by Hot Fuzz and The World's End. These just happen to be some of my favorite movies.
There are times in a panel when a celebrity only gets a half hour on stage and ends up taking the time to answer ridiculous questions from the audience. For example, "who would win in a fight, Shaun or Nicholas?" Thankfully, the audience asked fantastic questions and gave Simon several chances to look like a geek rock star. I love that he spent a fair amount of time speaking about his late '90s series, Spaced. He also shared the story of the moment where he and Nick Frost became best friends. There was some language, especially in regards to an intense Jenga game with his mother, but I couldn't help but eat out of his hand.
He also gave a political answer to the question of what we're missing out on from Edgar Wright's Ant-Man script. He said it would have been a very Edgar Wright movie. He completely respects his friend for leaving the project when control was taken away. Meanwhile, he still respects Marvel for protecting their brand and formula. Well said. Then he clued the crowd in on a possible future project with Wright and Frost. I say, make this happen as soon as possible!
2 – Lord of the Rings and Hobbit panels
One of the best parts of FantasyCon was the allotted time that the stars gave for panels. On Thursday night, the main stage was set for for most of the dwarves from the Hobbit. They were joined by Billy Boyd, Sean Astin and John Rhys-Davies. These men set the high bar for the remaining days and panels. In one of the panel's best moments, Billy Boyd sang "The Edge of Night" at the request of an audience member. The crowd of 3,000 was completely silent, only erupting in applause when the song ended. It was an oddly emotional experience.
The following day, Sean Astin and Billy Boyd took the stage. While sharing hilarious and sentimental stories of their time on LOTR, the crowd quickly realized that Billy Boyd has great comic timing. I'd watch his stand-up show.
The third and final day brought the majority of the dwarf actors back on stage for a "ask anything" type of panel. Jed Brophy, Adam Brown, John Callen, William Kircher, Graham McTavish and Ken Stott played out some awkward memories on set. Jed Brophy became the star of FantasyCon as he showed his natural improv abilities doing impersonations of Orlando Bloom and other cast members.
As a massive fan of anything Middle Earth, these made for some of the be panels I've ever seen.
1 – Lost Girl Panels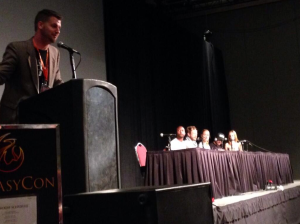 I've had the chance to be a panelist at recent conventions, but FantasyCon gave me my first experience as a moderator. To add to that stress, I was given the chance to moderate for the cast of the popular Canadian/SyFy show, Lost Girl. Thanks to binge-watching and fan forums, I felt like I could lead a discussion about Lost Girl for the benefit of the audience and hopefully not embarrass myself too badly.
The cast of Kris Holden-Ried, Ksenia Solo, Paul Amos, Rachel Skarsten and K.C. Collins took the stage of Ballroom 2 and the crowd was ready for them. They immediately proved that they were close friends and their natural camaraderie kept the crowd entertained in a total of three panels over the course of three days. I thought that I'd run out of questions somewhere around day 2, but I had some help from amazing Lost Girl fans on Twitter. They essentially did my job for me.
In the span of the three days, there were some classic moments. Whether it was Kris's constant mention of dead dolphins (essentially ribbing Ksenia's nature loving side), the cast leading the crowd in singing The Star Spangled Banner or K.C. trying to put his leg behind his head, the crowd of passionate fans were eating up every moment.
I made some great friends with several people in the crowd and the experience will not be one I will soon forget. The weekend was capped off perfectly when I got an unsolicited hug from Rachel Skarsten. It was pretty much an "aw shucks" moment.