Up until September I was getting very worried about 2013. For the majority of the year we only saw a few standout movies and too many forgettable summer blockbusters. However, Hollywood tested everyone's patience and finally released a ton of great movies near awards season.
I won't say that my list contains the definitive "Best" films of 2013. In fact, no list should. (Except for my "Worst Of" list. That's just science). It's all a matter of opinion. Yes, there are superior films in a high-brow, critical sense. I just know what I like and what I'd be willing to watch and enjoy again. I struggled deciding on 10-ish movies for my favorites of the year. Here they are, the movies that made me feel all of the emotions (yes, even man tears).
Honorable Mention – The Hunger Games: Catching Fire (Also every movie picture above)
Yes, I'm starting with an honorable mention. I was blown away that this sequel fixed nearly every problem with the original. This thrilling sequel was one of the most entertaining blockbusters of the year.
10 – 12 Years a Slave
12 Years a Slave brings a vivid picture of the darkest days in America's history to life. It tells the painfully true story of Solomon Northrup (Chiwetel Ejiofor), a man who was tricked and sold into slavery even though he was a free and wealthy landowner in the North. There are few better acting ensembles in film this year. Ejiofor deserves the best actor nod, while Lupita Nyong'o stars in a great breakthrough performance as Patsy, the slave who hopes for death rather than a life serving under temperamental slave owner, Epps (Michael Fassbender is a brutal, unlikable role). This movie takes a hit for playing the "Time" theme from Inception repeatedly. While what you see in this movie is hard to watch, it really should be seen. Tears will be shed by the end of the movie, I assure you.
9 – American Hustle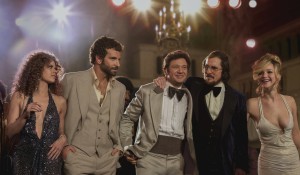 Director David O. Russell (The Fighter, Silver Linings Playbook) is on a roll. This con-drama is one of the most unique movies of the year. You should not root for any of the scummy characters in this movie, but you just can't help it. An understated Christian Bale carries the movie and is the emotional center. It doesn't hurt that Jennifer Lawrence plays his manipulative wife, always looking to exploit every situation. It's rare when a Oscar drama can make you happy and satisfied by the end.
8 – Inside Llewyn Davis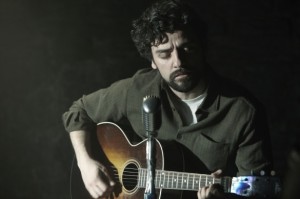 This movie about a 1960's vagabond folk singer came out of nowhere. I am not a fan of the majority of the Coen Brothers' work. I thought this movie would be no exception. Somehow, I couldn't help but fall in love with this overly moody tale about a pathetic, yet extremely talented man. The great soundtrack and ambivalence makes this movie a two-time watch at least. Coen regular, John Goodman, puts in a great cameo. Also, after her role in the Great Gatsby, Carey Mulligan is playing a lot of despicable characters in 2013. This is a must-see for music history lovers. Llewyn Davis' journey managed to haunt me and still sticks with me.
7 – The Hobbit: The Desolation of Smaug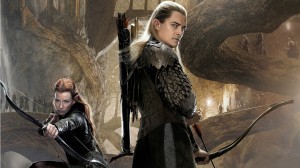 Much like Catching Fire, The 2nd Hobbit film improved on the first in every way. These movies provide escapism at its best. Peter Jackson added several elements and characters to this section of Bilbo's story and the end result is far better and more entertaining than the book. The introduction of Smaug is one of the most brilliant visuals in any film this year. At the risk of sounding like a 10 year old, this is the grandest dragon in movie history and Jackson spared no expense to make it look fantastic. All in all, this is a fun movie to watch. With the progression in quality from the first film, I eagerly anticipate the third and final movie next year.
6 – Prisoners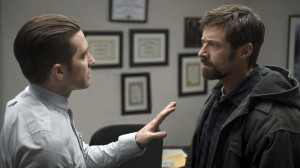 In my original review of Prisoners, I essentially retitled this movie as "Hug Your Kids." This is a heartbreaking story of two families whose young daughters are kidnapped. That's only the beginning of the story as Hugh Jackman's character takes matters in his own hands. His actions test the bounds of justice, though he can hardly help it as he enters deepening madness with every day his daughter is still missing. This is Hugh Jackman's best role by far. The same goes for Jake Gyllenhaal. Prisoners never lets up. It doesn't even rely on background brooding music to keep you from checking your watch, the near absence of a musical score makes this movie feel Hitchcockian. It is sheer tension from start to finish and surprisingly one of the best movies of the year.
5 – The World's End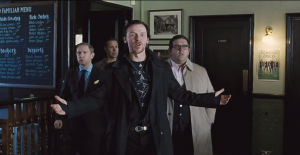 The pairing of Edgar Wright, Simon Pegg and Nick Frost has sadly come to an end with this third iteration in the Cornetto trilogy. While this movie may not be the surprise that Shaun of the Dead was, it stands on its own as a hilarious British movie with an Invasion of the Body Snatchers twist. This movie will be put on an annual rotation in my library. Even without the science fiction angle, this story of a man who never moved on from his youthful glory days, yet reuniting with his now-mature friends, is phenomenal. It will really be a shame if these three creative minds never work together again.
4 – Before Midnight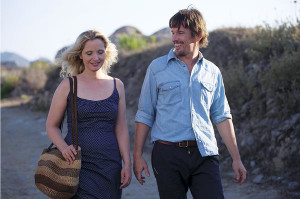 This unplanned(?) trilogy started nearly 20 years ago. Jesse (Ethan Hawke) and Celine (Julie Delpy) met on a train while traveling the Vienna countryside. They spend the only night they have together walking and talking for the duration of the movie. Its simple, yet genuine approach was continued in the 2004 film, Before Sunset, as they reunited for the first time. In Midnight, we catch up with Jesse and Celine in their 40's. At this point, they know everything two people can know about each other and they spend half of the movie arguing. It's difficult to watch this heavy dose of reality, but writers Richard Linklater, Hawke and Delpy are so masterful at sincerity and genuine dialogue, you can't help but watch. I hope they revisit these characters in nine more years.
3 – About Time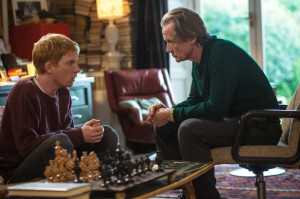 In a year where Spike Jonze's "Her" exists, About Time will unfortunately be overlooked. This movie goes beyond the romantic comedy premise the trailers promised and gives us a beautiful story about family and belonging. Director Richard Curtis (Notting Hill, Love Actually) knows how to create a comedy that translates well here in the States. I promise that About Time is the perfect date movie. Domhnall Gleeson's character is entirely relatable and the time travel aspect only leads to creativity without mangling the plot. In fact, it takes a backseat to character development. This movie is touching and sweet and yet I still recommend it highly. I loved this movie.
2 – Man of Steel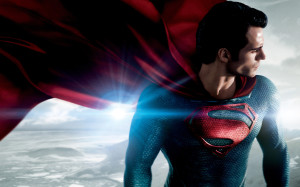 Am I asking you to debate the credibility of my entire list with this one choice? Yes, I think I am. Man of Steel finally gave me the Superman I've always hoped to see on the big screen. Instead of reversing the Earth's polarity or fighting a kryptonite island, Superman got to be the most powerful being ever seen in cinematic history. I loved seeing the out-of-sequence journey of discovery that Clark Kent traveled on before understanding his true purpose. Christopher Reeve will always be the quintessential Superman, but Henry Cavill is a worthy placeholder. Forgive my blasphemy when I say that Man of Steel is the best Superman movie. For those of you who disagree, I ask that you go back and watch the "good" ones (1 & 2). I'll wait. While Man of Steel isn't a perfect movie by any means, it reintroduces the iconic hero in a way that makes Superman a good character, not just Dudley Do Right. I only wish DC wasn't in such a hurry to bring in the Justice League in, because Superman deserves his own trilogy ala Nolan's Dark Knight. This movie was pure spectacle.
1 – Gravity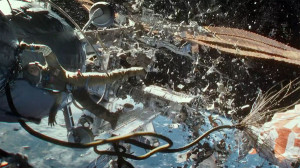 Gravity accomplished in 90 short minutes what few movies could ever hope to. This is arguably one of the most unique and original movies I have ever seen. The principal reason I love film is that I love escapism. I want to be shown sights that I will never see in my lifetime. Gravity gave me that in spades. In order to love this movie, you need to get emotionally involved in Bullock's character. Without that empathy, the movie will be lost on you. But if you establish that attachment, you are in for the ride of your life. Brilliant director Alfonso Cuaron (Children of Men, HP: Prisoner of Azkaban) spent years developing this film. I believe his investment has paid off with this cinematic masterpiece. This movie will no longer get the awards buzz it deserves because it became a mammoth blockbuster, and the Academy doesn't smile on movies that do well. I consider Dr. Ryan Stone to join the pantheons of heroic characters in film. Space hates her and she refuses to give up. Once again, Gravity excels because it's a beautiful story of disaster, loss and survival.