I struggle far too much when compiling my favorite viewing experiences each year. The internet is forever, after all, and I treat every list as if I'm etching it in stone. I'm still haunted by placing Avatar as #10 in 2009. What in the world was I thinking? Mistakes are made and will continue to be made. Yet, if I don't just assemble this list quickly, then it will never see the light of day.
If you've yet to see any of these selections, I'd have you remedy that now. However, being a very subjective list (even though my opinion is gospel), I realize that a few of these films are not well-liked or received. Don't spoil it. You'll just get mad. And yes, I recently rewatched each of these and currently stand by the rankings (until tomorrow probably). So, I introduce the 10 movies that impacted me most in the uneven movie year of 2016.
10 – The Witch
Let's start this off with a little bit of controversy. I've recommended this film to friends in hopes that they would feel the same ominous dread I had. Their responses leaned towards, "It's boring" and "Nothing even happens." Yet, I can't deny the gut aversion and respect I had for this colonial witch story after walking out of that screening. It was a fantastic year for horror with Don't Breathe, Conjuring 2 and Under the Shadow. But, it was The Witch that left its mark on me. In terms of tone and pacing, this is a movie that should have been made in the '70s. It never tries to jump out and scare you. Rather, it wants to visually disturb you much like The Omen or The Shining.
Best Scene – They're all messed up, but the exorcism of Caleb takes the cake. After he is witched, his parents try to remedy him, all the while, the twin siblings are chanting and blaming their sister for the witchcraft.
9 – Green Room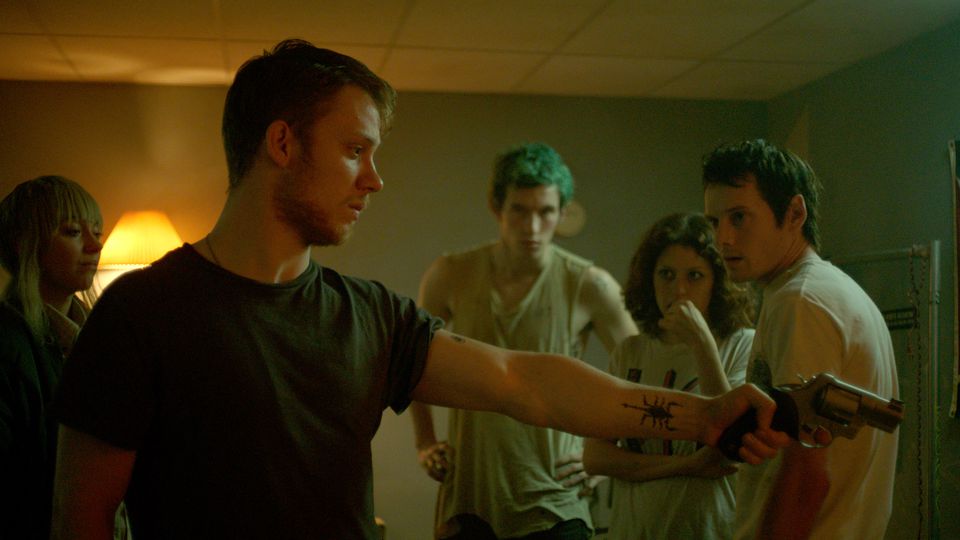 We lost an actor with a stellar filmography and great potential in Anton Yelchin. Thankfully, we get to enjoy him in movies like Green Room. In this movie, a low-class punk band plays a gig in a neo-nazi club and end up fighting for their lives. There's an ugly charisma about this movie that makes it unforgettable. The tension is always present and only heightens whenever the club owner, played by Patrick Stewart, shows up. Just imagine the controlling presence of Jean Luc Picard, but instead he's a violent racist kingpin. Green Room is admittedly far too violent for most audiences, but it's entirely thrilling even the second time around.
Best Scene – "It's time to play war!" When a few of the last remaining survivors realize they have little chance for survival, they adorn war paint and strategize unpredictable plans to throw off their captors.
8 – Hacksaw Ridge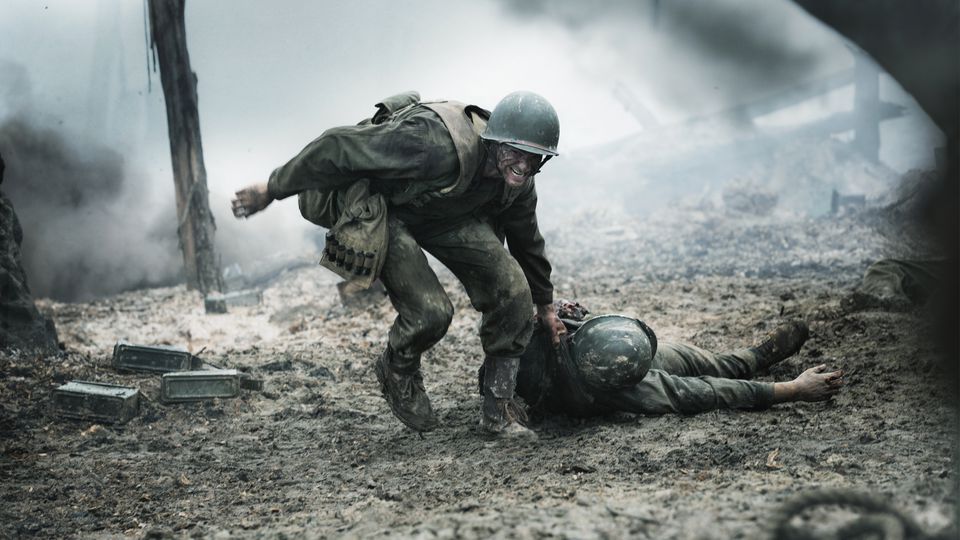 Mel Gibson returned to the battlefield to direct this Christian tale of integrity and war. There are three distinct acts that build on each other. Gibson takes a simplistic way of telling the heroic story of Desmond Doss, but it achieves greatness in the final act as we see the impact Doss made for his company of men. Andrew Garfield continues to be one of the best rising actors and he easily carries this movie. I never wanted to become fascinated with war movies like my dad was, but as I get older, the change becomes undeniable. I'm happy to include Hacksaw Ridge in my normal rotation of tier one war films.
Best Scene – As adorable as the beginning is, the best scene takes place at the end. Already having saved countless soldiers, Doss prays, "Just one more."
7 – Hell or High Water
Every once in a while, a film comes along that I remember really liking at the time I saw it, but the more I think about certain scenes, the greater my adoration becomes. There is no weak link here. The main cast (Chris Pine, Ben Foster, Jeff Bridges and Gil Birningham) and even the supporting cast make this a fully-fleshed out modern western that feels credible. I would love to see the pairing of this director, David Mackenzie (Starred Up) and writer Taylor Sheridan (Sicario) again. Hell or High Water proves that they are able to make an intense drama where the stakes feel real because you care about every single character.
Best Scene – The climactic shoot-out. Jeff Bridges shows so many levels of emotion and you can't help but get wrapped up in it.
6 – Arrival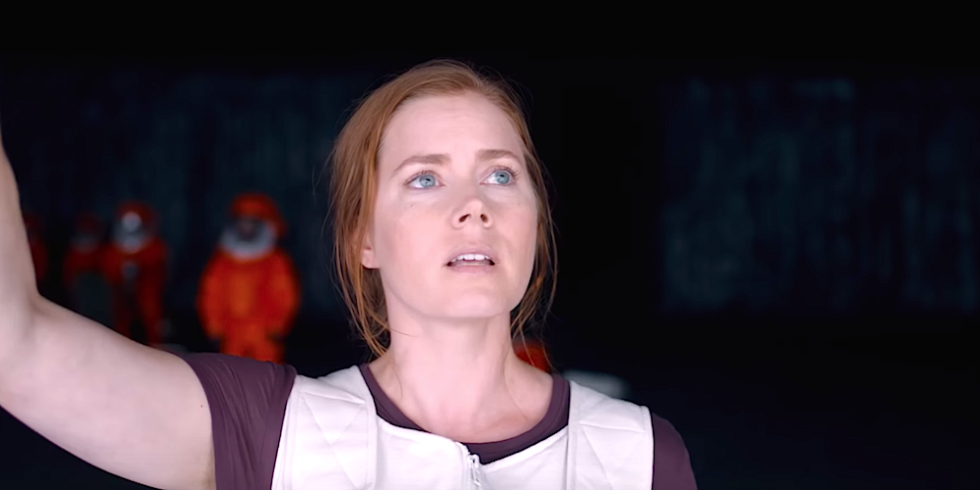 Yes, I know that this whole post has been a love-fest, but it's so much more fun than writing about mediocrity. Arrival was on my most anticipated movie list (#4) last year. I'm so happy the wait paid off. This film is anything but standard. After walking out of the theater, I couldn't quite voice my thoughts about it. It demanded a second viewing and quick. There's something special about a film that details the story of a brilliant linguist and what she can do to change the world. So much credit belongs to Amy Adams for her performance in a movie about life, hope and trauma. This is the perfect movie to counterbalance 2016. Director Denis Villeneuve (Sicario, Prisoners) just cannot be stopped and I'm hoping this carries over into the Blade Runner sequel this year.
Best Scene – The moment Louise realizes the aliens' purpose for her specifically and how they've been affecting her.
5 – Kubo and the Two Strings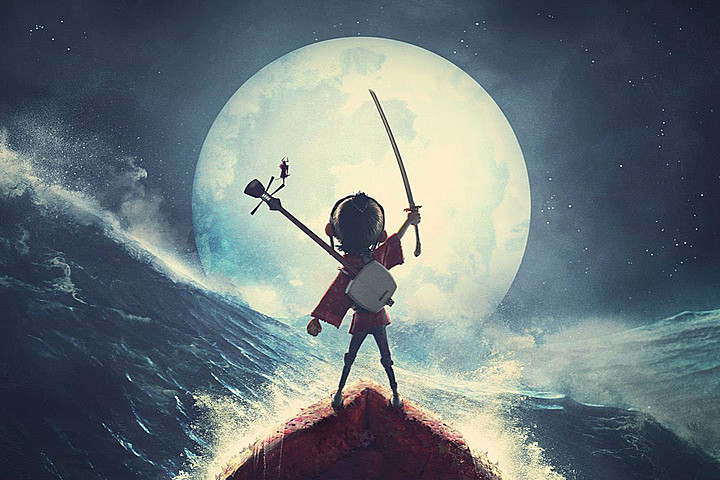 I'm harsh on animated movies because I see them as little more than a basic concept (Storks, Trolls, singing animals, Pixar sequels) and then stretched out to feed kids the "entertainment" they deserve. Having been raised on The Neverending Story and An American Tail, I feel they deserve better. Kubo is the latest from stop-motion animation wizards Laika and is easily my favorite. This story of a young boy discovering the importance of family and inner potential is beautiful.
Best Scene – With his impressive talents of miraculous origami and storytelling, Kubo completely entertains the villagers.
4 – Manchester By the Sea
I first saw this film early last January at Sundance. I had the benefit of knowing nothing about it. I was completely engrossed in the story of an apathetic man who responds to the call of overseeing his nephew after his brother passes away. While simple on the surface, the story (helped along by flashback vignettes) is so multi-layered and, at time, heart-breaking. Casey Affleck is the clear choice for the best actor of the year. On my list, this is the most grounded story, but it's one that cannot be denied. Kyle Chandler, Lucas Hedges and especially Michelle Williams bring this movie so much depth. Writer/Director Kenneth Lonergan has created a movie that never falls into easy tropes and predictability.
Best Scene – Lee and Randi have a short conversation after running into each other in town. It may just be a few minutes long, but It's so personal that you feel guilty for eavesdropping. This is one of the best scenes of the year.
3 – Sing Street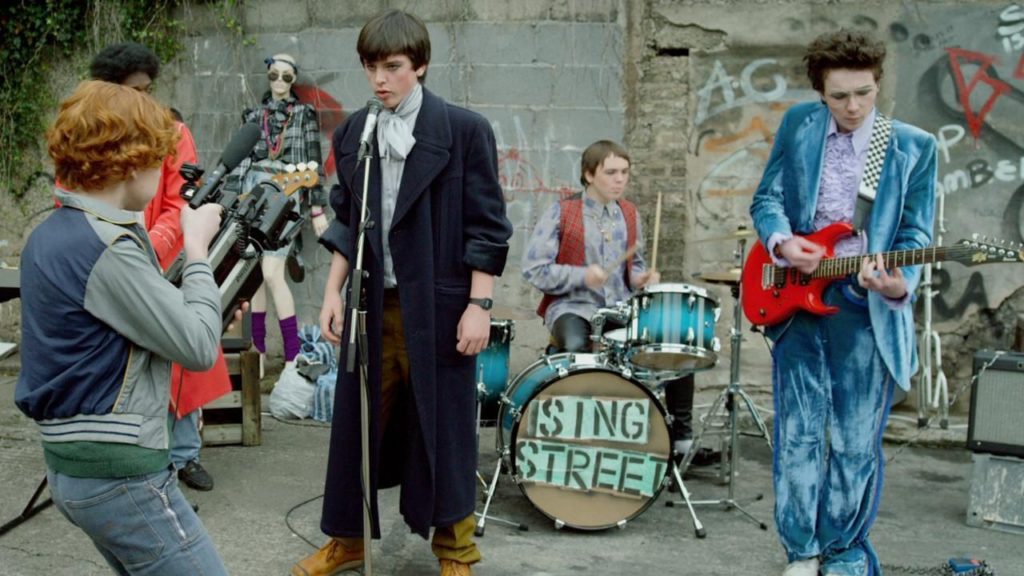 It's time to drive it like you stole it because Sing Street is one of the most enjoyable films of the year. I've taken it upon myself to personally preach about the charm Sing Street can bring into lives. If Sing Street were a woman, I would proudly profess my undying love for it. John Carney (Once, Begin Again) writes and directs, but definitely takes on triple threat status, as he wrote the music for it as well. This is a love letter to the formative music of the '80s, but also has a emotional resonance about families as well. I cannot get enough of Sing Street clearly.
Best Scene – I could easily say that the music video for "Riddle of the Model" is the best scene, but nothing beats Brendan's pep talk to his brother as he describes the plight of the oldest child and the jet stream that all other children are able to follow in.
2 – Batman v. Superman: Dawn of Justice Ultimate Cut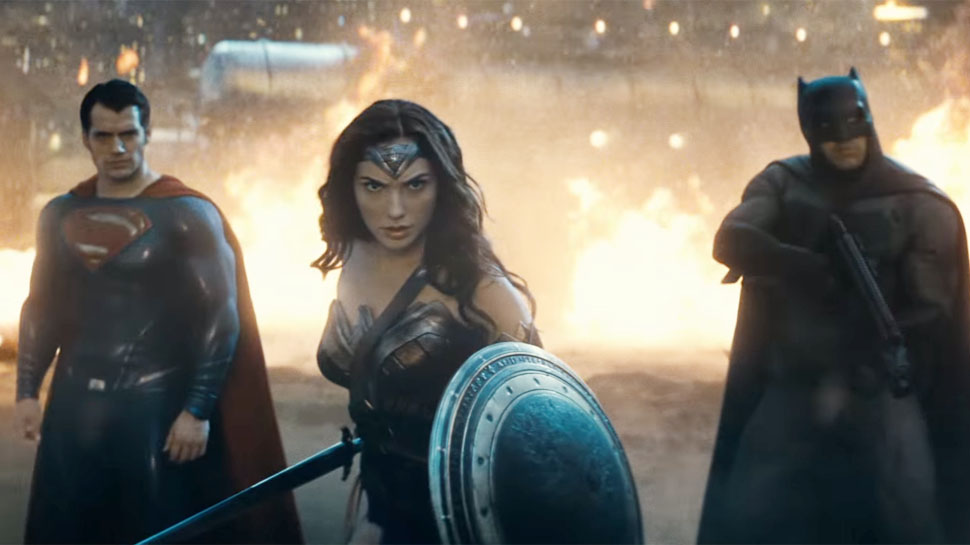 No. I'm not kidding.
Seriously.
I love the Ultimate Cut of Dawn of Justice. I may be in the unpopular minority here, but that's never affected my opinion before. I would never claim that Batman v Superman is a perfect movie, but it delivered on everything I needed it to. This version of the movie sits just above three hours, but is able to fully flesh out plots, motivations and origins of this fantastic group of characters. The cinematography by Larry Fong and direction by Zack Snyder are an amazing combination that stimulate my eyes and my inner child. I happily regret my initial distaste for Ben Affleck's casting. While Bale holds a special place in my heart, the motivations of this Batman are more true to the comics. Also, I couldn't be more happy about the inclusion (finally) of Wonder Woman on the big screen. Seeing the Trinity together gave me chills. Every time I watch this film, I focus on a different character's story and appreciate it more. I don't blame people for not liking this movie (unless you just agree with the zeitgeist perceptions of the moment), it breaks down hero types in what many consider to be far less than entertaining. However, for better or worse, this is my cup of tea.
Best Scene – I could say Granny's peach tea or the introduction of Wonder Woman into battle, but the warehouse fight is the Batman movie moment that everyone needs and deserves.
1 – La La Land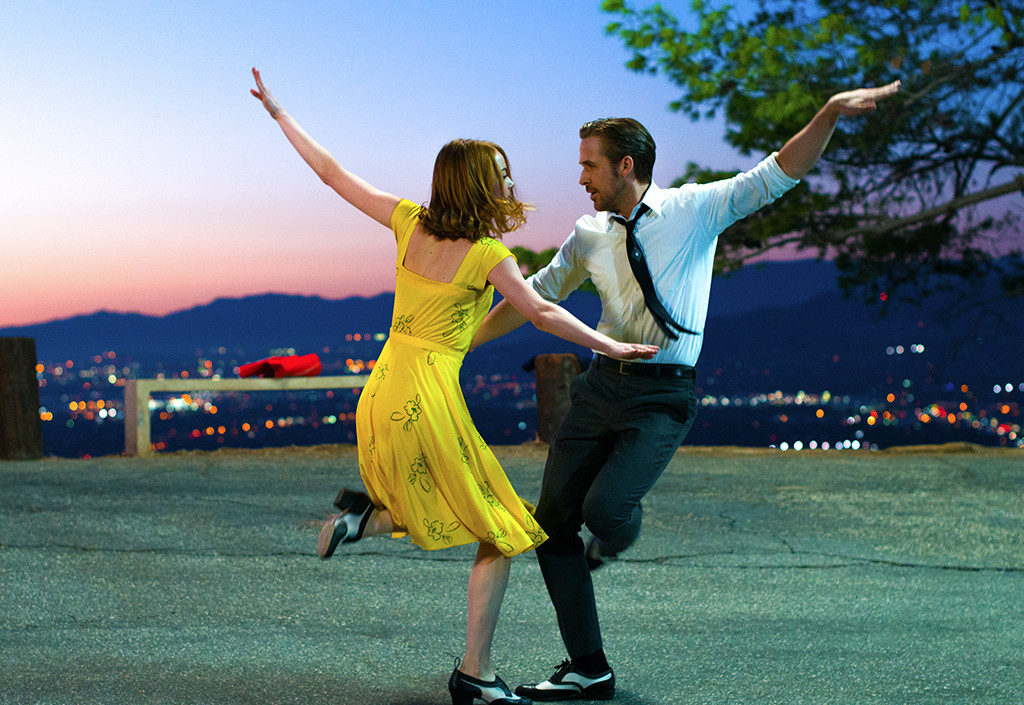 This film is a veritable buffet of delight. It's bubbly, emotional, peppy, sarcastic, nostalgic and yet, somehow feels real. Ryan Gosling and Emma Stone finally have the movie worthy of their incredible chemistry. La La Land is a musical, music appreciation course, relationship drama and inspirational speech all wrapped up in one tight masterpiece.
As I wrote my anticipated film list last year, La La Land was on my radar, and I was excited to see where director Damien Chazelle would go after 2014's Whiplash. Now, I greatly anticipate any of his future projects. This is a great year for Ryan Gosling. He was great in The Nice Guys, but thankfully there was far less nihilism in La La Land. Excuse me for two hours, I'm about to start watching this again. Here's to the ones who dream.
Best Scene – Can I say the entire movie? No? Okay, the epilogue is the bow that makes this an emotional masterpiece.