This past weekend, Salt Lake hosted its first Comic Con. Looking back, I don't think anyone could have predicted the massive turnout and success it became. Over the past 2 months, as new "celebrities" were being announced, it went from a small convention meant for 10,000 people at most to getting a new venue and hosting crowds nearing 80,000 people. The state of Utah was definitely ready and willing to be a part of a nerd gathering where like-minded people could celebrate all things geek. While there were a few hiccups, the problems boiled down to no one anticipating the fan support that would overwhelm downtown Salt Lake City.
To give the SL Comic Con some scale, look at the attendance numbers for the Con that rules them all, The San Diego Comic Con, which has DC, Marvel and the best of TV/Movie announcements. Their attendance is just over 120,000 people. In it's first year, Salt Lake has amassed 2/3 of that number. Something tells me that next year the Salt Lake Comic Con is going to be incredible and will be a major draw for the big studios.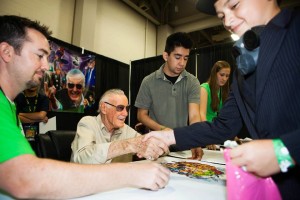 For the past two months, convention organizers were releasing information about celebrities who would be attending. Very early on it was known that Kevin Sorbo (Hercules) and Jonathan Frakes (Riker) would be there. Frakes had to drop out to attend Patrick Stewart's wedding, but that loss was filled by the news that William Shatner was attending. Joining him was a grab-bag of fan favorites like Nicholas Brendon (Xander), John De Lancie (Q) and Ray Park (Darth Maul). This group was expanded with the addition of Adam West and Burt Ward, and finally the night before the convention started, it was announced that the legendary Stan Lee would be coming. Even people who had preordered tickets realized that the "Con" was becoming a big deal.
Many fans who attended probably dismissed the absence of Marvel and DC's presence, thinking that these mammoth companies don't support first year conventions. Though, the problem was all in the planning. The SL Comic Con was scheduled on the same exact weekend as the Batltimore Comic Con, which is one of the biggest conventions. I personally think that next year, there will be careful planning to ensure the best possible experience and will play host to even better celebrities and major booths.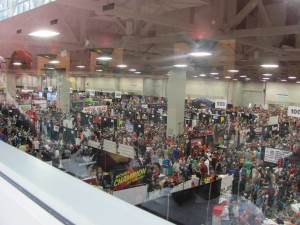 If you were just to walk the floor of Comic Con once, you may write it off as a giant farmers market filled with nerds dressed at the 10th and 11th Doctors. At first, I was even guilty of this. However, as I let the atmosphere soak in, yes even the BO cloud floating above the masses, I was wrapped up in the magic that is Comic Con. It truly was a judgment free zone. Instead of being embarrassed for overweight slave Leia or the killer clown in a leotard, I started to enjoy what I was seeing, a mass collection of fans who were willing to go all-out for what they love. At the end of day 2, I wished I had put more time into a costume.
The vendor booths were, for the most part, solid. The independent and comic artists that showed up had fantastic displays featuring their unique take on superheroes and pop culture icons.
If you attended the convention and didn't attend any panels, you missed out. They were my way to unwind from walking around sweaty guys in Hulk costumes. Not only did they give me a chance to sit down for an hour, but they were rooms filled with like-minded people, hoping for a good discussion on their niche nerd interests.
I saw a few celebrity panels and enjoyed each one. It was great to see how passionate Ray Park is about Martial Arts and how he feels about constantly playing a villain. It was also great seeing classic Battlestar Galactica alumni Richard Hatch (Apollo) and Dirk Benedict (Starbuck) on stage together speaking very honestly about the state of modern TV and constantly referencing old female cast members they were involved with.
Seeing Adam West and William Shatner on stage together was pretty classic. Just imagine thousands of people hanging on every word of your two vulgar grandpas. Shatner owned the stage, while West passively changed the subject and had everyone laughing through his slow onset of dementia. I am so glad I had the chance to see these two together. When else are you going to hear Shatner question Adam West about his perspective on an afterlife.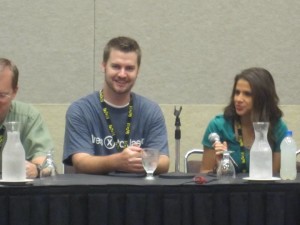 I had the random opportunity to be on 3 different panels. My first was "A discussion on Stephen King and his TV/Movie adaptations." I became the unofficial moderator for a panel of 3 (including me). It was fantastic to hear the crowd's opinion of King's novels and find that they share the same feelings about his flaws that I do (Great build up, poor endings). On that panel was author James Dashner (The Maze Runner), who is actually a fantastic person and was willing to chat for nearly an hour after the convention ended.
My second panel was easily the most organized. It was called "The appeal of horror. Why we like to be scared." Do you sense a theme here? I sat among 5 other panelists ranging from horror authors and a indie-horror actress. It was great to be a part of a well-run panel, but it was the least enjoyable at the same time.
My third panel came at the tail end of Comic Con. While vendors were closing up shop, I walked to the stage in a room of nearly 200 people. The only scheduled panelists were myself and a comic book artist. When he didn't show up, I got nervous about a solo act, so I, along with an unofficial moderator invited 5 people to join me from the crowd. Though their input was a mixed bag, I don't regret bringing them up. The other panelist did eventually show up, so we made some room, but we were already on a roll talking about "DC and Marvel. What DC can learn from Marvel's cinematic universe." It was an hour full of arguments, laughs and party fouls. As a movie critic, it was a phenomenal feeling to take questions and lead a conversation about comic book movies that people care about. I know that sounds ridiculous, but like I said, at Comic Con there is no judgment.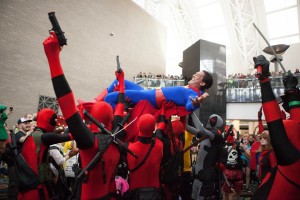 Overall, I feel honored to have taken part in an event that is sure to gain popularity and credibility in upcoming years. As a fan, a guest and a nerd I loved the environment of acceptance and a sense of community (even if it was a community that doesn't wear deodorant). I can't wait for next year. Let's just hope there's an actual Doctor Who panel this time around.
Pictures taken from GameTaffy and SLComic Con's Facebook page