Is it me or does anyone else notice that Bradley Cooper and Emma Thompson's characters have the exact same hairstyle? The Christmas movie season is already loaded with a ton of fantastic movies, so why not add Disney's Saving Mr. Banks and David O. Russell's latest movie, American Hustle, into the festivities.
Saving Mr. Banks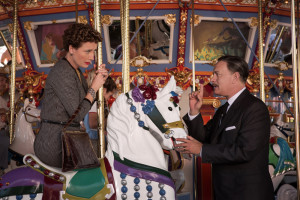 Calling all Disney-philes. This movie is for you. It's almost surprising that with all the biopics we've seen in the past decade, that no one has made a movie about the life of Walt Disney. Unfortunately, that's not exactly what you're getting with Saving Mr Banks.
Saving Mr Banks tells the story of how Walt Disney finally got the movie rights to Mary Poppins from author P.L. Travers. Tom Hanks plays an older Disney. He's a man who won't give up the 20 year struggle to adapt the classic series of books because of a promise he made to his daughters. However, Travers (Emma Thompson) refuses to let Disney turn her heartfelt novel into a musical cartoon. She feels that he only makes movies for the lowest common denominator. While on the Disney lot, she works closely with the script writer (Bradley Whitford) and two composers (B.J. Novak & Jason Schwartzman), as they try to convince her that Mary Poppins needs to be a musical.
As you'll find out, that is only a part of the story. Nearly 1/3 of the movie is dedicated to flashbacks of Travers' life growing up in the outback of Australia. This portion of the story details her youth and being raised by a loving, yet flawed father (Colin Farrell). There are reasons for the stick-in-the-mud attitude she has adopted in her older years and Disney quickly finds that Travers has more stubborn than he has charm.
The focus of the story is on Travers, young and old. Disney gets his time to shine, and Hanks does a great job of making him seem larger than life, but he's more of a supporting character. If Hanks were to be nominated for this movie, it would not be for leading actor. The actor who rightfully deserves a nomination here is Emma Thompson. She brings this anal-retentive woman to life. You can feel that there is a broken heart beneath the rough exterior.
This is the sentimental favorite of the season. There's truly nothing more or less that could be said about it. It's sugar-coated to a dizzying extent, but Mr Banks will stand out in this season of over-emotional Oscar dramas. Fans of Disney history will only get a peek at a small window in time. I think the biggest detriment is that this movie about Walt Disney was made by Disney studios. One day, I hope we see a full-fledged bio-pic about Walt Disney, yet made by another studio.
The closest reference point to Saving Mr Banks is 2004's Finding Neverland. It's a very sweet story that will leave your eyes a little misty at the end.
Saving Mr Banks is not perfect. It's so sweet it may give you cavities. However, it's a great family movie to see this Christmas season. It made me want to watch Mary Poppins as soon as it ended.
American Hustle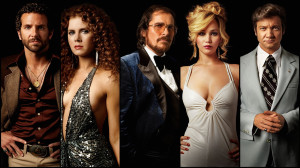 Just one year after the critical/fan favorite, Silver Linings Playbook, director David O. Russell reunites with Bradley Cooper and Jennifer Lawrence for American Hustle.
An overweight Christian Bale plays conman Irving Rosenfeld. He and his partner, Sydney Prosser (Amy Adams) had worked out a successful small-time con. That is, until FBI agent Richie DeMaso (Bradley Cooper) ensnares them and offers them freedom if they help him plan a big con to take down corrupt New Jersey officials. It doesn't take long for each of them to get in over their heads and events get out of hand, just as the mafia gets involved.
This movie takes place in the '70s and it feels completely accurate. You just have to take one look at Cooper's unnatural jerry curl and you realize what decade you're in. While this movie is based on the Abscam sting, it is clearly a fictionalized version.
Christian Bale once again proves he is one of the best actors in the business. It's truly not just a weight gain/loss with him. His Irving character is clearly someone who profits on the naivety of others, but he is the anchor in American Hustle. Only he truly knows how far they've gone down the rabbit hole. Throughout the movie, he is deceiving the mayor (played by Jeremy Renner) and entangling him into the sting. Without it ever being said, you can see his struggle with betraying someone he now considers a friend.
The acting in American Hustle is incredibly impressive. This is the best work Renner has done since The Hurt Locker. Jennifer Lawrence, who plays Rosenfeld's wife, is sure to get a Best Supporting Actress nod. It's insane to watch her in this movie and think that she is the same person who plays Katniss. She is quickly becoming one of the most talented actresses around. Rounding out the great cast is Amy Adams and Bradley Cooper. Adams will be outshined by Lawrence's work, but she deserves her share of the spotlight.
My mind wanders, so I couldn't help but think that Batman, Lois Lane, Hawkeye, Mystique and Rocket Raccoon (from the forthcoming Guardians of the Galaxy) share the screen in this enjoyable con drama.
This movie has its fair share of laughs, but fans of Silver Linings Playbook should not go into this expecting the same level of humor. I'm happy that Russell has not made another film in the exact vein of Playbook. While I don't love his earlier directorial work, I look forward to every project he is involved in now.
This movie works because it takes deplorable characters and makes you feel for them. That's all credited to screenwriters, Eric Singer and Russell. The movie starts out slow and creeps up on you until you can't help but love it.
American Hustle is highly recommended for fans of clever writing, great acting and a satisfying plot. I preferred this movie to Saving Mr Banks, but they are both worth seeing. They are also meant for two different audiences as well. Basically, this is a great movie weekend.