The Sundance Film Festival has evolved in its near 40 years of history in Utah. The festival was once a gathering of unknown actors and directors in a collaboration of everything indie. Now, it is a venue for big-name actors in low-budget films. People might see this as Sundance selling out. However, it is truly a festival handmade for up-and-coming directors who are testing their talents. It is rare to see a standard by-the-numbers film at Sundance. That unpredictability works to these movies' benefit and detriment.
Sometimes, not seeing a movie trailer, which describe the whole movie and show every money shot, helps you to go into the movie blind and walk out impressed. Other times, you may walk into a movie thinking it will be a crowd-pleaser meant for the entire family, and then it winds up being a hardcore German film of demented excess. Every time you see one of these movies, you are taking a risk and hoping it pays off. At $20 a ticket, you're really hoping it pays off.
The Double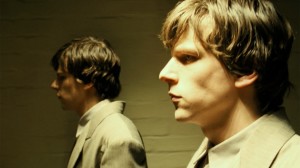 Jesse Eisenberg stars as Simon James in Richard Ayoade's latest film, The Double. Simon is the quintessential example of a submissive man with limited self confidence. His job is literally his world. Day-in-day-out he commutes to his grimy workstation and is nothing more than a muted face in the crowd. He becomes enamored with another coworker, Hannah (Mia Wasikowska) but is barely able to get the courage to talk to her. Just as life was sputtering along, his doppelganger, James Simon, starts working at the same job. James is everything Simon is not. He's confident, brash, clever and funny. It doesn't take long for James to take everything important to Simon and claim it for his own. The constant intrusion of the doppelganger and the fact that no one can see the similarities drives Simon to the point of insanity.
This film is based on the short story by Fyodor Dostoyevsky. To be honest, with the exception of subways and diners, there is little that separates this movie from the era of the author. This can't be seen as a period piece because it seems to take place in a surreal, hellish, industrial world. Everything has an underground feel to it. Even though the movie doesn't take place in the protagonist's mind, it feels like it. The audio effects stand out in a big way. This film is very intentional when it comes to certain sounds being muted or amplified to unbearable levels. Think, a water faucet sounding like a raging river.
For this movie to find its fanbase, it will have to be marketed correctly. This feels like the brainchild of Terry Gilliam's Brazil and Jeunet's The City of Lost Children. For those who have seen those movies, you know what you need to prepare for with The Double. This is not for mainstream movie fans (I swear I'm not a hipster) (Does saying that make me a hipster?). Much like most of modern art, the beauty found in The Double will be relative depending on the viewer. Several people walked out of the theater, most likely because they struggled with the ambiguity.
I loved that the doppelganger managed to become a rising star at the company, based on his confidence and brown-nosing alone. Whereas, Simon was extremely forgettable and no one would give him the time of day. He was figuratively part of the wallpaper.
This movie left me scratching my head. Though, I have grown more friendly to it after walking away from the experience. I'm excited to see where director Richard Ayoade (Submarine) goes with his next feature. Who knew that Moss from The IT Crowd was so deep? While this is not a crowd-pleasing movie, it is a surreal undertaking that may succeed in finding a cult audience.
Frank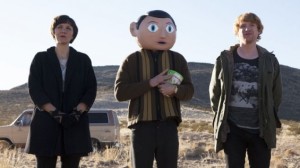 Directed by Lenny Abrahamson, Frank refers to a man who is never seen without his paper-mache mask. However, this is no horror movie. Domhnall Gleeson (About Time) plays Jon, the lead character. He spends his days trying to find inspiration to write music. Not satisfied with his normal life, he wants to become a big deal without putting in that much work. In a random circumstance, he is brought on as the new keyboardist for a traveling eccentric pop band calling themselves The Soronprfbs. They're so hipster, they prefer a name that can never be pronounced. This band takes Jon to a retreat so they can record an album. Every day, Jon has to deal with criticism from spiteful Clara (Maggie Gyllenhaal), while trying to understand the enigma that is Frank (Michael Fassbender).
I loved that this movie tackled the lifestyle of an unknown band destined to revel in obscurity. Their version of band practice and fine-tuning their songs is so haphazard and bizarre, that it leads their bandmates to repeatedly attempt suicide. Their way of crafting music is intentionally unique. Even when Jon plays them a half-decent song he's written, they distort it so much that it doesn't resemble the original.
There is so much fun to be had by watching Fassbender get into this introverted character. He commands the respect of his bandmates and possible fans because of his instability and behavior. Gyllenhaal plays a character that you aren't supposed to like and she does it well. Gleeson is quickly becoming one of my favorite character actors and I'll be watching every project he's involved in.
This movie won't be a guaranteed success. While it doesn't delve into a nightmarish world like The Double, it relies on quirk. Tonally, this movie matches Harold and Maude, and it deserves the same cult status. I only wish there was more of a reliance on making it a musical. The closing song will burrow into your head and you'll be humming it long after the credits roll.
Cold in July
Michael C. Hall stars, in Jim Mickle's (We Are What We Are) latest directorial effort, as Richard Dane. At the beginning of the movie, his wife wakes him up after hearing a noise. He reluctantly gets his gun and investigates. He ends up killing the home invader and the local Texas police clear him of any charges because the act was done in self defense. Unfortunately for Dane, the dead boy's father (Sam Shepard) just got out of prison and has revenge on the mind. The police use Dane and his family as bait so they can take down the ex-felon father.
Now, before you think this is another run-of-the-mill home invasion thriller, you have to remember that this is a Sundance movie. Mickle is able to take a seemingly normal story and adapt it into an unpredictable thrill ride. I wouldn't dare ruin the events that take place after the inital summary, but this film manages to transition from overwhelmingly heavy to hilarious to a revenge-style western.
This movie takes place in 1989 and the John Carpenter-esque synth soundtrack is a perfect match for the setting. Michael C. Hall (of Dexter fame) is perfectly suited for the era as well, complete with mediocre mustache and mullet. While Dexter may still be fresh on everyone's minds, Hall convincingly plays a man whose manhood has never been tested till recently. Over the course of the movie, we see this contemporary man evolve into a voluntary vigilante. Think of it as a coming of age story for a grown man.
While you may think you have this movie pegged, it radically shifts once Don Johnson enters. Yes, I mean that Don Johnson. He steals every scene in his best role in decades.
This is the perfect movie for grindhouse movie fans. You can't nail Cold in July down to one genre. If it were not set in the late '80s, this could very easily be a testosterone-filled western.
I enjoyed The Double and Frank, but they lagged in the middle. Whereas, Cold in July held my attention for the duration. I wish I made it to the Wish I Was Here and Cooties screenings, but I feel pretty good about the Sundance films I saw during the 2014 festival. These three movies are for three very different fanbases. Of the three, I'd recommend Cold in July.