Comic Con 2014 is now in the books. The quintessential convention was host to the biggest stars of TV, movies and the comics world. Comic Con is such a big deal that stars like Benedict Cumberbatch and John Malkovich show up just to promote the Penguins of Madagascar. There's more than one reason that this convention sells out in a matter of minutes. Fanboys/girls are more than willing to camp in line for the possibility of getting into the biggest panels of the day.
One day, hopefully next year, I will be one of those BO-ridden fans, covered in Axe body spray, anxiously waiting for the latest news and trailers from DC and Marvel. Until then, here's a compiled list of the highlights and disappointments of this year's Comic Con.
5 – An Expanded Godzilla Universe?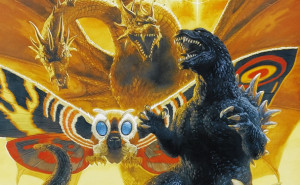 Godzilla was teased years before anyone was attached to the movie that was released this past May. So, it only seems right, months after the reboot, that a sequel is announced. The director of the first movie, Gareth Edwards, is also attached to the eventual sequel. This project is still years away. Edwards was shown in a video talking about a "small, sci-fi project" he's working on, and then he'll get started on Godzilla 2. That small project is the first Star Wars spinoff film. The footage teasing the new Godzilla movie is brief. It shows black and white stock footage of very familiar monsters with a JFK voiceover saying, "There is still one secret that remains hidden… There are others." The three monsters teased were Rodan, Mothra and Ghidorah.
A huge surprise came with a closely related tease. King Kong was shown on screen for a few seconds showing a reboot for the 8th wonder of the world. His movie will be called Skull Island and only show the monster-on-monster carnage that audiences care to see. This world-building could only lead to the eventual rematch between Godzilla and King Kong.
I only ask for two things. First, I want to see a Godzilla/Pacific Rim tie-in. Second, I will only watch Godzilla 2 if they kill Aaron Taylor-Johnson in the first 5 minutes.
4 – Tie: Christopher Nolan & Mad Max Win Comic Con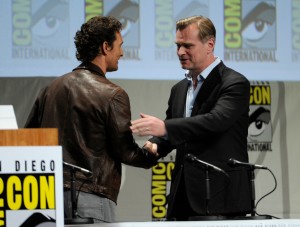 Anyone who knows me, knows that I have a Nolan shrine at my house; complete with spinning tops and memory tattoos. I was very excited to hear that both Nolan and Matthew McConaughey surprised the audience during the Paramount panel in Hall H. They showed the lucky audience 5 minutes of footage from Interstellar. This is my most anticipated film of the year and I would have killed to be there. Surprisingly, this is the first time that Nolan has appeared at Comic Con. Based on how busy his directing/writing/producing schedule is, this may be his last appearance for a while.
In one of the biggest surprises of the convention, George Miller finally unveiled a trailer for Mad Max: Fury Road. This movie has been in development hell for years now. By the time Fury Road is released, it will have been 30 years since Beyond Thunderdome. The Fury Road trailer looks like the spiritual successor to The Road Warrior, the best movie in the series. I almost wish that Mel Gibson were back in the role, but Tom Hardy is one of the greatest working actors today. He'll be a worthy place-holder.
3 – A Surprising Lack of New Information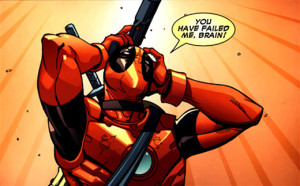 Every major studio has the next few years planned out. This is definitely the case for Disney, Marvel, Fox, Warner Brothers and Sony. Comic Con is typically the time when these major studios choose to announce major casting or introduce new casts to the geek-based audience. That's why it was so surprising when more big news happened behind the scenes and was never brought up at the convention.
Fox is coming off a big success with the X-Men relaunch. They have planned to create their own Marvel expanded universe involving the X-Men, Fantastic Four, Deadpool and X-Force. The Fantastic Four have already been cast. Specifically; Miles Teller plays Reed Richards, Kate Mara plays Sue Storm, Michael B. Jordan plays Johnny Storm and Jamie Bell play The Thing. Fans were already scratching their heads at the casting. Any fears about the project could have been alleviated by seeing the cast on stage showing some early footage. Instead, the cast was nowhere to be seen. This no show was made even more bizarre when a picture of The Thing made the rounds during the same week but not at the convention. When, and if, Fox ever makes a Deadpool movie (starring Ryan Reynolds) it will decimate Comic Con.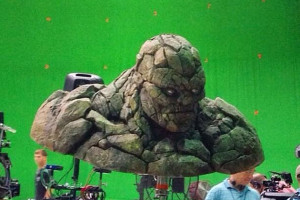 Marvel has recently scheduled new release dates through 2019 and booked their schedule through 2028. Yet, they didn't mention anything of the schedule post Guardians of the Galaxy 2 and Ant-Man. This was their opportunity to announce the recent casting of Joaquin Phoenix to Doctor Strange. Instead, they played it safe. They also didn't announce potentially big movies like Captain Marvel or Black Panther.
DC/Warner Brothers also had the chance to steal the show, more than they did, by introducing the entire Justice League cast. Granted, the movie doesn't come out for 3 years and there are several more opportunities to debut the cast. However, the alleged cast members are not being shy about their roles. Earlier this week, The Rock all but said he'll be playing Shazam. Jason Momoa is apparently set to play Aquaman. Also, Ray Fisher will be playing Cyborg. Sadly, none of these roles/actors were mentioned during the DC panel.
Sony chickened out essentially. Earlier in the week, they announced the delay of The Amazing Spider-Man 3 to 2018. Sinister Six was pushed up to take its 2016 spot. It's a shame because Andrew Garfield always wins over the crowd of Hall H with every appearance.
And seriously, no Star Wars panel? Kind of insane, no? Also, Jurassic World, which comes out next summer, had nothing to show or promote. Pretty disappointing.
2 – Avengers: Age Of Ultron Footage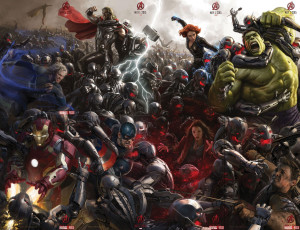 Marvel always opens its panel in spectacular fashion. Sadly, there was no Tom Hiddleston as Loki reigning over the crowd. Yet, Robert Downey Jr. threw roses to the crowd and handed each cast member a rose as they were announced. He handed a rose to Josh Brolin (Thanos), who in turn, ate the petals.
The two minutes of Avengers 2 footage made every one of the 7,000 fans in the room salivate. It starts off with the Avengers having a casual party at the Avengers tower. Each of the party-goers tries their hand at moving Thor's Hammer Mjolnir. Each is unsuccessful until Steve Rogers (Chris Evans) manages to make it budge. Thor gives him a worried look. At that point, Ultron crashes the party and threatens the crew by saying, "There's only one path to peace: your extinction."
The footage also consists of the Hulk taking on Iron Man in the Hulkbuster armor. This is essentially Hulk-sized armor covering Iron Man's suit. The two heroes face off and exchange a few fisticuffs.
Another clip shows the heroes battered and defeated after a large battle. Captain America's shield has been broken and only Iron Man is left standing, barely.
Seeing this trailer with the cast on stage would be a fun experience. If you were to ask the crowd, I'm sure they'd tell you the 7+ hour wait to get into Hall H was worth it.
1 – Dawn of Justice Footage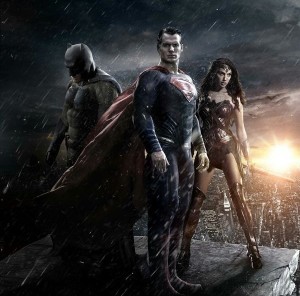 Last year, Zak Snyder stole Comic Con by simply showing the new Superman logo emblazoned on the Bat symbol. Very few convention announcements will ever be able to top the level of excitement for that. This year, they came close. In less than 30 seconds, the Batman v Superman tease turned everyone in the room into a 11 year old boy.
The footage begins as a figure walks in the rain, at night of course. This figure switches on a large lever. The camera pans up and we see our first video look at Batman. This is unlike any Batman we have ever seen on film. He is heavily armored and has glowing eyes. He rips off the tarp and exposes the Bat Signal, which shines into the stormy sky. In between the flashes of lightning, a lone figure hovers, starting down at Batman. It's Superman and he's pissed. His red eyes only become brighter. The camera pans back down to Batman, showing a close-up of Batman's armored cowl.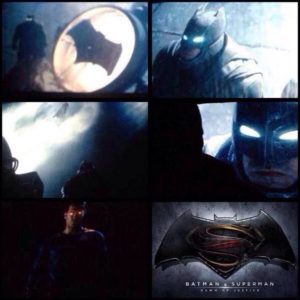 This is the first time I've believed that it'd actually be a semi-fair fight between the two legends. Snyder has wisely use the visuals of the Frank Miller classic "The Dark Knight Returns." Remember, in that story, Batman beats Superman. If you've seen the leaked trailer, you can audibly hear the room erupt when Superman appears in the sky. It shows that, even though people were mixed on Man of Steel, that they can't wait for Batman and Superman to finally appear together in a movie.
I'll have to let the excitement abate because Batman v Superman: Dawn of Justice doesn't come out for two years.
Also, at long last, DC has finally unveiled Gal Gadot as Wonder Woman. While she wasn't my first choice for the role, it is an amazing picture that isn't embarrassing or degrading. Basically, it's about time for a Wonder Woman solo feature.