The Lost City of Z is a movie several decades out of its time. It's a period drama based on the true story and book titled – The Lost City of Z: A Tale of Deadly Obsession in the Amazon, written by David Grann. That title should really say it all.
This movie spins the tale of Col. Percival Fawcett (Charlie Hunnam). In the early 1900s, he enjoys military life with his wife (Sienna Miller) and young son. In an effort to raise his family's stature, he acccepts a mission to chart and map the uncharted country of Bolivia and report back to his superiors. While he is there, his team takes great casualties from the dangers of this unknown world. Yet, he gets to a point where he realizes that there is a far more adept culture than any British citizen would have guessed. He makes it his life's mission to study these people and find, what he calls, the Lost City of Z… or Zed if you're British.
His partner in his travels is a very bearded, very gruff Henry Costin (Robert Pattinson). Pattinson plays this role so subtly that he doesn't make a huge impact, but still gives Fawcett a reliable traveling companion throughout his life.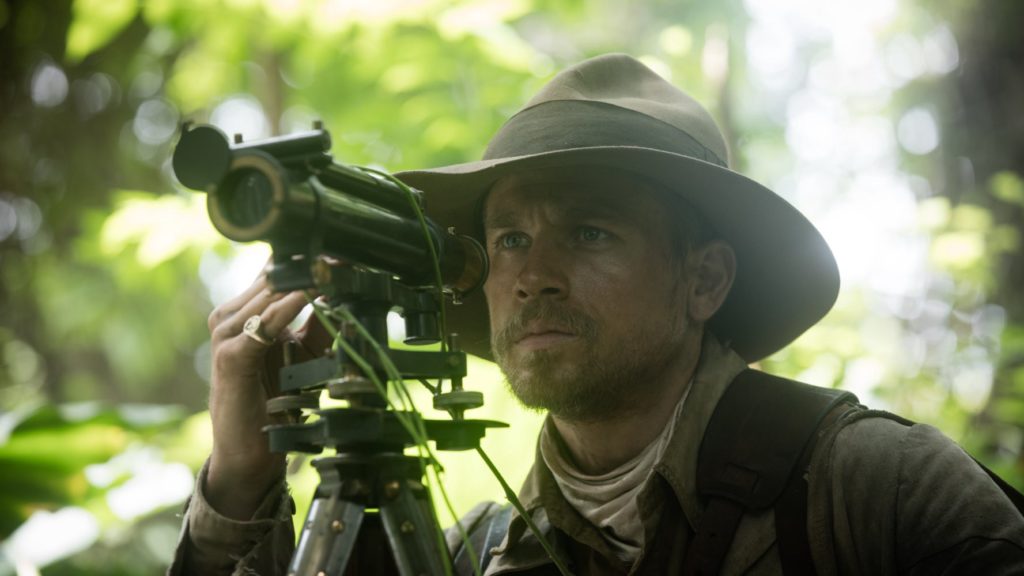 Charlie Hunnam fits well as a middle class gentlemen that doesn't quite fit in with the upper crust of society. Also, any scene of Sienna Miller is fantastic. Her fiercely independent role as Nina Fawcett adds depth to what would otherwise be scenes of stuffy British old world feel.
Once again, I say that The Lost City of Z feels like a movie released in the wrong decade. A good share of the movie is dedicated to class struggles and competing to be valued in upper-class British society. There are several of these scenes that could have easily been cut out, but it's almost as if director James Gray (We Own the Night) purposely took his time and wanted to make a dialogue-heavy, treasure hunting movie that feels more at home in the 1940s.
Bear with me here – this movie could be dramatically improved in black and white. It already has the feel of slow-moving jungle exploration movies of old. You would actually forgive its 141 minute runtime because the lengthy dialogue or vine cutting would feel like a purposeful throwback to a movie like The Treasure of the Sierra Madre or The African Queen.
My recommendation is that this movie is worth watching, especially if you have patience for very slow burn movies (Think Silence, but with less craftsmanship). I cannot forgive the fact that it could have used a few rounds of editing. However, this would be a good movie to watch at home with your dad on a Saturday afternoon. B-