In order to understand my movie stubbornness, we have to take a trip back to December 1997.
During the Christmas movie season of '97, James Cameron's Titanic took the world and box office by storm. Nearly everyone I knew, had already seen it twice and wouldn't stop recommending it to me. It quickly became the highest-earning movie of all time. At some point, in the weeks during its primary release, I decided that I never wanted to see it.
There were many reasons for my Titanic refusal. In '97, I was 16. I listened to '90s punk rock via bands from Fat Wreck Chords and Epitaph. I wore secondhand shirts that I bought from Savers. Also, I started regularly saying the F-word in an effort to be cool. (Though, never at home. My Mom would have murdered me.)
Because of these reasons, I didn't want to see a romance starring Tiger Beat's poster boy, Leonardo DiCaprio and the British Butterface, Kate Winslet. (Note to self: British Butterface is a great band name.) I knew that I may be missing out on a possibly great movie, but how could anything good have Celine Dion featured in its soundtrack? In the month leading up to the movie's release, "My Heart Will Go On" was cast into the world. This song single-handedly ruined the pay-for-request music video station, The Box. The music video, with Celine Dion singing into a wind machine, played on an endless loop.
Let's be honest. There was zero percent chance that I was going to do something (like see Titanic) that everyone else was doing, in fear of ever being seen as following a trend.
After a few months, the fact that I hadn't seen Titanic became a badge of honor. It became a "Fun Fact" about me in ice-breaker situations with groups of new people. However, after running a recent poll on Facebook, I've come to find that I am far from alone in my stubborn behavior. A good deal of those polled has also gone almost 18 years without seeing James Cameron's blockbuster.
I suppose that I'm not special. I'm not a beautiful and unique snowflake.
And now, let's talk about the reason that I'm going to forsake this near 18 year mission and finally watch Titanic.
A year ago, some friends urged me to start watching classic films. While I've seen everything under the sun post 1980, I had a major blind spot for most of film history previous to that point. With their recommendations, I started watching some of the greatest movies ever produced. Some time later, the conversation turned into a discussion about how many Academy Award Best Pictures we had all seen. I had only seen 38 of the 86 Best Picture winners. I was in last place, by a lot.
This is where my movie pride kicked in. My need to win took over and it became my goal to watch each and every Best Picture winner and to do it first.
Once I told my two friends about my conquest, the game was on. The three of us spent our spare time watching movies from the '30s and '40s en masse. One friend, who still uses Netflix for DVDs, bumped up every Oscar winner to the top of his queue. The other friend, who had a considerable lead, rented movies on Amazon. I have taken advantage of the local library. It is basically my replacement for Blockbuster. Thankfully, their entire stock of movies are old classics.
In the past three months I have watched far too many Best Picture winners. I plan to write a post about which were my favorite and least favorite. I'll just say that it's been a tough few months of choosing between sleep and watching a black and white movie. Often, at the same time.
At this point, I'm well into the 80s. I have a handful of movies to watch before I win the competition that provides zero benefit in my life at all. The things we do for competition's sake.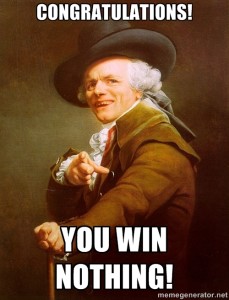 I had always hoped that we'd all give up before the end. From the beginning, I wanted Titanic to be the last movie I would watch, and hoped to never get to that point at all.
That's where we get to the real internal war. If I watch 86 of the 87 current Best Pictures, my movie OCD will keep me up at night. On the other hand, I'm stubborn and I don't want to be the guy who hears someone say that they haven't watched Titanic, and I'll have to butt in and say that "I hadn't seen it, until just barely….Sorry for interrupting. I just wanted to stay relevant."
In the battle of OCD vs Stubbornness, I think OCD will win. In the next few days I will finally see the tragic romance between Jack and Diane Rose. Don't worry, I'm already prepared to yell at her for not making room on that gigantic floating door.