I've never met anyone who didn't have a strong opinion about Disney music. If I did run into someone who didn't grow up with exposure to Disney, I don't think I could fully trust them. Disney music was the soundtrack to many of our younger years and we still hold on to particular favorites with passion.
With help from many people, I have compiled a list of Disney awards. I included only Disney theatrical animated films. I left out any live-action (Mary Poppins) and stop-motion (The Nightmare Before Christmas). Also, I left out the decade, which I lovingly refer to as the Apostasy (The Disney period right after Tarzan and leading up to Tangled). It's best that we all forget about that time. However, The Princess and the Frog isn't awful, just average.
So feel free to agree/disagree with me, but you need to state your points. Here is the Wonderful World of Disney Awards!
Most Annoying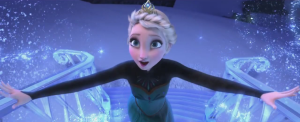 Let It Go – Frozen
Once upon a time I saw Frozen. I wanted another Disney masterpiece to match the quality of Tangled. Frozen could not reach the heights of Tangled, but was decent. Yet somehow it has become the second coming of Disney movies in terms of box office dollars and the hearts of the public. That is all due to the success of the hit single, "Let It Go." What was once a decent song, has now become a viral smash that we are now beat over the heads with. The covers never stop and people never stop watching. I now hate this song just as much as Celine Dion's overplayed soundtrack solo "My Heart Will Go On." It's reached that level of hate.
Honorable Mention: Whistle While Your Work – Snow White & the Seven Dwarfs (basically anything Snow White sings in that shrilly voice)
Best Villain Song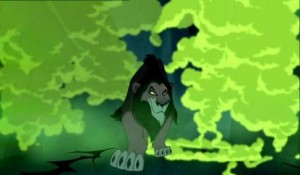 Be Prepared – The Lion King
This was a tough category because there are so many great Disney villains with fantastic theme songs. Scar wins because he basically becomes Hitler of Pride Rock. His song stirs up the hyenas into a hungry army. By essentially playing Hamlet's uncle, he becomes one of Disney's best villains. It doesn't hurt that he literally prances to the tune of his own song either.
Honorable Mention: Poor Unfortunate Souls – The Little Mermaid
Best Princess Song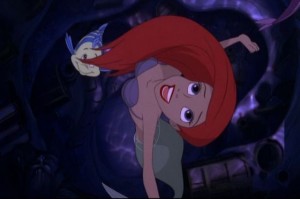 Part of Your World – The Little Mermaid
Based on their marketing, Disney is known for its princesses. Princess songs about finding love and a better life all started with Snow White, but the best princess song goes to rebellious hoarder Ariel. This song defines the '90s princess attitude of risking it all for love. I wouldn't be surprised if everyone reading this post knows this song by heart.
Honorable Mention: Once Upon a Dream – Sleeping Beauty
Best Ballad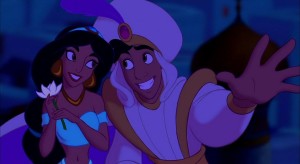 A Whole New World – Aladdin
Do you trust me? Aladdin is full of great songs and (fun fact) this one is is the only track where Jasmine sings. Aladdin knows how to charm the ladies and this song proves it. A Whole New World is the best love song in all Disney films because it is when the two main characters fall in love. Don't you dare close your eyes…
Honorable Mention: Beauty and the Beast – Beauty and the Beast (What was Mrs. Potts going to tell Chip when he got older? It may be time for 'The Talk')
Best Overview Song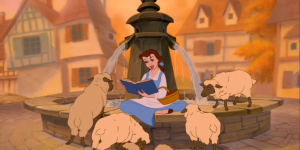 Belle – Beauty and the Beast
Disney classics always need a great opener to catch your attention. There's some steep competition in this category, but "Belle" tells us everything we need to know to about the main character and gets the ball rolling. We find out that Belle loves books, that Gaston is after her, that she's the crazy inventor's daughter and also that there's something peculiar about her as well.
Honorable Mention: Circle of Life – The Lion King (Even though it's basically a redo of the opening of Bambi)
Best Exposition Song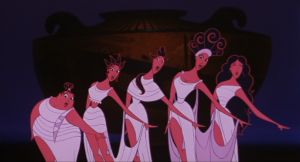 The Gospel Truth – Hercules
Throughout the first act of Hercules, the Muses show up a few times to catch the audience up on what is going on. In a very soulful way, they describe the past and how titans once ruled the land until Zeus locked them away. They then describe how Hades was tired of the underworld and planned to kill baby Hercules. Later, they sing about Hercules drinking all but the last drop of the poison, and was fated to grow up as a mortal and was sent away from Olympus. In a few entertaining minutes, they accomplished telling a backstory that Clash of the Titans couldn't do in 30 minutes.
Honorable Mention: When Will My Life Begin – Tangled
Won't Leave Your Head Song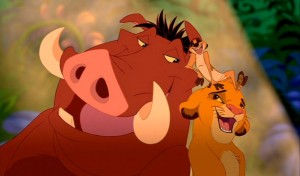 Hakuna Matata – The Lion King
Hakuna Matata apparently means "No worries," but did you know that it also means there is 'no escape' from singing this song every time someone says "Hakuna Matata, what a wonderful phrase…"
Honorable Mention: Heigh Ho – Snow White & the Seven Dwarfs
Saddest Song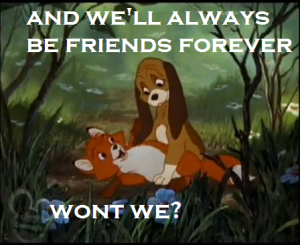 Goodbye May Seem Forever – The Fox and the Hound
Everything about The Fox and the Hound makes me sad. Why did Disney have to make such a tragic tale of best friends that are destined to be natural enemies? There are no sadder scenes in Disney history than when the Widow Tweed drives Tod the fox to the middle of nowhere in order to save his life. She hugs him one last time while speak-singing a song about how they comforted each other when they were at their lowest. Then she leaves him out in the rain alone and she drives away. The chorus is a heartbreaker as it says: Goodbye may seem forever/Farewell is like the end/But in my heart is a memory/And there you'll always be.
Excuse me, there's something in my eye…
Honorable Mention: Someone's Waiting for You – The Rescuers (Orphan songs are always sad)
Funnest Song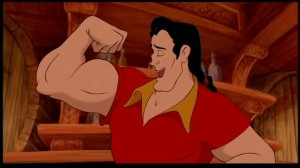 Gaston – Beauty and the Beast
After talking about a downer like Fox and the Hound, the best song to liven things up is Lafoo singing about the incredible traits of his man-crush, Gaston. That song taught me that, in order to get large, all I need to do is drink 3 to 5 dozen eggs in the morning. This song is full of Gaston sharing too much personal information. I don't think we ever needed to know that every last inch of him is covered in hair.
Honorable Mention: Friend Like Me – Aladdin (Have all of column B)

Best Non-Disney Song (But it might as well be)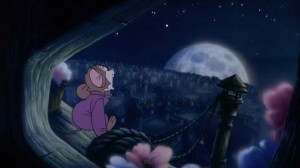 Somewhere Out There – An American Tail
Sure, I'm cheating by including non-Disney songs, but there are a few that hold just as much nostalgic value as my favorite Disney flicks. The movie in particular that has stayed with me through childhood is the movie that lied about there being no cats in America. The brother-sister duet, Somewhere Out There, is a touching song that works for romance and sibling love. Oh great, now I just ruined the song for myself.
Honorable Mention: Through Heaven's Eyes – Prince of Egypt (My apologies to Anastasia)
Not for Kids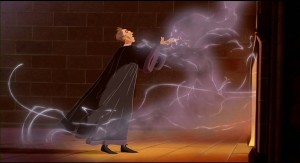 Hellfire – The Hunchback of Notre Dame
Judge Claude Frollo is one of the most realistic villains in the Disney-verse. He always claims to be pious, yet he seeks to wipe out the gypsies. Let's just say he has a few skeletons in his closet. In Hellfire, he sings about the great man he seeks to be and that it must be God's fault for creating the temptress, Esmerelda. To say he lusts about the gypsy would be an understatement. Hellfire is a great, but dark, song in a movie that only emo kids could enjoy. Even with talking gargoyles, this movie's themes are too heavy for children. Frollo's last lines of the song are, "…She will be mine, or she will burn."
Honorable Mention: Pink Elephants on Parade – Dumbo (also Heffalumps and Woozles. Acid trip anyone?)
Best Ensemble Song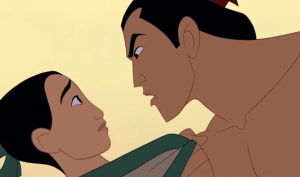 I'll Make a Man out of You – Mulan
"Let's get down to business! To defeat….the Huns!.." It's impossible to start singing that first line and not continue with the rest of the song. I'd argue that this is a tier 1 song in a tier 2 Disney movie. If I ever make a movie that needs a training montage, I will be using this song mashed up with Rocky's training song when he was in Russia.
Under The Sea – The Little Mermaid
Best Moral Lesson through a Song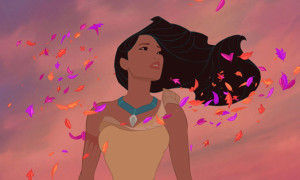 Colors of the Wind – Pocahontas
Who knew that the plight of the Native Americans could be described in one song? (Sarcasm) But seriously, this is a beautiful track about culture and understanding. All it took for John Smith to side with Pocahontas' tribe is to hear this song. That's persuasive. It doesn't hurt that Pocahontas is smoking hot either. (Kidding?) I dare anyone to listen to this while on a hike and not feel inspired to run on the trail, just don't go jumping any ravines.
Honorable Mention: Go the Distance – Hercules (Every Tony Robbins Lecture wrapped up in one song)
Worst Disney Song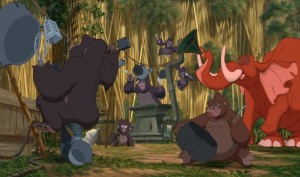 Trashin' the Camp – Tarzan
As far as casting goes, I understand why Rosie O'Donnell was cast as a young ape. She fits the part. But why did they let her sing and lead the cast of Stomp in a track that felt completely out of place? Even people who enjoy the Phil Collins-heavy soundtrack of Tarzan would gladly skip this song. Most Disney fans forget that this song even exists and it's for the better.
Honorable Mention: Every other Phil Collins song from Tarzan and Brother Bear (Sorry, not sorry)
Song that Captures Disney Magic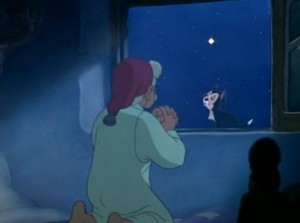 When You Wish Upon a Star – Pinocchio
There's a reason that we all hold certain Disney songs dear. There's a definite nostalgia factor, but they also inspire the belief in magic. Whether you love or hate Disney now, there's no question that we've all been touched by classic Disney movies and the music within. Honestly, the feedback I got when bringing up everyone's favorite Disney song was overwhelming. Apathy need not apply.
Honorable Mention: A Dream is a Wish your Heart Makes – Cinderella
What did I leave out? Any particular favorites that I glossed over? Share your choices in the comments below.