Summer is over and it's time for the Fall movie season. Don't be too sad though, the next few months are going to be pretty fantastic. That is, except September. We might as well write off September right now. There is very little to see for an entire month. But starting in October we'll see a ton of possible Oscar contenders and late blockbusters. I could come up with 20 movies to see quite easily, but I'll stick with 10.
Gone Girl – October 3rd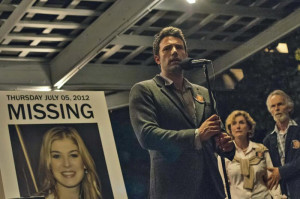 When I first heard about this thriller, I couldn't have cared any less. The description sounded nothing more than a Lifetime original movie about deceit and betrayal. In my mind it may as well have been "Gone Girl: A Wife's Justice." I decided to find out a little more about the David Fincher project and I read the book by Gillian Flynn. Having read it, I'm excited for what could be the best thriller in a decade. You only need to watch the trailer and know that an incredible amount of effort went into the movie. I've rarely been impressed with Ben Affleck's acting, but this could be the perfect role for him. Rosamund Pike is also a great choice as the wife who goes missing and her husband can't avoid suspicion. It sounds like your basic domestic thriller, but it's definitely unpredictable.
Birdman – October 17th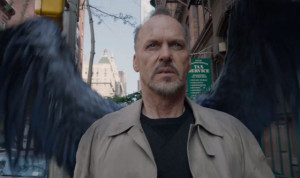 This movie could almost be based off of Michael Keaton's life. Birdman, or The Unexpected Virtue of Ignorance, tells the story of Riggin Thomson. Back in his heyday, he was one of the biggest movie stars on the planet. His biggest role was in the series, Birdman. That fame lasted until he turned down the fourth Birdman movie. Now, he's just trying to be taken seriously as a stage actor. The entire movie shows the build-up before his stage debut. However, he's constantly hounded by co-stars, family, his manager and the Birdman voice in his head. Early screening reviews are saying this is the movie to watch. Based on the introspective alternate title, this may not be for everyone, but it will be entertaining to watch Riggin's descent into madness.
Men, Women & Children – October 17th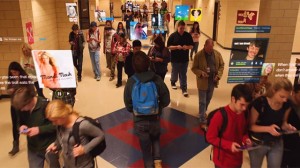 I didn't know anything about this movie up until 2 weeks ago and now, based on the trailer, it's definitely on my radar. Jason Reitman may have a spotty track record, but it looks like he's nailed the topic of internet usage on the head. The wordless trailer shows just how consumed we all are with our smart devices. It's paints a damning portrait of how little we care about the people sitting in front of us, unless we are talking to them through text or Snapchat. Without a doubt, this movie will be heavy in terms of cyber-bullying, internet affairs and general inattentiveness. I'm excited to see Adam Sandler in a drama again. He is joined by Jennifer Garner, Ansel Egort and Judy Greer. I don't foresee this one winning any awards, but it will make you think twice about pulling your phone out of your pocket, until you tweet about the movie 2 minutes later.
Nightcrawler – October 31st
Here's another movie that came out of nowhere. And just to let you know before you get excited, this is not X-Men Origins: Nightcrawler. In this movie, Jake Gyllenhaal plays a demented, but motivated, job seeker. He finds himself taking freelance pictures of crime scenes to sell to the local news. This pursuit of tragedy leads him to get too close to the news stories, seemingly setting them up for a photo opportunity. After seeing last year's Prisoners, I have to say that Gyllenhaal is currently one of the most talented actors on the planet. He looks almost unrecognizable in the trailer and should probably be up for an award come Oscar voting time.
Interstellar – November 7th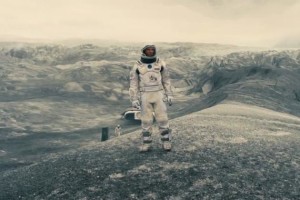 After the incredible success of Dallas Buyer's Club and True Detective, it's safe to say that Matthew McConaughey is at the peak of his career. Pair his comeback with the talents of the greatest living director, Christopher Nolan, and we should have movie magic. This science fiction film describes a time when Earth is running out of food and resources. To combat this, McConaughey is called on to lead a groundbreaking space flight through wormholes to find new planets that could sustain the world's population. The supporting cast of Casey Affleck, Jessica Chastain and Nolan stalwart, Michael Caine guarantees that we'll see great acting and believable characters. Don't expect Interstellar to be nominated for any major awards other than sound mixing. The Academy doesn't like Nolan and has repeatedly snubbed him in the past.
Foxcatcher – November 14th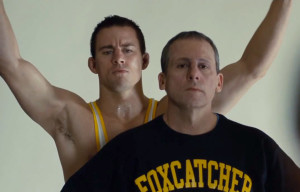 I'm about to say something that should signal the coming apocalypse. "Nominee for Best Actor in a Supporting Role, Channing Tatum." Foxcatcher is based on a true story. Tatum plays Olympic wrestler, Mark Schultz, who starts training with John Du Pont (Steve Carell). Neither Mark nor John are mentally sound. Events take a tragic and unpredictable path. Based on early reviews, everyone in the principal cast is great. Mark Ruffalo is always dependable in dramas. Yet, it's the turn of Carell that most people will be talking about. I'm just shocked that I'll eventually enjoy a Channing Tatum movie. Sad even.
The Babadook – November 28th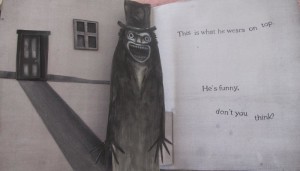 A single mother constantly tries to assure her son that there isn't a boogeyman in his closet. However, one day she reads him a "children's" story called The Babadook. This chilling story opens up her house to the stalking Babadook who wants her son. While this may seem like a standard boogeyman tale, the trailer sells it as a dark survival story. This movie premiered at Sundance this year to great reviews. While it may not be coming out in October, this is the horror movie that everyone should see over Ouija and Annabelle. This will be the perfect post-Thanksgiving movie…
Exodus: Gods and Kings – December 12th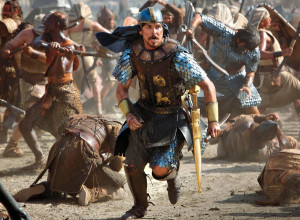 Ridley Scott is returning to historical epics with Exodus. This version of the story of Moses seems to be different enough that it won't be considered a remake of DeMille's The Ten Commandments. People may be worried about biblical epics on the big screen, due to the mixed reception of Noah. I'm pretty sure there won't be any rock monsters in the story of the Exodus. The cast of Christian Bale, Joel Edgerton, Sigourney Weaver and Ben Kingsley are excellent. I just hope this turns out more like the director's cut of Kingdom of Heaven instead of the theatrical version. Hopefully more Gladiator than Prometheus.
I always knew that Batman was responsible for freeing the Jews.
The Hobbit: The Battle of the Five Armies – December 17th
I'm sad that this series is once again coming to an end. Peter Jackson may always direct The Simarillion, but that's unlikely. This series is not Lord of the Rings. However, I find them to be very entertaining. The Desolation of Smaug improved on An Unexpected Journey. I'm hoping that continues with Battle of the Five Armies being the best of the bunch. I'm going to be sad to take the last trip to Middle Earth.
Unbroken – December 25th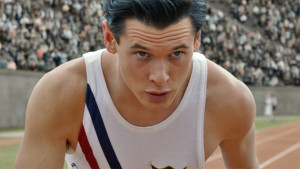 Unbroken tells the remarkable story of Olympian Louis Zamperini. He fought in World War II, was lost at sea and taken prisoner by the Japanese thereafter. Angelina Jolie is an unproven director, but this may be her first major foray to directorial success. If it's a half-decent adaptation of the book, it should be one of the best movies of the Christmas movie season. British actor Jack O'Connell is definitely on the rise. This role should only catapult him to bigger success. Even if the Academy doesn't get behind this movie, it looks like it will please general audiences.