This post is a sequel of sorts to the one I wrote for the teen fiction adaptations of 2013. The only movie from that original list that has yet to be released is Odd Thomas. It was originally slated for Summer 2013, but has been delayed till the end of this month. Sadly, it is what I expected. It is comprised of a likable cast but its main detriment is the uneven direction provided by Stephen Sommers.
Odd Thomas will never receive a film sequel, nor will Mortal Instruments, The Host or Ender's Game. Let's be honest, the goal of Hollywood's mad dash to adapt books into films is so they can cash in on making the next big franchise. Unfortunately, most of the YA adaptations borrow too much from from the big 3 franchises: Harry Potter, Twilight and The Hunger Games.
It seems like movie audiences only have enough patience/money to support one franchise at a time. The Hunger Games will wrap up next year and there will need to be a new franchise to take the crown. From the looks of it, that series may spawn from one of the teen fiction adaptations this year.
Divergent (March 21st)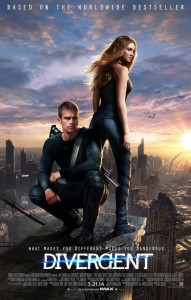 In this dystopian novel where every teenager wears wet suits, society is split up into five different factions. The unfortunately-named Tris Prior finds out that she doesn't belong in any particular group. Instead, her kind is known as the Divergent. Apparently, the uncertainty of her role angers authority figures that don't want anyone to stray from the community they created. Shailene Woodley stars as Tris, Theo James as Four (?) and Kate Winslet as the untrusting authority figure, Jeanine Matthews. Really? You have characters named Four and Tris, and then someone is named Jeanine?
Will it be the next big thing?
It's highly possible. The marketing budget for this movie must be huge. I have seen countless trailers, commercials and banner ads for this sci-fi action flick. The advance buzz will definitely help, as will the cast. From what I hear, the first book is quite good until the sequels when the series quickly goes south. The production budget will top $80M, so it will most likely earn its money back by the time it hits DVD/Blu-Ray.
The Fault in our Stars (June 6th)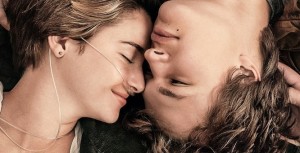 Shailene Woodley stars in another popular YA adaptation. This time, she moves from dystopian action to an emotional love story centered around sickness. This movie is based off of John Green's 2012 book, in which Hazel, a 16-year old cancer patient attends a support group and falls for 17-year old amputee, Augustus. The trailer makes this look like little more than your average Nicholas Sparks movie, but based on its source material, it should be far better.
Will it be the next big thing?
It will most likely be a critical hit and do well with weepy audiences. It's a stand alone story, so the producers aren't too worried about ever making a sequel. It is releasing opposite Tom Cruise's Edge of Tomorrow, so it may disappear in the action-heavy months of Summer.
The Giver (August 15th)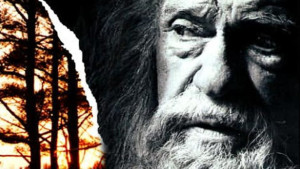 The book that we all read (or should have read) as children is finally being brought to the big screen. The short novel by Lois Lowry tells the story of 12-year old Jonas, while he prepares to receive his calling in society (Hmm, Divergent feels less and less original now). In a naming ceremony, he is given the uncommon title of the Receiver of Memories. Upon meeting The Giver, he learns about pain, love, war and sadness. He learns that his concept of the world is built on lies.
Will it be the next big thing?
This movie has me worried and excited. There's a good chance it could turn out like Ender's Game, good but not great. People have been waiting for a Giver adaptation for decades, but it may also be unfilmable. Also, like Ender's Game, the actor playing the protagonist is far too old. (He's in his mid 20's). The cast is promising with Meryl Streep and Jeff Bridges, but then again, Taylor Swift is also in the movie. The story is so short, I'm worried about what they're going to add to the story to bulk it up. I don't think we'll be seeing any of the other books in the Giver Quartet being made into sequels.
The Maze Runner (September 19th)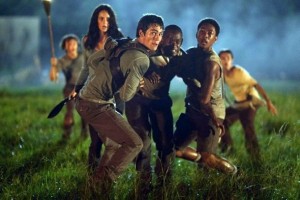 James Dashner's 2009 bestseller receives its adaptation this September. The story centers on Thomas, who is thrown into an extreme situation with no knowledge of his past. He, among 60 other boys, live in a compound surrounded by an impossible maze, complete with deadly threats. Life is turned upside down by the introduction of a girl into the compound. Through several unsuccessful escape attempts, the group starts to realize who put them in the maze and why.
Will it be the next big thing?
The real fight for the next franchise will be between The Maze Runner and Divergent. I can see this movie being a moderate success to begin with, then eventually gain momentum and buzz enough to greenlight a sequel. The talented young cast of Dylan O'Brien, Kaye Scodelario and Will Poulter is a positive. Also, Dashner helped with the screenplay. I'm always hopeful when the original author is allowed to see the final product through completion. The reason this movie will work is because there is emotional weight and drama behind it. Even characters you care about aren't safe.
The Seventh Son (February 6th, 2015 Maybe)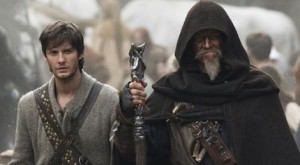 The Seventh Son is based on the book The Last Apprentice: Revenge of the Witch. So that sounds awesome, right? Jeff Bridges is the seventh son of a seventh son who fights goblins and witches. He is getting old and seeks to find an apprentice to carry on the good fight. Apparently, "the most dangerous witch in the county" Mother Malkin is on a rampage and only the apprentice can stand up to her… or something.
Will it be the next big thing?
This movie will be a disaster. It was originally supposed to come out in February 2013. It was pushed back to October 2013, then January 2014. Now, it's looking like it will get its release in early 2015. That's never a good sign. Why can't they just release it and let it crumble under its own weight and quickly be forgotten? The cast is impressive with Bridges, Ben Barnes and Julianne Moore. However, their star power won't be enough to save it. I have about the same desire to see Seventh Son as I would a Hansel & Gretel: Witch Hunters sequel.