With every DC feature released, the internet tells us to expect the worst.
I, a very small part of said internet, will tell you to largely disregard what any of us have to say. I love sharing my opinion, I just ask that you form your own opinion outside of what the online populous delivers to you. All that said, I'm definitely going to share what I think below.
Wonder Woman is a far more important movie than you could imagine. It's not just another blockbuster feature in a crowded summer full of action movies. Allow me to list the pressures Wonder Woman faces…
DCEU's 4th feature, following a year where its two movies were largely panned.
The pressure facing Patty Jenkins, an indie director and first female director to get this type of budget.
A relatively unknown actress, Gal Gadot, headlining a tentpole movie.
The first female superhero movie in the modern age.
If this movie fails, the entire DCEU experiment will be seen as a failure, which would decrease box office potential for November's Justice League movie.
Allow me to describe in one image what Wonder Woman does in the face of this pressure…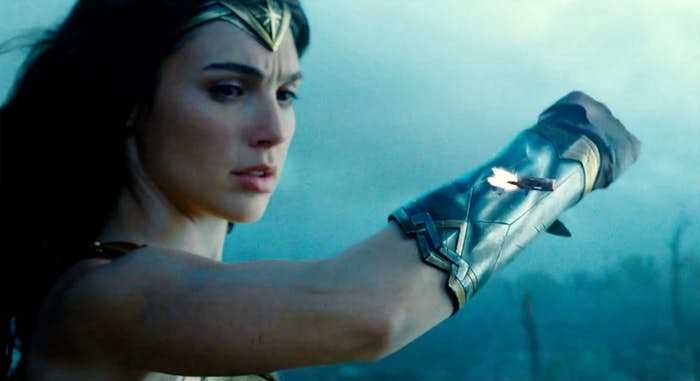 Essentially, Wonder Woman effortlessly swipes away any concern or expectations of failure.
In Wonder Woman, Diana (Gal Gadot) recounts her history as she is raised as a powerful Amazon princess on the hidden island of Themyscira. Everything changes once an American spy, Steve Trevor (Chris Pine) crashes just off the coast of the island. This incident leads to Diana finally leaving the island and begins her journey to save mankind from themselves, as they are embroiled in the first World War.
This is a true origin story from beginning to end. The growth she sees as a character is incredibly well-written. She has always been imbued with strength, but it's her acknowledgement about the world around her that defines her purpose.
Wonder Woman is a victory in every conceivable way. The casting of Gadot and Pine, combined with the Amazons, is great. Gadot carries this movie and gives it an innocence along the way. I can't imagine anyone thinking they could walk in the armored boots of this overpowered character. However, the writing and delivery completely puts you in her situation. She glides through the movie with a naive, yet noble focus. Her fish out of water story is one of the better versions of the trope I have seen.
My favorite aspect about Wonder Woman's character is that she's totally driven. At so many points in this movie, she is told what or what not to do. Thankfully, she's one of the most proactive protagonists in movie history and plays by her own rules.
Director Patty Jenkins has delivered a defining version of the character that is 76 years in the making. Warner Brothers should immediately snag her to direct the follow-up. Also, the story (written by Zack Snyder, Allen Heinberg and Jason Fuchs) allows for some hope to exist in what is one of the most dreadful eras in world history. The comedy and chemistry between the characters also adds to a smartly-paced 2 hour 21 minute film.
The aspect I wish was a little tighter, happens in the third act. As with most comic book movies, there's a need to rush a possible world ending scenario and a big CG fight. Wonder Woman falls prey to this, when it could have been far more simple. However, what redeems the third act is how Wonder Woman continues to discover who she is and how she needs to shape the world around her. Also, much credit to Chris Pine again for playing second fiddle, but being so completely reliable.
I could go on. If you run into me, I probably will. I will say that the industry is watching this movie closely for all the reasons listed above. There will come a day when the feminine aspects about the cast and crew are non-issues. I truly think that Wonder Woman pushes the needle in the right direction. Must see! A-