Remember the 2008 recession? In the title sequence of the The Company Men, radio news is playing – "Citigroup just laid off 50,000 jobs." Cut to Ben Affleck's character happily driving to work in his Porsche Boxster soon to find out his employer, a shipbuilding corporation, is laying off 3,000 employees. That morning he's laid off too.
Haven't heard of this flick? You're not the only one. I ran into it flipping channels to HBO at a hotel and found it immediately compelling. It also stars Tommy Lee Jones, Chris Cooper, Kevin Costner, and Craig T. Nelson. Had to IMDB it to figure out the title. Was happy to find it on Netflix and watch it proper.
Affleck's got a big suburban house, country club membership, wife and teenage kids. At first, he thinks it'll be no problem to find another job, but it's a bad economy to find a six-figure replacement. Eventually, unemployment goes on for months and so do the bills.
This is pretty much every family man's worst nightmare. There's a sad scene where he watches his Porsche drive away with the new owner. Things deteriorate financially further. Eventually, he and the family move to his parents house.
The story focuses far beyond Affleck's character, Cooper and Jones are top-level execs and Nelson's the CEO. You get to see the downsizing from the executives position and eventually Cooper and Jones are let go. Cooper struggles to cope – goes to the bar everyday while his wife thinks he's working.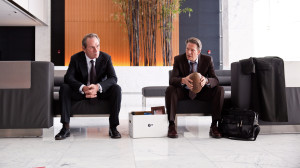 Costner plays Affleck's father-in-law, who hires him for carpentry, where he probably makes a quarter of his previous income. Both Affleck and Costner are similar actors to me, because they're best as the "everyman" and it was nice seeing them together. By no means am I a huge fan of either – Batman is a terrible idea for Affleck. But they are always believable as normal folk. I like normal folk, because we mostly live in a mostly normal world where compelling drama exists, but often overlooked by big action or ridiculous rom-com flicks.
Everything in this film felt real and was completely believable. Certainly, all of the stories portrayed here have actually occurred someway or another during the recession.
The film was directed by John Wells and it's worth noting his name. This was his film directorial debut, but he's no amateur. He's a veteran TV producer, West Wing, ER, and more back to the early 90s. His new movie August: Osage County is getting award nomination buzz.
Losing a job really does suck, yet most of us will survive. The Company Men humanizes downsizing on many sides and there's a ton to chew on here. It might have you re-thinking the devotion to your career while also reminding us to appreciate the jobs we have. How tied is your identity to the job? The next time you hear of a company dropping one thousand employees, there will be one thousand true stories of struggle and survival.