It's strange to see director Guy Ritchie (Snatch, Lock Stock) take on a very medieval story like King Arthur and the knights of Camelot. However, this is the same director that made two quirky Sherlock Holmes movies and pulled them off to some extent.
Legend of the Sword could essentially be called "Arthur: Origins." They may have purposely avoided that title, because there's no way that Charlie Hunnam could ever be confused for Dudley Moore.
Robbed of his birthright, Arthur (Hunnam) grew up in the rough streets of Londinium (which I'm pretty sure is an element). He gains a name for himself as a streetwise mob leader, but soon finds himself at the very doors of Camelot, the kingdom he was ousted from. His uncle, Vortigern (Jude Law), makes it his mission to humiliate and kill the true-born king and stop him from using the power of Excalibur.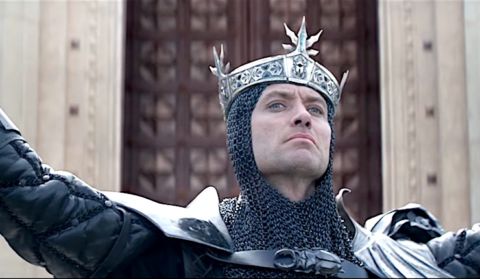 Guy Ritchie utilizes his brand of out-of-sequence cuts to tell a story. Instead of seeing A-to-B-to-C, we get A to Z to B to M to T and back to Z. In doing this exact thing, the story keeps a freshness that could easily get lost in a medieval revenge fable.
Before you go into Legend of the Sword blind, you should know that this movie apologizes for nothing. This is a story about a magical sword, magicians with bloodlust, and medieval knights that speak with all the class of cockney thugs of today.
Ritchie has managed to create an art form of using odd music combined with spastic action. If the story stopped making sense at points, I would immediately perk up when a montage would begin. It was in these moments, when I was invested in the movie. Sadly, there were enough dull parts that bogged it down.
The cast seems to be having a good time with the script. I can't think of a single performer that took this seriously. It's a shame this movie will bomb, because it doesn't really get to Guinevere or Lancelot. Also, it only hints at the mysterious presence of Merlin. There's so much more that could be told. With a tighter focus, a sequel could be great.
King Arthur: Legend of the Sword is an enjoyable Saturday afternoon movie. It feels enough like an '80s fantasy movie to satisfy teens and their dads. The action feels fresh, boosted by the soundtrack, but the project feels rushed. C+