Miss Peregrine's Home for Peculiar Children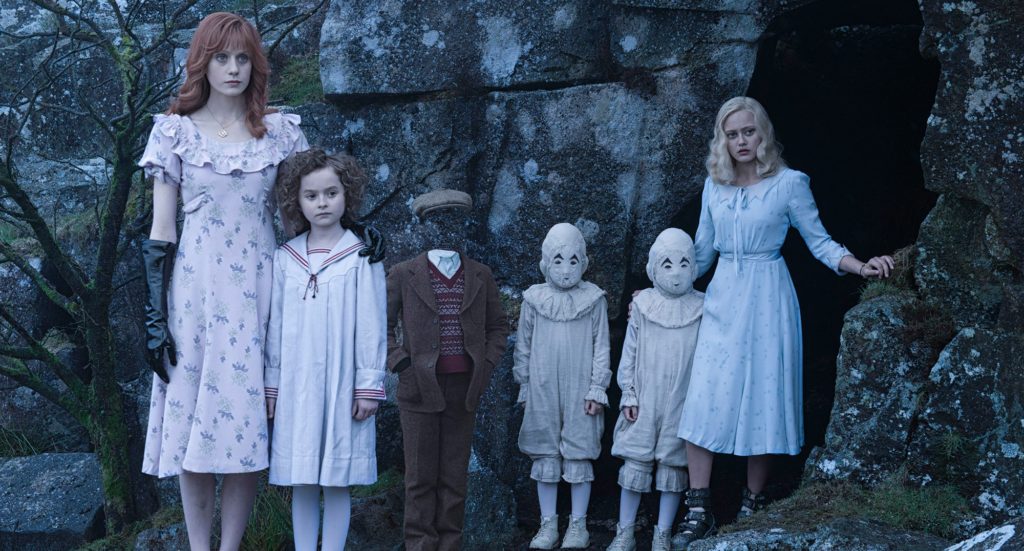 After taking a break from the surreal with 2014's Big Eyes, Tim Burton is back to the land of the bizarre with Miss Peregrine's Home for Peculiar Children. This movie is based off the popular books series written by Ransom Riggs, which is clearly a made-up name.
After a personal tragedy strikes Jake (Asa Butterfield), he begins to search clues around the calamity and finds out that his grandfather's stories about a hidden home for special children exists and it may be up to Jake to protect it. This home is run by the ever-present Miss Peregrine (Eva Green) who can transform into a bird, among other powers. This home has been hidden to protect the children from the Hollows, Slenderman-like creatures which have an appetite for the eyes of "peculiar" children.
Is this special home a young adult stand in for Xavier's School for Gifted Youngsters? Absolutely. In my mind, I already consider this to be "X-Men Babies." There's not much wrong with imitation. However, this movie does feel years too late to ever catch on. This is a young adult movie and that's very clear. The genre feels somehow beneath Tim Burton, and his recent track record has been spotty already.
The first third of the movie shows Jake traveling to this obscure place and discovering its residents, while glimpsing their powers. It certainly takes its time getting to a point, which is frustrating because it's entirely predictable. Somehow, it also lacks the standard Burton whimsy. Yes, that is the first instance of 'whimsy' being used in any of my reviews.
Where the movie is strongest is in the second act. Jake begins forming a bond with Emma Bloom, who has power over air, all except that she'd float away if not held down with steel boots. Their personal journey brings development to each character and should have happened far earlier in the script.
Tonally, the ending is a disaster. At times, it's terrifying, thanks largely to the Hollows. Quickly, it turns into zany CG action. The entire climax feels rushed as well. I think many of the movie's issues are due to being true to the source material while deviating into a full-blown kids movie. Miss Peregrine is given the job of providing exposition about the mythology of this world and that's when it takes a step too far into YA novel territory. Also, there is time travel involved and it quickly muddies the plot. A simple approach would have been far better here.
The cast, for the most part, seem to be enjoying their roles. Samuel L. Jackson plays the villainous Barron, and even gets the sharp teeth necessary to chew the scenery. Eva Green has the ability to elevate any movie she's in and does the same here. The peculiar children, who are largely unknowns, also bring a great sense of weirdness to the roles. Sadly, Asa Butterfield might be in his awkward phase and comes off a bit stiff. Same goes for his father, played by Chris O'Dowd, who might have the worst American accent ever.
There is fun to be had in Miss Peregrine's Home for Peculiar Children but it's divided between a darker mythology, while trying to be kid-friendly. There sadly isn't enough of the Burton feel in this movie. I enjoyed the mix of discovery and the horrific monsters, but the tonal inconsistency makes this a lesser Tim Burton movie. C-
Deepwater Horizon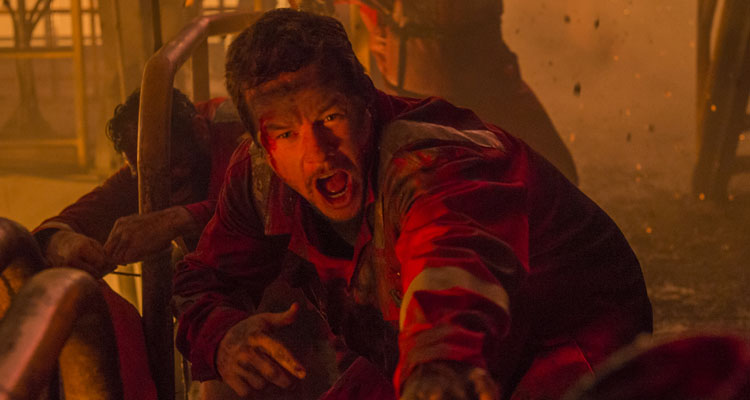 I knew very little of the finer details of the infamous BP oil spill that took place in the Gulf of Mexico in 2010. I remember the news reports of how catastrophic the damage was, but never once thought about those who died in the accident and how everyone was affected. Now, director Peter Berg (Friday Night Lights, Lone Survivor) adapts a version of this true-life tale.
Mark Wahlberg leads the cast as Mike Williams, an employee working on the rig known as Deepwater Horizon. This rig, captained by Jimmy Harrell (Kurt Russell), is attempting to cap off a unruly underwater oil well. Yet, the unpredictable nature of the well, the poor condition of the machinery and (especially) the greediness of the corporations onboard, lead to a horrific disaster.
There isn't a great deal of story-telling elements given to add fluff. It is a sequence of events that lead to Mike working a contract, the decisions made and the fight for survival. However, the lack of an extended plot doesn't mean that characters get the short shrift.
Great character actors bring you into the film and make you feel absolute tension knowing what's to come. In the few minutes that each character gets, they are clearly developed and give you reason to worry about their well-being. The cast highlights are Dylan O'Brien, Gina Rodriguez, John Malkovich and Ethan Suplee. Kate Hudson gets the unfortunate role of playing "worried wife on the phone." However, she nails several opportunities to bring the emotional side of the story into play.
The disaster scenes are quite thrilling. From the halfway point in, everything becomes cataclysmic. Every single penny of the large production budget shows up on screen. I'm not sure how well real-life disaster movies do financially. I'm almost sure this movie won't make its money back. However, I was constantly impressed at the scope of the disaster.
At 1 hour 47 minutes, Deepwater Horizon will keep you interested throughout. It's a very human story that makes you care, with a dread of knowing what is inevitable. I would gladly see this movie again and would enjoy just as much. This is definitely worth seeing on the big screen. B+