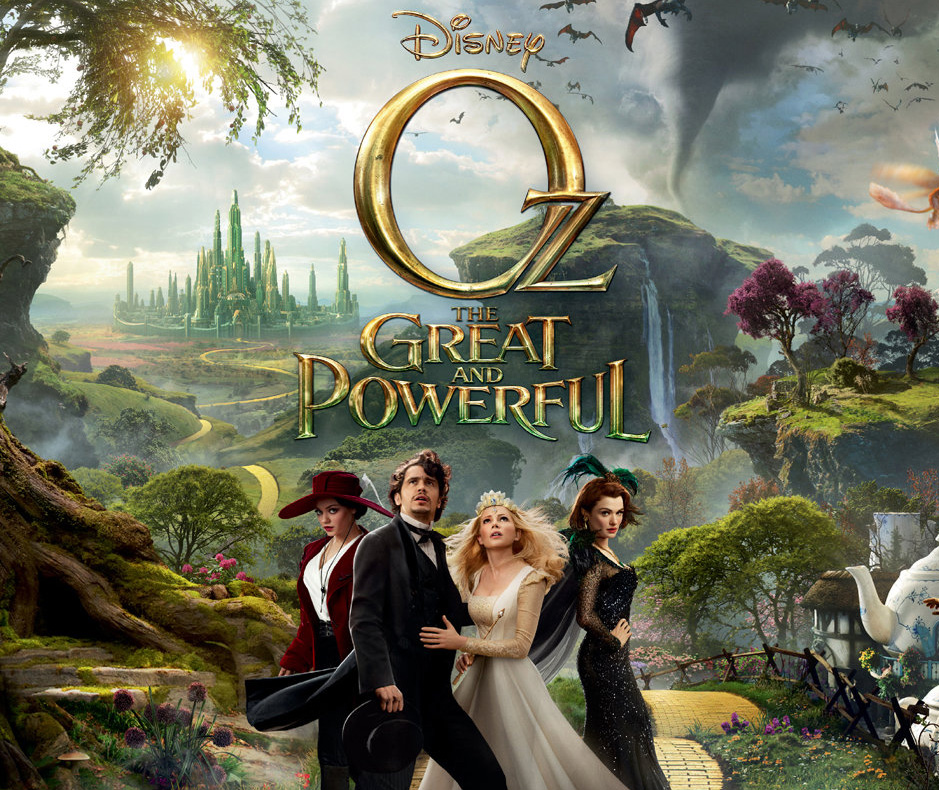 Just when you were starting to think that Wicked was the canon prequel for The Wizard of Oz. Now we have the official prequel. It's bittersweet because it's a Disney family film (hmmph), but it's directed by Sam Raimi (Yay!)
I shouldn't complain about an Oz story being family-friendly. Look at the 1939 classic. I still have fond memories of watching that and being transported from a black & white Kansas to the colorful dream-like land of Oz. I think I may have twisted expectations due to Return to Oz. That movie gave me shaken inner-child syndrome.
Oz the Great and Powerful follows a parallel pattern of The Wizard of Oz. James Franco stars as Oscar Diggs, Oz for short. He is a low-budget magician in a traveling circus in the black & white world of 1905. In the first few minutes, you can see exactly what kind of person Oz is. He's a conman, a womanizer and can talk his way out of most situations.
He is forced to escape the circus quickly and gets his hot air balloon stuck in a tornado. While he drifts through Oz, his surroundings immediately become colorful and vibrant. To give you a picture, imagine the impossible environments of Alice in Wonderland and add the brightness of Pushing Daisies. Oz immediately meets Theodora (Mila Kunis), who tells him that he is there to fulfill the prophecy of the wizard who falls out of the sky to rescue Oz from the wicked witch. Being a conman, he accepts this role and tries to fool her other two sisters, Evanora (Rachel Weisz) and Glinda (Michelle Williams), with lesser effect. While on the path to find the wicked witch he picks up two traveling companions, Finley the winged monkey (Zach Braff) and China Girl (Joey King). Together, they find out the truth behind the trouble surrounding the Emerald City.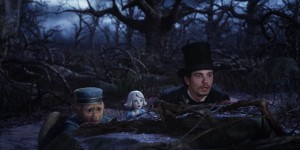 Let's start with the bad first. Oz doesn't have the same magic as The Wizard of Oz. It almost seems unfair to expect that. But the biggest downside in this film is unfortunate because it could have been so much better. I'm talking about <Spoiler> Mila Kunis as the wicked witch. I loved her naivety and innocence as Theodora. I wanted to see much more of her (who wouldn't) as this sweet character. So when she transformed into the wicked witch, it felt rushed. Also, her makeup wasn't all that great. She never commands the screen as the wicked witch should. I preferred to see more of Weisz's Evanora than Kunis. <End Spoiler>
Oz achieves greatness in several ways. The visuals are absolutely fantastic. You won't even mind that they aren't photo-realistic. Everything is exaggerated and cartoonish and it fits perfectly. This will be a fantastic movie for BluRay.
Franco plays James Franco. He wouldn't be my first choice for the wizard, but he doesn't detract from the experience. Weisz and Williams are great and play up their roles. The cast seems to be having a great time.
I loved the supporting characters of Finley and China Girl. Just when you think the movie is going to rely on Finley to be an adorable character, it pulls back. I'm extremely happy that he wasn't relied on for comic relief. Strangely, my favorite character was the China Girl. She looked extremely real and was the emotional heart of the movie.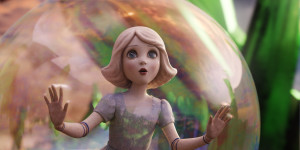 Fans looking for references to Wizard of Oz will not be let down. You'll get brief cameos or references to lions, scarecrows and tin men. Oh my! (Sorry, I had to).
Because I'm a lover of all things Sam Raimi (except Spider-Man 3, which I don't blame him for), I was hoping he'd add a few personal splashes into Oz. I was not disappointed. Let's just say, if you enjoyed Evil Dead, there is a scene that will make you smile.
Is Oz flawless? No. But it's entirely fun to watch and a great family film. If the title reflected the film's quality, it would be closer to "Oz the Good and Worth Watching."