The year is almost over and that means year-end movie and TV lists are arriving. My best and worst movie lists will be posted in the coming weeks. Until then, I thought I'd celebrate the movies that won't get much recognition. Let's award these flicks for their own unique contributions. I'd like to apologize in advance. This awards ceremony is about as long as the Academy Awards. But thankfully, there will be zero awkward musical numbers.
Best Use of '80s Memorabilia
Winner – Guardians of the Galaxy (Cassette Tape)
As much as I love the '80s memorabilia cast of The Expendables 3, it doesn't measure up to what Guardians and the 5th Paranormal Activity movie did. I'd argue the fantastic soundtrack of Guardians of the Galaxy made the movie what it was. This collection of songs that could have easily been compiled on a late night classics infomercial, was made even better because it looked like every mix tape you've ever created. It even had the masking-taped title, Awesome Mix Vol. 1.
Runner-Up – Paranormal Activity: The Marked Ones (Simon)
Doppelgänger Award Winner
Tie – Hercules & The Legend of Hercules
Movies often come in pairs. Just think of White House Down and Olympus Has Fallen for recent evidence. Someone apparently thought that 2014 was a good year for the demigod Hercules. I wish I could award a winner, but both movies are just so terrible. Normally, you'd think that Kellan Lutz and his Hercules origin story wouldn't hold a candle to the Rock's take. Well, both movies are equally bad.
Liam Neeson Aging Action Star Award
Winner – Denzel Washington
This was a year where nearly every aging actor followed Neeson's lead and pursued a movie where they were former Black Ops-turned-civilian just trying to do the right thing. None of these movies, from 3 Days to Kill to November Man can claim to be great, but The Equalizer proved that Denzel Washington is still at the top of his game.
Runner-up – Pierce Brosnan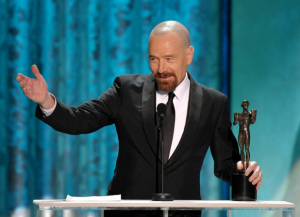 Cameo Award
Winner – Bryan Cranston
Remember the trailer for Godzilla? We all hoped it would erase the bad taste of the '98 Godzilla travesty out of our collective mouth. Godzilla looked great, but what really got everyone excited about the movie was the inclusion of Bryan Cranston. Unfortunately, the whole thing was a bait-and-switch. They got you excited about Walter White vs Godzilla, but instead you only get an annoying army brat who seems to be a magnet for large praying mantises. I looked that up, the plural form of mantis is mantises.
Runner-up – Godzilla
Best Animated
Winner – How to Train Your Dragon 2
Even if a Pixar movie were released this year it wouldn't have held a candle to Hiccup and Toothless's second adventure. Big Hero 6 and The Lego Movie were definite crowd-pleasers, but they lack the lasting effect of this movie. Not only is this the best animated movie of the year, it's also one of the best movies of the year.
Runner-up – Dawn of the Planet of the Apes
Best Remake
Winner – Fault in Our Stars
Somehow author John Green managed to combine every single Nicholas Sparks story into one cancer-ridden love story.
Runner-up – Tusk (remake of The Human Centipede)
Van Gogh (Not appreciated in its time) Award
Winner – Edge of Tomorrow
I have yet to meet someone who didn't love this movie. Sad thing is, most of these people didn't see it until it hit DVD. Domestically, this is seen as a near-bust. Globally, this movie did great, but it's still not enough to qualify as a huge success or get a sequel. This Tom Cruise actioner, could also win the award for Identity Crisis, as it has recently undergone a title change to "Live. Die. Repeat. Edge of Tomorrow."
Runner-up – Dracula Untold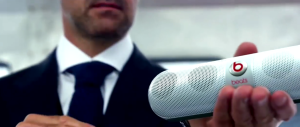 Blatant Product Placement Award
Winner – Transformers
Not surprisingly, both Transformers and Ouija are both products of Hasbro. As much as Ouija put the spotlight on its tacky demon summoner board game, nothing tops Transformers commercial-pandering. Michael Bay apparently sold his soul to Beats by Dre, Red Bull and China.
Runner-up – Ouija
Best Use of Science
Winner – Interstellar
Excuse me waiter, there's some quantum physics of black holes in my blockbuster! Christopher Nolan used physicist Kip Thorne as a primary consultant for the planetary travel and wormhole shifts. Even Neil DeGrasse Tyson backed up the ending. It's rare when a powerful and emotional drama also has the brains that Interstellar does.
Runner-up – Big Hero 6
Worst Use of Science
Winner – Lucy
According to this Luc Besson action flick, we humans only use 10% of our brains. This movie imagines what we are capable of when that number progressively increases. We become X-Men with the eventual power to become God and rewind time. Eventually we just become flash drives made out of the cosmos.
Runner-up – The Theory of Everything (for its complete lack of science)
Best Villain
Three Way Tie – Jake Gyllenhaal in Nightcrawler
Louis Bloom is a motivated sociopath. It's almost as if he'd been waiting for his true calling to arrive, and when it does, he takes full advantage. Few characters this year even come close to the sinister level of Mr. Bloom. Well, except for the next two.
J.K. Simmons in Whiplash
I am not sure if the character of Terence Fletcher is meant to be a passionate hero or villain. No matter what, he makes Whiplash a non-stop battle of nerves. Who knew music class would be such a battleground?
A Certain Character from Gone Girl
I can't really go into this. If you've seen it, you know.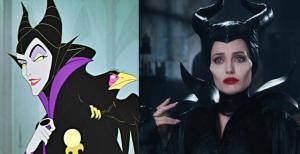 Worst Villain
Winner – Maleficent
Remember how great and mysterious Maleficent was when you watch Disney's Sleeping Beauty. With their love of money, Disney has raped clipped the wings from the character (quite literally, it's even in the movie) and turned her into nothing more than a creepy caretaker with a victim complex. I can't wait to see who they ruin next.
Runner-up – Thanos (So many movies, so few Infinity stones.)
Oscar Bait
Winner – Eddie Redmayne
Both Redmayne and Cumberbatch star in average, uneven movies that were made specifically for Oscar voting. Redmayne wins the title as he plays the genius whose body fails him over a short time. Cumberbatch is a close second for playing a genius who is punished for being a homosexual. Were these movies made by Academy Award think tanks?
Runner-up – Benedict Cumberbatch
Worst Date Movie
Winner – Gone Girl
Whether you're married or just planning a date with someone special, you should think twice before seeing David Fincher's adaptation of Gone Girl. Twists aside, this movie will make you doubt any happiness you've ever experienced in a healthy relationship.
Runner-up – The Raid 2
Best Bro Movie
Winner – John Wick
Keanu Reeves is at his best in lifeless protagonist roles. He is perfect as a near-silent hitman who seeks revenge on the criminal undergound for killing his dog. This action flick never stops. It might be pointless, but it's incredibly fun.
Runner-up – The Raid 2
Cash Grab of the Year
Winner – The Hunger Games: Mockingjay Part 1
After the success of Catching Fire, there was a lot of hype for Mockingjay. Sadly, the final book was split into two movies. Two halves of one mediocre book does not for a great time make. If Mockingjay was a 3-hour movie, it would have been a strong finish for the blockbuster franchise. Now, we'll just get two uneven movies.
Runner-up – Muppets Most Wanted
Hangover 2 Copy-and-Paste Award
Winner – Dumb and Dumber To
The Farrelly Brothers have been trying to recreate their successes of Dumb and Dumber and There's Something About Mary for 20 years now. They had their heyday in the mid-'90s and apparently tried to reconnect with their audience by giving us a near-remake of Dumb and Dumber. This is the case with most comedy sequels. 22 Jump Street relied on this trope, but overcame it thanks to their meta-references.
Runner-up – 300: Rise of an Empire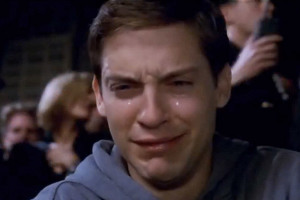 Will Smith Fading Star Award
Winner – Spider-Man
I'll come right out and say it. The Amazing Spider-Man 2 was far from….Amazing (sorry). The villains derailed the entire Gwen/Peter story. However, I think it's a better movie than recent Marvel fare. Yet, perception is everything. Even though the movie made over $700 million, Spider-Man is still seen as a failure. Go figure. Honestly, the only thing the series needs to recover is a great script. Please, don't sell the character back to Marvel.
Runner-up – Robert Downey Jr.
Best Comeback
Winner – Michael Keaton
Michael Keaton started the year out strong in scene-stealing roles in sadly mediocre movies (Need for Speed and Robocop). Yet, his role as Riggan Thomson in Birdman could easily get him an Oscar nom. Granted, he's playing a hyper-realized version of himself, but it's a welcome character. I've missed his brand of charisma from the big screen.
Runner-up – Kevin Costner
Worst Line
Winner – "My face is my warrant!" from Transformers: Age of Extinction
I don't know if anyone actually wrote this movie. I think that 14 screenwriters were tasked to all write scenes and dialogue. The pages were then shredded and later used in a paper mache parade. Then, the snippets of paper were randomly taped together, which became the screenplay for Age of Extinction.
Runner-up – "I also have a saying, 'I don't care!" from Transformers: Age of Extinction
Best Mediocre Young Adult Adaptation
Winner – The Giver
This was the year of average teen fiction adaptations. Whether it was Mockingjay, Divergent or Maze Runner, nothing really bombed. Yet, nothing was great either. The closest adaptation, that most people missed, was The Giver. I don't think the iconic story translates to the big screen, but the filmmakers really captured the feel and spirit of the novel. Unfortunately, it was drowned out by the book adaptations that used it as partial inspiration.
Runner-up – The Maze Runner
Our final category (congrats if you made it this far) has gone through a name change. Last year's "Taylor Lautner Obligatory Shirtless Award" has been changed to…
The Marvel Cocoa Butter Award
Winner – Chris Pratt (Guardians of the Galaxy)
One thing Marvel really wanted to tout was how they completely changed the appearance of Chris Pratt, otherwise known as Fat Pratt, or that chubby guy from Parks and Rec. This obligatory scene came early in the movie as his character Peter Quill was incarcerated and apparently sprayed down with Tang right after he did 300 push-ups.
Runner-up – Chris Evans (Captain America: Winter Soldier)