Happy Thanksgiving, loyal readers! I hope you survived the depression caused by seeing the unfinished Mockingjay movie. If you're looking to spend Turkey Day at the theater, there's plenty to see. I'm once again going to recommend Interstellar. Basically, just see anything other than Dumb and Dumber To, please. The two competitors this week are very different. First off, there's the Oscar bait Stephen Hawking biopic, The Theory of Everything. It goes against the sequel to a standard bro comedy, Horrible Bosses 2.
The Theory of Everything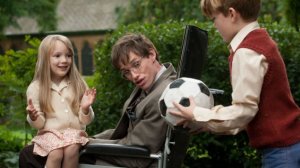 Stephen Hawking seems like the perfect choice to create a biographic picture around. The famous physicist and author of "A Brief History of Time" and "On the Shoulders of Giants" is one of the smartest intellectuals on the planet. His first wife, Jane, wrote a book called "Traveling to Infinity: My Life with Stephen." The Theory of Everything is based on her book.
Eddie Redmayne (Les Miserables) and Felicity Jones (Amazing Spider-Man 2) star as Stephen and Jane Hawking. The timeline of Theory follows the couple as they meet while studying at Cambridge. They share a whirlwind romance and a love of learning. Just as things can't seem to get better, Stephen finds out he has motor neuron disease and presumably has two years to live. However, Jane stays by his side and supports him even as his health quickly declines. On the other hand, his status as a world-renown physicist keeps on growing.
The important aspect to consider in order to be completely sucked into the experience is to know what you're walking into. The Theory of Everything is less a movie about the science and theories of Dr. Hawking. It's a love story. And even then, it's more of a melodrama. As should be obvious, living with this disease takes a huge toll on everyone and the majority of the movie showcases just how hard life is when you or someone you love suffers with a form of ALS.
The Theory of Everything honestly didn't need to be about Stephen Hawking. It references little of what he was about. Instead, it's a movie about what marriage is like when you're with someone with a crippling disease. My biggest issue with the movie is that there is virtually no science. I'm not asking for the in-depth description of Hawking's ideas, but I would have appreciated more than four references to black holes. They assuredly did this to make the movie accessible to most audiences. I just fail to see the point of making a movie about Stephen Hawking but describing what makes him unique other than to say that he's largely incapacitated and he's an atheist.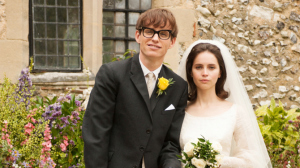 Negatives aside, this movie will stand out come awards season for one reason. Eddie Redmayne is a shoe-in for a best actor nomination. He makes you forget you're watching a performance and instead becomes Stephen Hawking. His decline throughout the movie surely required some intense method acting. Redmayne may have been tailor-made for this role, and this is only the beginning of a promising career. Yes, I realize that he's been around for a few years, but this role puts him on the map.
Felicity Jones has a hard act to follow. Her transition from sweetheart to struggling and impatient wife is a hard role to play. You can see her suffering as she ages with Hawking and realizes that she didn't plan for this difficult life long term.
Director James Marsh (Man on Wire) captures the feel of '60s and '70s England. He manages to put a great focus on the tics and symptoms of Hawking's disease. The end of the movie salvages much of its failures, as he adds a powerful technique that reminds you about the heart in the movie.
If you're an Academy Awards buff, you're going to see this movie regardless just to see what all the fuss is about with Redmayne. This isn't something that you need to watch in the theater. It feels like a good BBC movie that you'll be more than happy to watch at home.
Horrible Bosses 2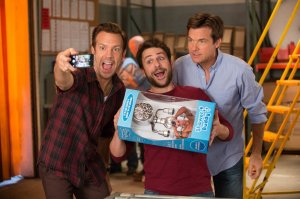 Isn't it strange when half-decent comedies get sequels? Was anyone craving a sequel to 2011's Horrible Bosses?
We meet up again with the crew of Nick (Jason Bateman), Dale (Charlie Day) and Kurt (Jason Sudeikis) as they try to start their own business with the intent to never work under a boss again. They have invented a handy device called the Shower Buddy and are looking for investors. They meet a successful CEO (Christoph Waltz) and his silver-spoon son, Rex (Chris Pine). The trio soon become financially screwed and they do what they do best…or worst…or just average, they plan a crime to solve the problem.
In the first movie, they planned the murders of their respective bosses and this time around, they plan to kidnap Rex to get their money back. With murder and now kidnapping, the crimes seem to be progressively less drastic with each movie. In Horrible Bosses 3, I'm sure they'll only plan a casino heist. Maybe I shouldn't have typed that. It may give them ideas.
I was surprised at how strong this movie was for the first 20 minutes. The laughs come fast and feel fresh. Despite the same 'justifying the means to an end' scenario, HB2 doesn't fall into the same trap that most comedy sequels do (Mad Libs/copy and paste). There are some solid gut laughs. Sure, you forget the jokes as soon as they happen, but it works.
In fact, the comedy is so strong to begin with, that the rest of the movie just drags on. In the end, it's an exhausting experience. These actors attempt to find humor in a "It's Always Sunny in Philadelphia" way. They just yell at each other and try to find comedy in the insanity.
Chris Pine is clearly having the most fun. He knows that his only purpose is to chew the scenery and he does it with a childish sense of style. Christoph Waltz is sadly wasted in his dirty capitalist character. There's nothing for him to do. Jennifer Aniston returns and manages to steal every scene she's in. Also, Kevin Spacey is back in a very minor role that makes you wish he was the main villain again. There's always the 3rd movie, I suppose.
This is basically a throwaway comedy that will make you laugh here and there. It's not a complete waste of time, but it will just go down as a standard rated R comedy in a weak year for humor. Rent it.
In terms of quality, the movie to see is The Theory of Everything. It feels like a flawless movie compared to Horrible Bosses 2.