In early August 2011, I attended a double-feature critic screening of two movies that barely registered on my radar. Of these two movies, Rise of the Planet of the Apes and The Change-Up, I was far more optimistic about seeing a Jason Bateman/Ryan Reynolds comedy than I was about another random follow-up to a dead franchise.
By night's end, I had done a complete 180. I realized that I had no taste for stupid, crass comedies anymore and apparently I was completely won over by a CGI ape named Caesar.
That complete surprise was made even stronger when the follow-up Dawn of the Planet of the Apes was released in 2014. Director Matt Reeves jumped into the franchise at that point and made one of the best socially-conscious, ideological blockbusters. Not only had Caesar's story been expanded upon, but the apes became the focal point and main characters. To bring the point home, these are CG creatures sharing the screen with the likes of Gary Oldman and holding their own.
Now, Matt Reeves has returned with War for the Planet of the Apes and brings a conclusion to one of the top trilogies ever put to film.
At this point in the film's history, Caesar is a legend in this post-apocalyptic world. Though, this also brings a significant bounty on his head among the opposing human armies. The community of apes desires to hide from the calamities of the world outside the forest, but tragedy is quickly brought to them. The Colonel (Woody Harrelson), a Kurtz-like megalomaniac general, has made it his mission to destroy Caesar and his tribe and save mankind.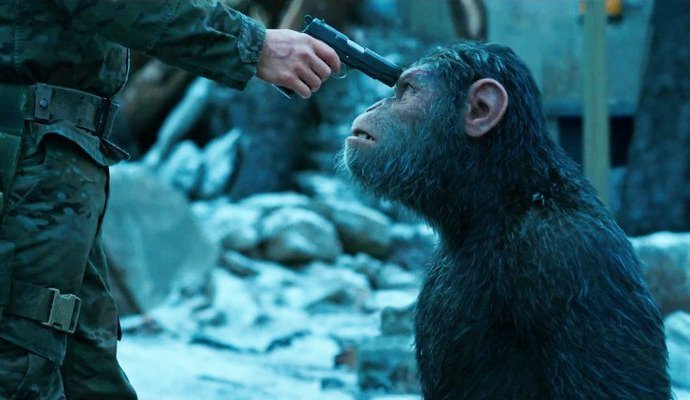 Once again, Caesar is the lead here. The entire movie is from his perspective and it is such an enriching experience because of it. The depth of his character is helped by his journey throughout this series and War capitalizes on it. He is always restrained by his past and his upbringing with humans. Unless pushed, he is the one to defend them and offer mercy. However, he is also haunted with visions of Koba (from Dawn), an ape that always questioned Caesar's loyalty to his own kind.
Andy Serkis, once again, delivers one of the year's best performances and brings real emotion to a visual that could have lazily been completed (poorly) by a digital artist that largely focuses on doing quick cuts or putting the character is dark, rainy scenes. Instead, the amount of detail on each ape is astounding. The uncanny valley has been bridged and appears so effortless in this series. Weta Digital cannot be topped in terms of their digital TLC.
Reeves, whose next project is The Batman, is one of the most reliable directors working today. He not only knows how to create philosophical overtones, but combines them with fantastic cinematography and an emotional core.
My only criticism of this movie is that it drags in the beginning. It spends a little too much time getting from point A to point B, so summer movie-goers may lose interest. This is not a standard summer blockbuster. In fact, it hardly belongs in this particular movie season. Regardless, however, of when it'd be released, it'd still stand out among the pack.
I fluctuate between a B+ and and A- with War of the Planet of the Apes. It's a great stand-alone film that only helps to build on the mythology in the trilogy. These films are worth owning and will definitely be a major part of future movie marathons.