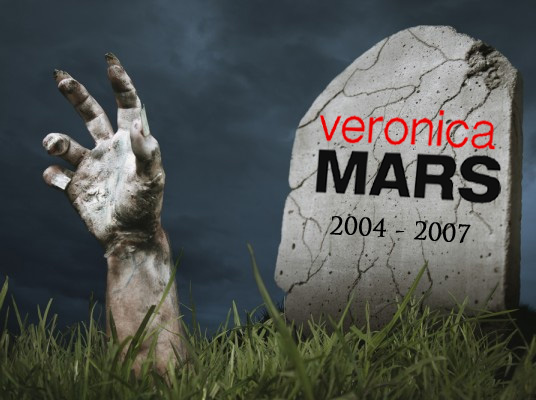 We witnessed TV history happen last week. Showrunner Rob Thomas (not the terrible singer) made a video with part of the Veronica Mars cast, proposing a new kickstarter project, asking for 2 million dollars and they'd make a Veronica Mars feature film. Fans went nuts. This project made its money in half a day and continues to raise funds even now. Now the internet is abuzz about what is the next show that fans can kickstart into a movie.
Chuck star Zachary Levi has already begun his own personal campaign to get Chuck turned into a movie. Fans have overwhelmingly responded with "No, we're good…"
Because Netflix has already temporarily revived Arrested Development, fans have turned to their favorite martyr, Firefly. To fend off the masses of rabid Whedonverse lunatics, Joss Whedon has publicly gone on the record with BuzzFeed to say, "I would love to make another movie with these guys, and that remains the case. It also remains the case that I'm booked up by Marvel for the next three years…Right now, it's a complete non-Kickstarter for me."
I added Whedon's comments just so I don't get torn apart when I get torn apart for not including Firefly. Plus, we already got a fantastic movie and as much as I love Whedon, I don't know if he can drum up the budget of the 1st movie at $60 million.
So let's move on. Here are the top 5 TV shows that I want to see adapted into films based on Kickstarter funds.
5 – Party Down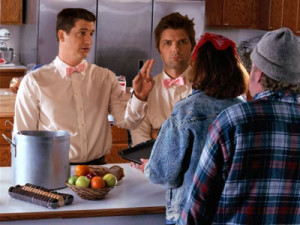 We'll put this one down as "Most Likely to Succeed." This Starz network show ended in 2010 and lasted for 2 seasons. This show also happens to share the same creator as Veronica Mars, Rob Thomas, who isn't afraid to ask for funding. There has been a lot of talk about getting the script finished and the cast back together. The only problem has been finding producers (hello Kickstarter) to get it off the ground.
This show centered around a mediocre Hollywood catering team full of people who hate their jobs and are all focused on being discovered and finding fame. Adam Scott may currently be busy with Parks and Rec, but he could film this movie on a hiatus. The former cast is open to the idea, with the exception of Jane Lynch who was a regular in season 1. I would love to see the gang in a situation where they're catering a birthday party for one of Brad Pitt and Angelina Jolie's kids. It would be like the Epcot Center – Internationally themed with hundreds of kids running around aimlessly.
4 – Jericho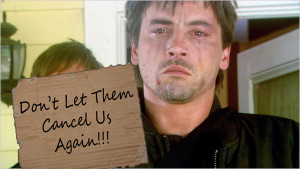 Jericho already made history once before. In 2007, CBS cancelled the show due to poor ratings and let it finish out its first season. The final episode made reference to the famous phrase "Nuts!" referencing the historic never-surrender attitude from the Battle of the Bulge. Fans took to internet forums in protest of CBS and decided that they'd send nuts to the studio. 20 tons to be exact. CBS took notice. They allowed Jericho to return for an 8-episode second season to wrap the story up. Sadly, ratings didn't improve much and the show was beyond saving.
But the second season ended with a cliffhanger. A new civil war was about to begin as different factions claiming power in the US threatened each other. The guys from Jericho were about to join the fight right in the crossfire. If fans have the drive to send that many peanuts, I can see them willing to pay a few million to finish the story in movie form. Plus, Skeet Ulrich needs the work.
3 – Flight of the Conchords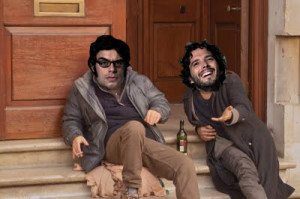 This show began its 2-season run on HBO in 2007. Its brand of off-kilter comedy and musical numbers quickly gained a cult audience. Then they surprised everyone during the second season when they said it would be their last. I can understand not wanting to dwindle in quality and overstay your welcome, but they disappeared right when people were starting to discover them (ala, Arrested Development).
Jemaine and Bret are semi-stars now and have some clout in Hollywood. Jemaine was most recently seen in MIB3 and Bret is an Academy Award winner for his work on The Muppets movie. I guarantee that fans would donate in droves for the 4th most popular folk group in New Zealand. Given that they take the time to write great music and a great story to wrap up the show, it has the potential to be a cult classic. Bret says he is down for a movie if they get the story right. Let's make this happen.
2 – Angel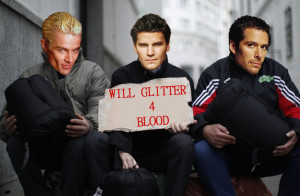 It shouldn't be a surprise that I'm including a Whedon show on here. In fact, it may not even be fair. Angel ran for an impressive 5 seasons. The nagging problem I have with the show is that it never got the resolve it deserved. Yes, Angel and his crew keep on fighting and are about to take on every creature from Hell in the streets of Los Angeles, but what's next? There is a comic book series that takes place after the events in the season finale, but it gets a little outlandish and doesn't give a proper conclusion.
I would rather see Angel become a movie over Firefly (already got one) and even Buffy, because it had closure. I know Joss Whedon said he is too busy to work on a Kickstarter project and that's okay. He wasn't really involved with the Angel series as much as his other projects. It's more David Greenwalt's baby. As long as Whedon had some time to look over the script, I think an Angel movie could be incredible. The fan base is still here. Admittedly, the cast has aged but most of them look better than they did in the chubby years of the series.
1 – Pushing Daisies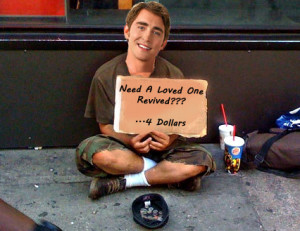 Where do I even start with this show? The first season only had 9 episodes because of the writers' strike (I'm starting to think that was the worst thing to happen to television). Brian Fuller, the show's creator got the news about the show's cancellation in the middle of season 2. So altogether, the Pushing Daisies lasted for 22 beautiful episodes. If you needed a color-filled, whimsical family show that gave you an alternative to the harsh shows (which I love) then this was the show for you. Like all good things, it was not made to last.
This is the show we need to bring back. I would be happiest with a Netflix revival season, but a movie would work great. I have so many theories on what is supposed to happen to the Pie Maker and his true love that he can never touch (or it would kill her). I need loose ends to be wrapped up. And it's not like they couldn't get the cast back. The last thing Lee Pace was in was Breaking Dawn part 2 (shudder). And we all know Kristen Chenoweth has time to be in every show ever. I would donate to see Ned, Chuck and the gang on the big screen.
My honorable mentions are also shows that I think were cut too short. My Name is Earl needs some closure. Deadwood had great characters and plots the stopped short. Also, Terminator: The Sarah Connor Chronicles season 2 finale ended with such promise.