A strange trajectory is happening. Pixar, once the giant of animated films has been on the decline in recent years. That is evident by their double-dipping into sequel territory. On the other hand, the Disney studios have been on a rise with Tangled, Wreck-It-Ralph and now Frozen. Though it's not much of a competition because Disney owns Pixar, so basically everyone is making money no matter what.
Frozen, an adaptation of Hans Christian Andersen's The Snow Queen, is the tale of two sisters, Anna and Elsa. At a young age, the two sisters were inseparable. That all changes when Elsa, who mysteriously has the power to conjure ice with her hands, causes an accident. Their parents separate the girls for rest of their youth, both to protect Anna from further damage and to protect Elsa's secret from getting out. Because this is a Disney movie, one or both of the parents must die and Elsa must take the crown when she comes of age. Though she fears making a public appearance at her royal coronation. Anna spends her time hoping for some company and dreams of finding her true love. At the coronation, Elsa causes a scene and flees the castle so she can live a life without scorn. Unfortunately, her mishap has caused the land to freeze over in the middle of summer. So Anna, along with a few companions, journeys to reunite with her sister and make things right again.
You'll have to forgive the constant comparisons to Tangled. It's a very similar movie in terms of art style, music and humor. Though I don't see that as a bad thing.
This movie belongs to Kristen Bell (Veronica Mars) voicing Anna. She is the kind of princess that never got enough attention while she was growing up and will not hesitate to talk the ear off of anyone she runs into. Much like Giselle in Enchanted, she is the kind of girl who sees no problem with marrying a man she has only known for a few hours.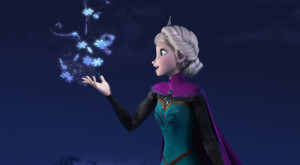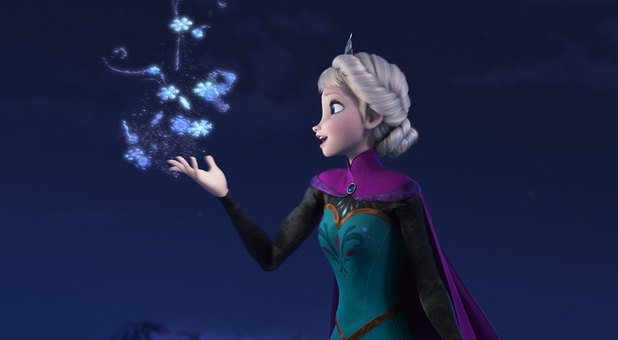 Idina Menzel (Wicked, Enchanted) voices Elsa. She is extremely reserved and always bears a heavy weight on her shoulders. She has been prepared to rule the Kingdom her entire life, even if it has to be behind closed doors so she doesn't terrify people with her powers. It's only when she leaves everything behind that she feels she is finally happy. Her lone song "Let it Go" is a powerful reminder that she feels her best when she is alone. The major downside about Frozen is that you don't get to see much of Elsa's perspective. All you know is that she is a misunderstood "villain." It's a shame they didn't give this Broadway star more to do.
I am a die-hard Disney animated musical fan. Give me Aladdin and Lion King over Finding Nemo or Up any day. Music is actually a pretty sizable part in Frozen. Robert Lopez (Book of Mormon, Avenue Q) and Kristen Anderson-Lopez (Winnie the Pooh) wrote the original music. Every song is enjoyable, but they're not quite songs that you'll be singing the next day. This movie will take a few watches (if you have kids that will not be a problem) before the music catches on and you find yourself humming it randomly.
The comic relief comes in the side characters of Kristoff (Jonathan Groff), his reindeer Sven and a living snowman who dreams of summer, Olaf (Josh Gad). Until these characters show up, this movie does start to feel like a standard Barbie princess movie, but they inject necessary life and foolishness into the plot.
This movie works because it's not necessarily a story of a princess feeling completed when she finds her true love. Rather, it's a story of sisters who never got the chance to grow up together and starting anew.
This may not be the modern masterpiece that Tangled was, but it's still a very worth addition in the Disney library. Your kids will love it and you will definitely be able to sit through it. That is saying more than many animated movies out there. This is worth seeing.