I'm writing this as I'm watching The Fisher King. I grieve for celebrities in the only way I know how to, have a movie marathon of their work. I have a confession. I had not previously seen Terry Gilliam's '91 treasure until now. I have seen the majority of Williams' filmography, but this movie always evaded me. Now, I can add it to the list of great contributions that Robin Williams contributed to the world of film.
I understand that not everyone ingratiates themselves in movies, but the death of Robin Williams will strike home for a great deal of the general public. While reports are still being released, it appears as if he committed suicide. "Normal" people may ask, "How can a man with so much laughter in his life, take his life?"
Depression affects all of us in some way, shape or form. In saying this, I'm trying not to sound like a commercial for the latest over-the-counter drug. If you don't have depression yourself, you have loved ones who do feel it. Even those who seem like the happiest people on the planet may be hiding an inner battle they deal with every day.
Who's to say exactly how long Williams has been dealing with his depression. At this point, only one thing is sure. He's free of it. The tragedy here is for his wife and children. Death, especially in these cases, hurts the ones who really knew him and are left behind.
That point is exactly why his death is so affecting to people like you and me. We grew up with Robin Williams. In a weird way, we feel like we know him. Williams' contagious smile and warmth made you believe in each of his characters and provided a familiar sense of sincerity.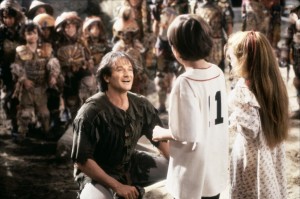 As I've said before when Philip Seymour Hoffman died, the death of a celebrity is not more sad and tragic than the death of someone close to you. There's a very good chance you never got to meet Robin Williams. Celebrities die all the time and life continues to go on. On that same note, loved ones die and we still manage to find a way to live our lives.
What makes Williams' death a heartbreaking one for most is that we all had shared experiences watching his films. Actors, musicians and performers unite people because of feelings these people had when watching their movies or listened to their music.
Also, we can all admit that Robin Williams wasn't just another actor. He had something special. His charisma often carried bad movies. He managed to elevate the actors around him.
While it originally aired several years before my time, I loved Mork and Mindy as a child. It aired during the innocent age of sitcoms, when bizarre premises thrived. His role as the alien Mork, in 94 episodes of the series, catapulted his career and led to major film work. I don't want to list off every major film he was a part of. I would like to express the films that made a difference to me. They are movies that in some strange way, shaped my youth.
Robin Williams hit his stride just before his 40th birthday. The first Williams movie I remember seeing was actually a very dramatic role in Penny Marshall's 1990 drama, Awakenings. Even at 10 years of age, I still remember being affected by this story of living every day like it was a gift. It wasn't until years later that I watched his 1989 classic, and possibly most revered film, Dead Poets Society. I've watched that movie several times at different phases in my life and it didn't hit me emotionally until later in high school. Who hasn't wanted a teacher that cared as much for the craft and the success of the students as John Keating?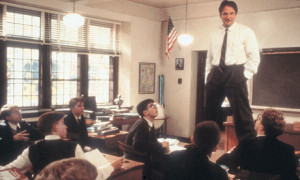 Much of his early '90s work was dedicated to the comic work that he is best known for. In every interview and TV appearance he was full of life and energy.
I first saw Hook with my Dad at the local dollar theater. While I can look back now and see that it's imperfect, I was amazed at the scope of the movie. Steven Spielberg had created a successful live-action follow up to Peter Pan. I loved seeing Peter as a grown up with little time for childish things. I hated Rufio for taking Peter's spot as the leader of the Lost Boys. I imagined myself sitting at the dinner table eating imaginary food that closely resembled Play-Doh and Superman ice cream. To this day, I still get misty-eyed when I think of one of the lost boys saying the line "Welcome back to Neverland, Pan the man!"
Williams continued his streak with what I happen to think of as the pinnacle of Disney animation, in Aladdin, where he voiced Genie. I, along with everyone else, loved his role in Mrs. Doubtfire, which remains one of his most popular comedies and is one of the most aired movies on cable TV to this day.
I always root for comedians to take work in more dramatic roles. Often, they raise their credibility and are more believable than the same-old expected dramatic actors. It's a shame that Jim Carrey and Adam Sandler are so scared to revisit dramatic roles again.
Robin Williams managed to steal the show from young upstarts, Ben Affleck and Matt Damon in their own movie, Good Will Hunting. He got his fourth Oscar nomination for the part and his first win.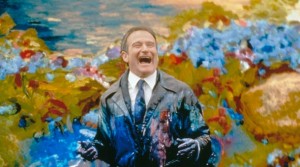 While it will never be regarded as a classic, you can't help but think about 1998 movie What Dreams May Come at this time. This movie literally painted a sweeping picture of the afterlife.
Early in the 2000s, Williams continued work in dramatic parts. That was the time when I started caring about the media I consumed. I no longer wanted forgettable comedies and action movies, instead I wanted to see films that challenged me.
He managed to surprise me in two unforgettable roles in One Hour Photo and Insomnia. In one role, he played an everyman who showed signs of a naïve descent into madness. In the other role, he was a malicious, unabashed murderer who taunted the detectives chasing him. His role in Insomnia, specifically, made me sad for the lost opportunity of possibly playing The Riddler in Tim Burton's third Batman movie.
While audiences grew up and grew out of liking slapstick humor, he managed to find a welcome home in dark comedies. I'm not ashamed to say that I'm a big fan of Death to Smoochy. His role as a Captain Kangaroo-type character being pushed out of the industry by the facsimile of Barney is very dark but also hilarious. And while it may now hit too close to home, he is fantastic in the extremely dark, World's Greatest Dad.
I don't want to go too much further into his career other than to say that he has made an impact on me. His humor and candor in particular roles always felt real. He was one of a kind. There's no real way to cherish the actors we'll never meet. However, if you know anyone suffering with depression, just be there for them. If you suffer with depression yourself, just know that people around you love you. It's okay to share your demons with others. Support might be the factor that saves your life and brightens your days.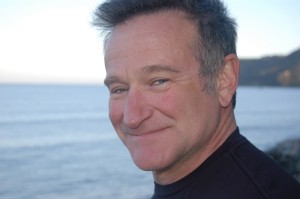 Bangarang Robin. There's nothing more ridiculous to say, but it feels right.