Grown Ups 2 has been unleashed on DVD today. The world will now be able to enjoy killing brain cells repetitive scenes of the "Burp-Snart." Don't ask for an explanation. It will only make more dumber. (Do you see? I have been exposed to it and I am now 38% less intelligent.)
As I watch that horrific, shameless cash grab by Sandler and his crew, I can't help but think that they all have/had great potential. However, instead of looking for respect and integrity, they choose to play the same characters that have followed them their entire careers. The movie was a hit, so what do I know?
In ode to the cast of Grown Ups 2, let's mourn the talent of 5 comic actors who may have once acted, but now play themselves in every movie. As a disclaimer, it should be said that each of these actors are very successful and have massive fan bases, but I just wish they expanded their range.
5 – Seth Rogen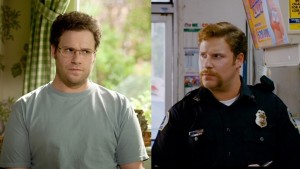 I don't know how it happened, but Seth Rogen is an A-lister in Hollywood. Not only does he star in two major releases each year, but he also writes and produces. He may actually be the only comedian on this list who has never deviated that far from his humorous roots. The furthest he has gone, dramatically speaking, is his role in 50/50. Even then he played a goofy, supportive best friend. While many people didn't end up seeing Observe and Report, he does get a chance to mix up his typical role in a smarter-than-it-seems comedy. For now, he'll continue to be the guy from Knocked Up, even when he's trying to be an action star in The Green Hornet. It really only makes sense that he and all of his buddies played themselves in This is the End. After playing Seth Rogen, with his blue-collar stoner laugh, throughout his career, he may as well just be honest and play himself. There may come a time when he is required to play a more serious role and I'm sure he'll do a decent job. However, he'll most likely return to where he's comfortable, that being Judd Apatow movies.
4 – Will Ferrell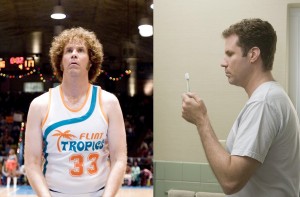 Will Ferrell has and will always be a fan favorite. He can almost do no wrong even though he continues to be the same guy in nearly every movie. Sorry "Elf" fans. Even in that movie, he was a less-crude version of his other man-child characters, but that's about it. Then in 2006 he decided to be dramatically talented for one movie, Stranger Than Fiction. It seemed to be a turning point for the overgrown child. However, he decided to take that newfound critical adoration and throw it away as he went on to star as more zany, obnoxious characters in Blades of Glory and Semi-Pro. While Anchorman and Step Brothers are seen as cult-classics, no one can argue that he is showing an impressive acting range in either. He's just happy to be Will Ferrell.
3 – Vince Vaughn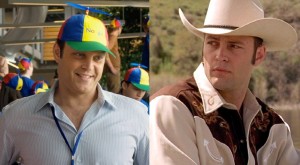 Remember when this fast-talking wise-cracker was a good dramatic actor? Movie audiences first saw Vaughn steal every scene in Jon Favreau's Swingers. He later added variety to his acting resume by playing a sadistic killer in Clay Pigeons and tried out action in The Lost World. Then in the early 2000's he started working with Ben Stiller and he found his sweet spot of starring in profitable comedies. I'd argue that his most memorable role is in Wedding Crashers, but his acting skill has not progressed from that point. In more recent movies, it seems that he's just rambling while he tries to find jokes scattered in his monologues. I think it's time for him to challenge himself again instead of just playing in crude/dark comedies.
2 – Jim Carrey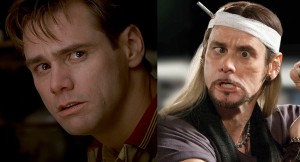 This is actually the one that makes me the saddest. Jim Carrey may have started his career as a slapstick physical comic. While watching Ace Ventura, you would have never thought that same guy would eventually be taken seriously for his acting skills. He surprised me with his dramatic range in Man on the Moon, The Majestic and, of course, The Truman Show. He was even won Golden Globes for his performances in 'Man' and 'Truman.' In 2004, he starred alongside Kate Winslet in his best movie "Eternal Sunshine of the Spotless Mind." He was even nominated for his performance in that movie. Perhaps he was upset that the Academy never nominated for a Best Actor Oscar, because he basically gave up being taken seriously and went back to what he knew, slapstick comedies. He then went on to Fun with Dick and Jane, Yes Man and Mr. Popper's Penguins. And now, he's going back to a role that made him famous over 20 years ago in the Dumb and Dumber sequel. It makes me sad because I think Carrey is at his best when he surprises the audience with his range (see also: his role in Kick Ass 2).
1 – Adam Sandler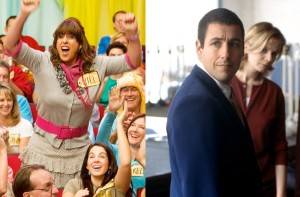 Adam Sandler is a little like Will Smith in that he knows the formula for hit movies. (Well, Smith used to) It seems to work out in Sandler's benefit that the lower the Rotten Tomatoes score is on his movies, the better the box office take will be. I guess that's saying something about the audience too. Now, he's at the point where he can take any vacation and call it a movie (Just Go With It, the Grown Ups movies). He must be a genius because he knows what his audience wants. But there was a time that this one-time Happy Gilmore star tried to play it serious. The movies where he was praised by critics were also big disappointments for him. Punch Drunk Love only made 24 Million (foreign and domestic gross) and Spanglish only made 55 Million (foreign and domestic gross). After those movies didn't perform, you can almost see why he'd do a movie like You Don't Mess With the Zohan, which made 200 Million overall. Sandler and Carrey reverting back to what they're comfortable with makes me sad. Because they showed range in other roles, but they may have lost touch with some of their original fan base and went back to fans that wanted easy comedy and nothing more.